Any holiday that celebrates food is MY KIND OF HOLIDAY. Obviously thanksgiving is more than that, but I really get excited to head to my kitchen and create. It's a calming and creative outlet for me, and every once and awhile, a cocktail will show up in my hands. So wanting to make life simple this Thanksgiving, I'll typically make a punch so it can serve my close friends and I (we call this loyal crew our 'social circle' now, gracias COVID-19) easily, and this punch is just that. Combining Canadian brand Northern Keep Vodka, a delicious Islay Peated Scotch, Pear Nectar, Fresh Lemon, Honey and Thyme. Believe me, this punch won't last very long amongst your circle, so you may want to have a second batch ready on hand. Curious how it's made? Head down below for details!
Choosing your Vodka
Did you know that the majority of Canadians drink Vodka and Whiskey? It's the reason why I wanted to go with this flavour combo, and when picking a Vodka you have a ton of great options. With it being a Canadian Thanksgiving weekend, I thought why not celebrate with a great Canadian Vodka? This time around, I chose to work with Northern Keep Vodka which really helped make this Thanksgiving punch approachable and easy to work with. Having a neutral palate, Vodka is great for enhancing the flavours of your cocktail, without it causing too much of a fuss. And for my friends reading this this weekend, Northern Keep Vodka is also on sale! So make sure to head over to the LCBO for a deal!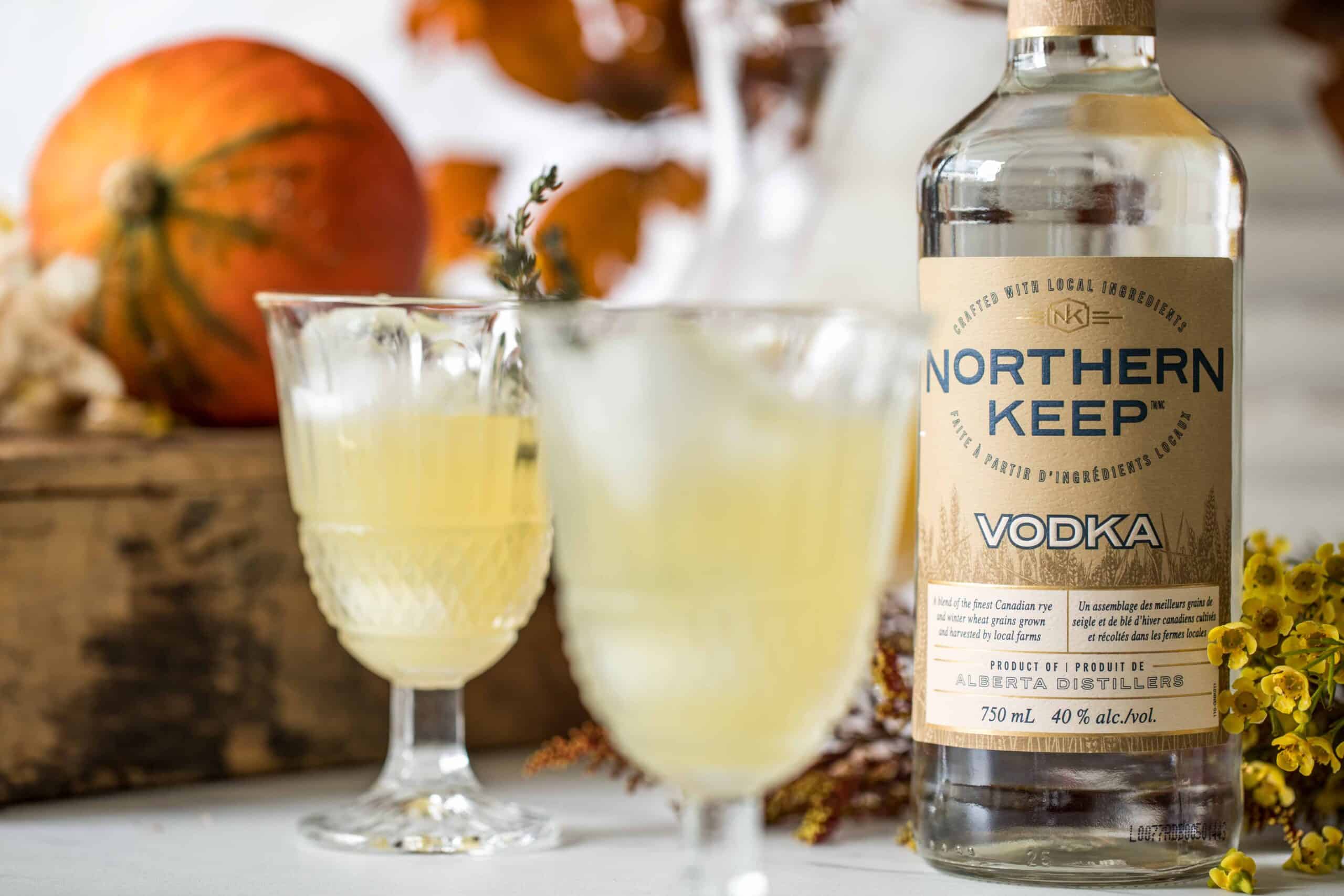 What's an Islay Scotch?
Pronounced EYE-Lay, this may seem like a simple question to my whisk(e)y community, but the reality is, whiskey is still a topic that can scare the masses. Luckily, I fell in love with whisk(e)y early on in my career, which definitely comes in hand when you want to gift that scotch lover something special, and when to mix in a cocktail.
For this creation, I have a few Islay Peated Scotches I lean towards. Bruichladdich has the Octomore that's a great expression, you can never go wrong with Laphroiag or a Lagavulin here. PLUS, I did discover one I LOVED coming from AnCnoc called the peatmaster. If you want to splurge a bit and get your hands on this, YOU WILL NOT REGRET IT. Now for a slightly less aggressive palate, Highland Park would also be a great choice in this cocktail. So there you go, a million options to choose from, and I promise it won't be the last you use these single malts.
Why Pear Nectar?
This recipe calls for a Pear Nectar instead of Juice, but are you wondering why? That's because I'm getting a thick, rich flavour of Pear, as I didn't want it to be light and delicate in flavour. It needs to withstand against the Islay Scotch in this cocktail, but it's easy to find in grocery stores. You'll likely find this in the refrigerated juice section. And try to pick up the ones that have as little sugar as possible. I like to have complete control of the sugar component in a cocktail, and it can be hard if the product is laced in it. So be mindful of this when creating your punch at home.
I'm guessing you have a busy schedule for Thanksgiving, so how about we just dive into that recipe, shall we?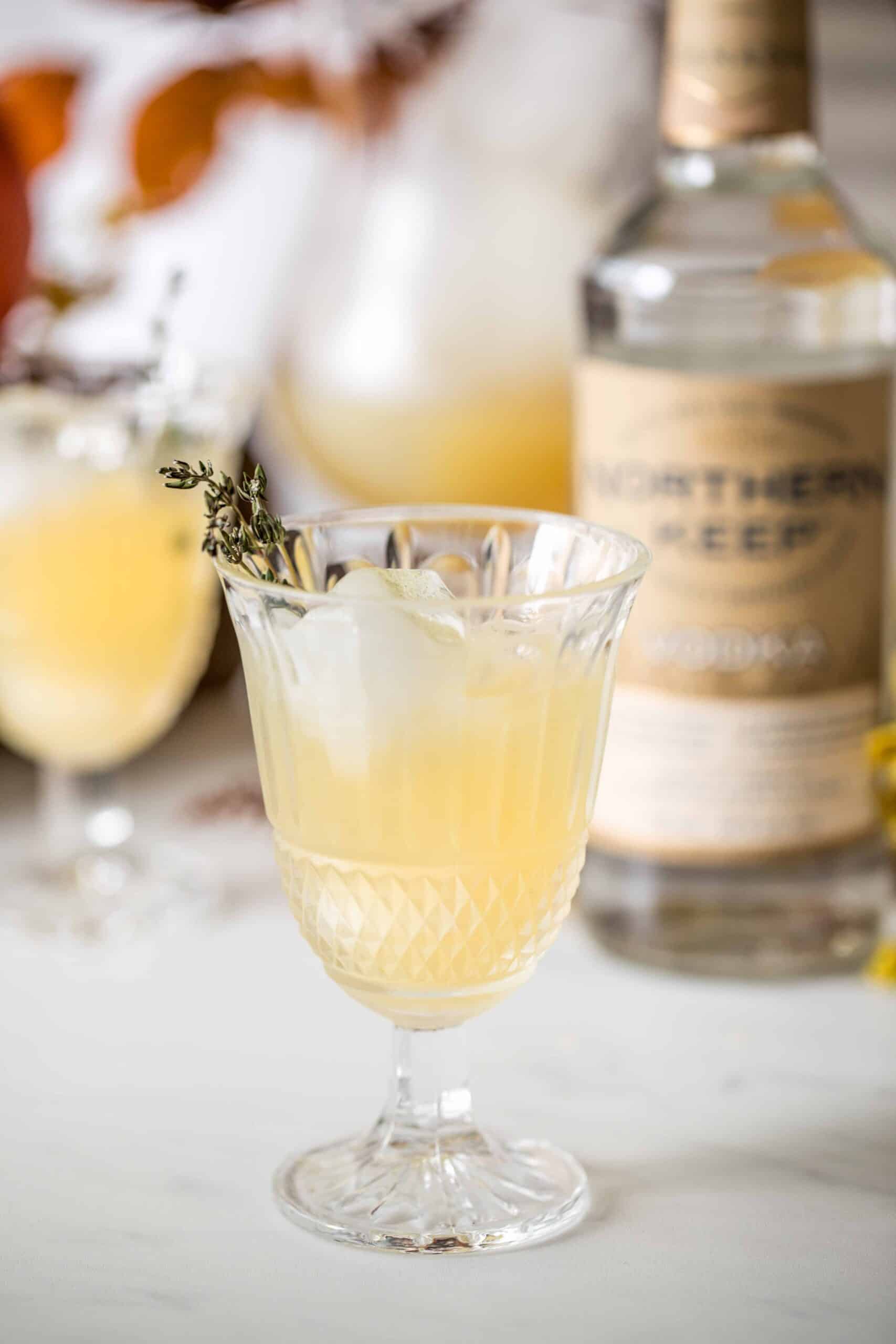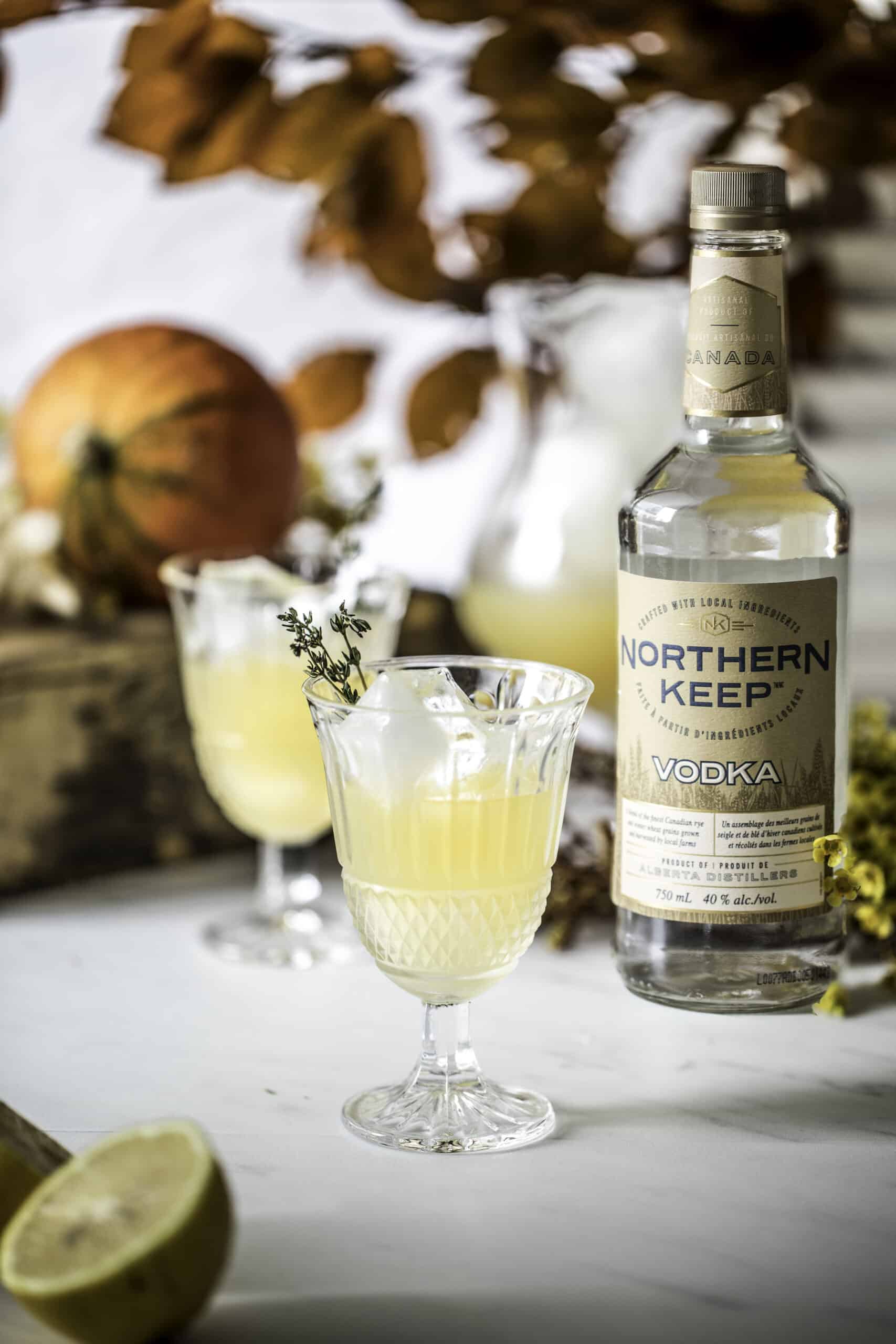 Smoked Pear Vodka Punch
Sharing an easy punch recipe to create for Thanksgiving weekend or any weekend for that matter.
– Difficulty: Easy
– Serves approximately 4 drinks
Ingredients
4

oz

Northern Keep Vodka

1

oz

Islay Peated Scotch

Laphroaig used here

5

oz

Pear Nectar

1.5

oz

Freshly Squeezed Lemon Juice

3

oz

Honey Syrup

*

4

Thyme Leaves

Slightly Smoked
Instructions
In a mixing glass, fill with ice and add all your ingredients

Give this a good stir before straining the punch into a separate pitcher. Keep this refrigerated (covered) before use.

When serving the cocktail, pour over fresh ice and add a sprig of thyme that's been slightly smoked.
Recipe Notes
*The honey syrup is very easy to put together. Simply combine 1 part honey with 1 part boiled water. Stir until dissolved. Don't use the syrup until it comes to room temperature first.