Let me tell you, this #DrinkYourGram made me think! I've never dared to combine rum into a sangria. I've always stuck to the classic vodka, brandy combo, but with the right rum, especially with the vast versatility in this category, we've got ourselves a WINNER here! I love the challenge #DrinkYourGram creates and as I've said before, some of my favourite creations has been because of your votes. The ingredients used here really have an impact, so please be mindful of brands and styles used. Curious how this Cranberry Spiced Rum Ginger Sangria is made? You'll want to continue reading.
If you're new to the #DrinkYourGram concept, it was a way for me to connect with my audience on Instagram and have you vote for what YOU'D like to create at home. Since I started #DrinkYourGram in 2020, I've created some of my favourite cocktails PERIOD and I have all of you to thank. For this week, my Canadians are celebrating Thanksgiving this weekend, so I wanted to give you some easy punches you can enjoy all weekend long! Curious about the results? Well, here were your votes!
52% voted to make a Sangria vs a punch
77% of the votes wanted it mixed with R(h)um vs Agave
53% of the votes wanted it flavoured with Cranberries vs Plums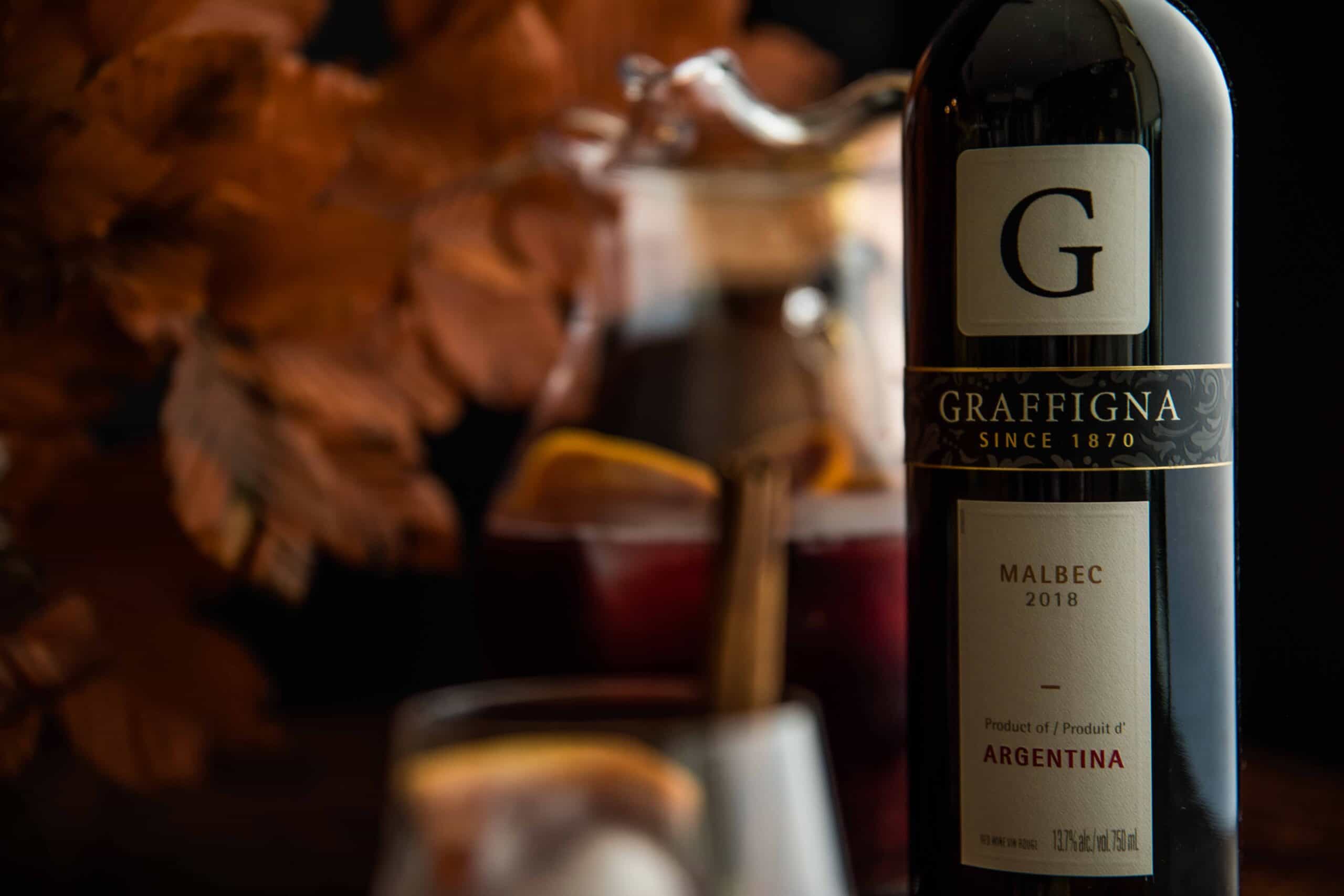 Choosing a Wine
This was probably the easiest choice I made for this Sangria. Having explored a ton of the Argentinian and Chilean wine expressions, Malbec has been fresh on my mind and also a PERFECT varietal for this Sangria. It has the spices, it has the stone fruit notes I love with Fall, and still the tannins to balance everything out. Again, easy choice. So I used Graffigna's Malbec here which is still available at the LCBO for my Ontario folks. It comes at an incredible value, and when buying Malbec, you gotta go to Argentina.
Don't have Malbec at home? Well here's what I would AVOID. Avoid Cabernets and Pinot Noirs. Some Baco Noirs could work with this, just make sure it has some weight to it. Medium to Full bodied is definitely preferred. I'd even grab a Shiraz in this case.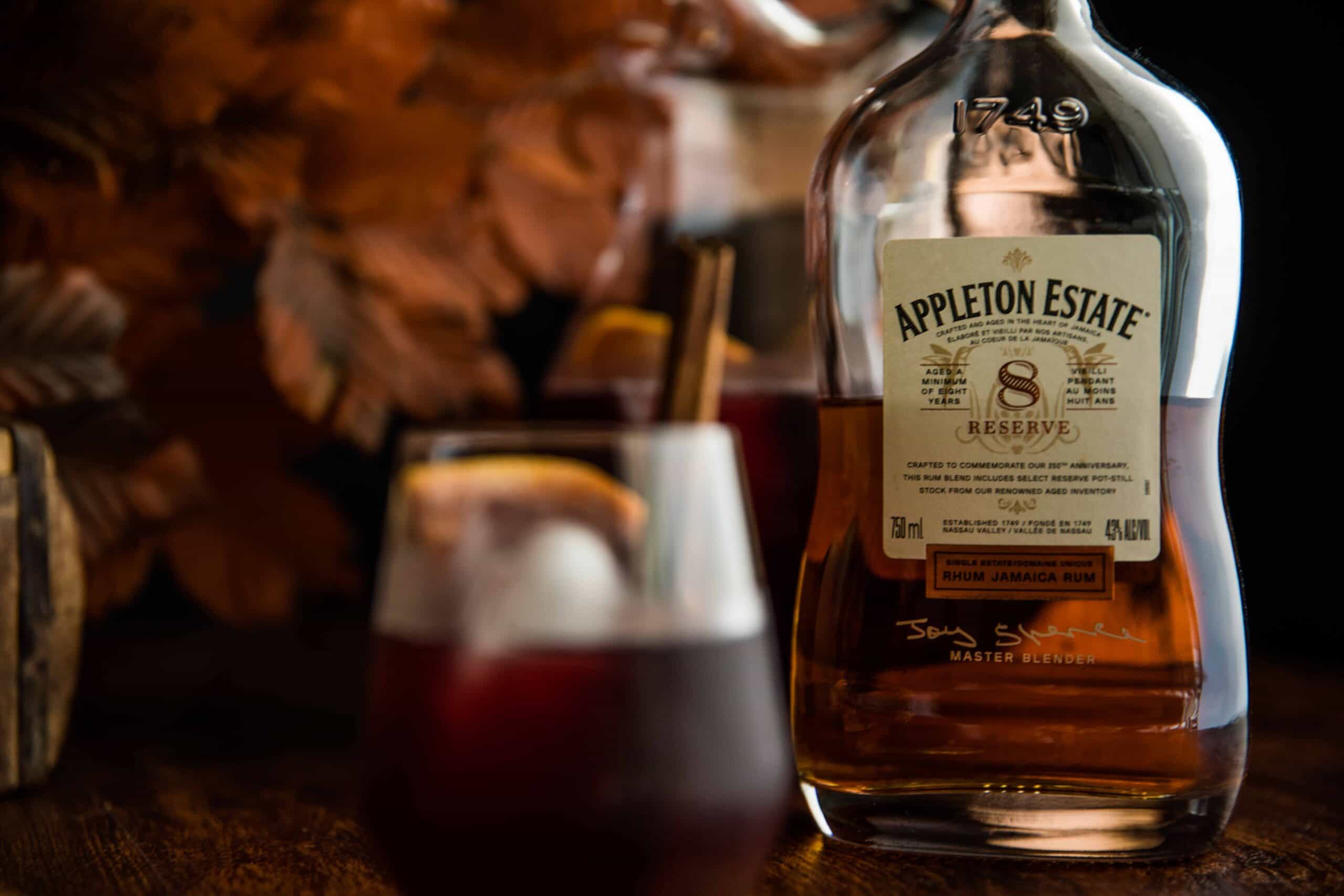 Choosing the Rum
THIS choice was definitely not as easy. I've been nerding out on r(h)um for a while now, and I wanted to make sure that 1) I use the right products and 2) they are properly represented and not hiding behind the other ingredients. The INTEGRITY of a spirit, and making sure that it's "represented" in a cocktail is something that I have been more mindful of as of late. What's the point of using Gin, Whiskey, Rum, Tequila, ANY SPIRIT, if we are hiding it behind flavours and masking the craftsmanship of the spirit. Maybe that's why I appreciate spirit forward cocktails lately. Believe me when I say, REAL THOUGHT went into this. 
With that said, you're probably wondering what I chose. Having discovered my favourite Spiced Rum (which I NEVER thought I'd say), I knew Hart & Son Blackpool Spiced Rum would give me the spice notes I was looking for without being overbearingly sweet . But here's the thing. Like a lot of great Rum cocktails, they're complimented with Rums from other regions and style. I still can't get enough of Appleton's Rum Estate, so I decided to really pack a punch with this Sangria and give that layer of funk that would work so well with Fall spices. This Sangria in incredible, and that's only because I used these brands!
So do I recommend you swaying from my suggestions? Listen, I get it. Sometimes you just don't have access to certain items. Therefore I'm going to give you some options. Spiced Rum is not exactly the easiest in determining what's good and what's just laced in mountains of sugar. I used to always love Kraken Rum, but I'm sure that has a lot more sugar than I'd like to admit. All I'll say is, don't pick up Captain Morgan's. 
Secondly if you can't get your hands on Appleton's, try and grab a slightly aged Jamaican Rum if possible. Otherwise I would go with Mount Gay Black Barrel with this.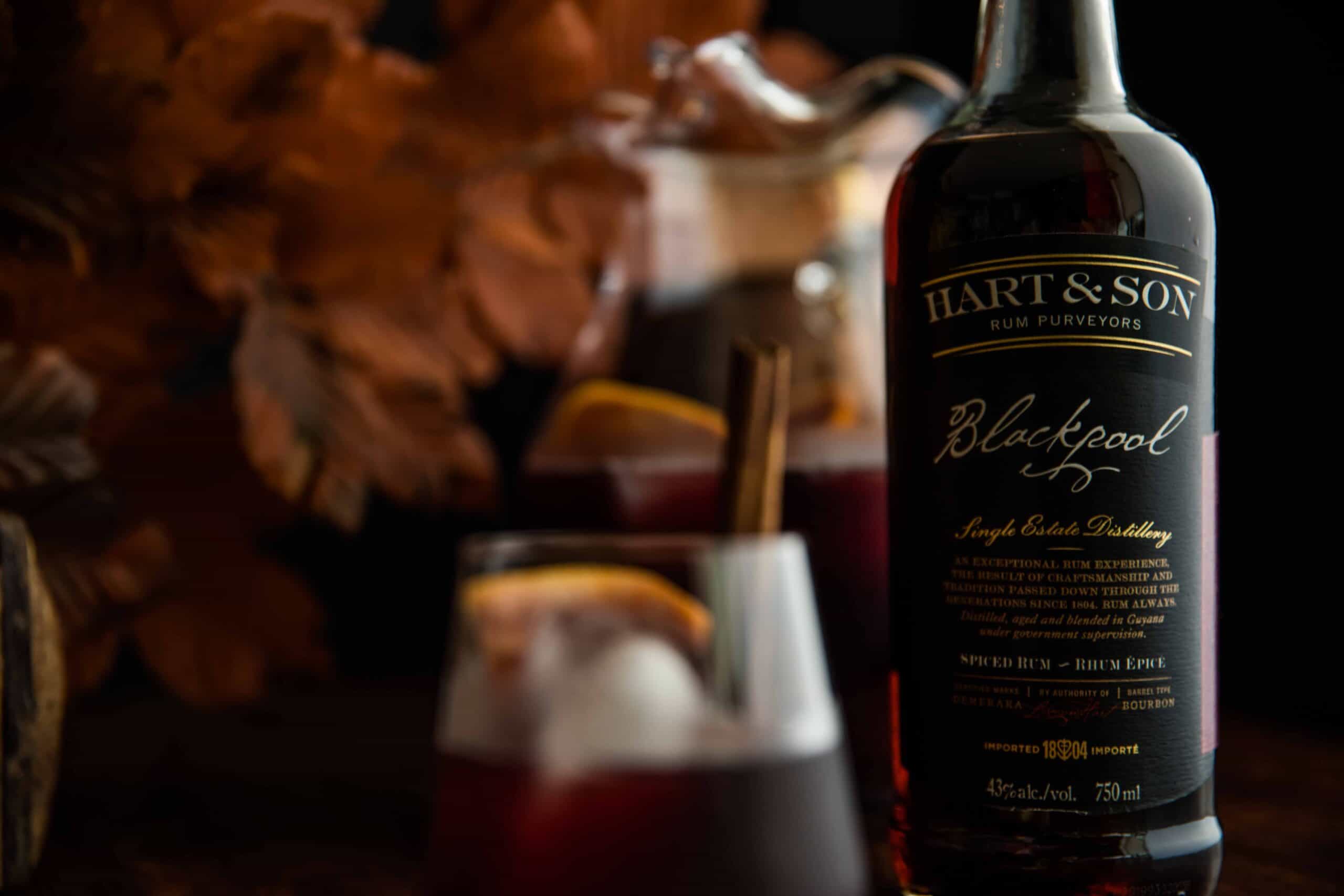 Everything Else
The rest of the Sangria was easy. Layering Citrus with sugar is very important for balance and the cranberry juice does just that. PLUS that hit of ginger beer for the effervescence and flavour married everything together so well. Don't have Ginger Beer? You can use Ginger Ale, just be mindful of the sugar. I would likely add more citrus to the mix in that case.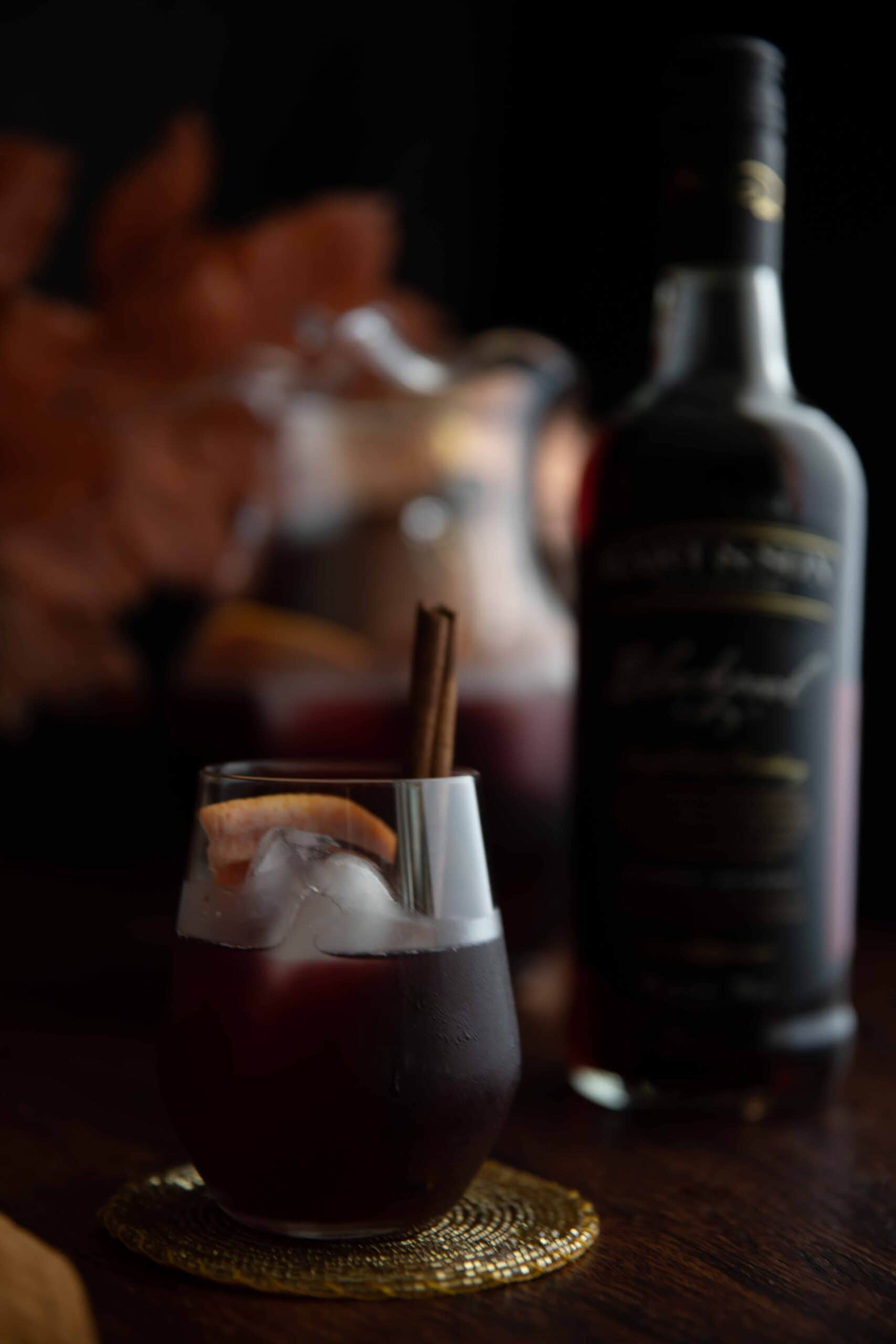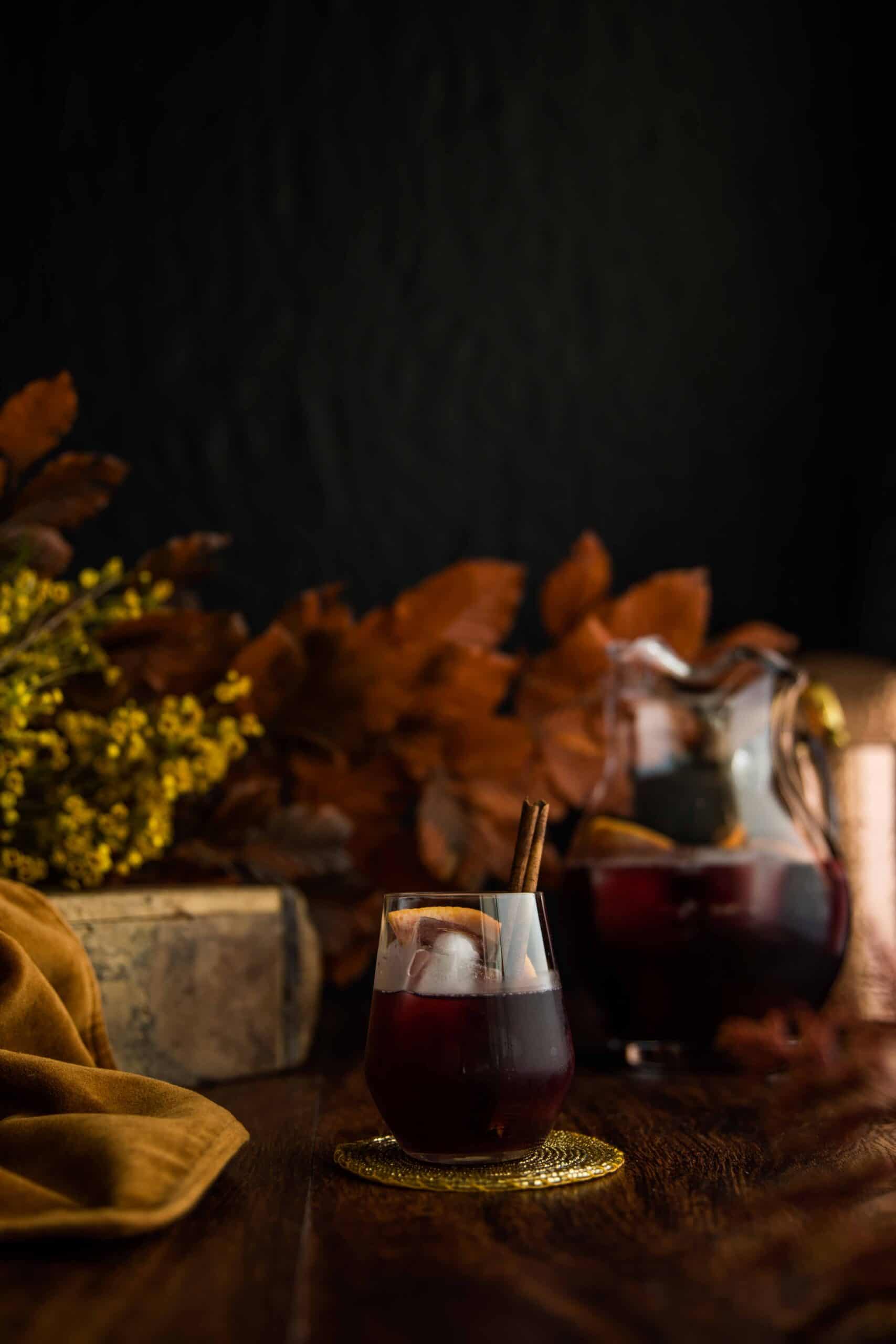 Cranberry Spiced Rum and Ginger Sangria
Featuring a great and easy Rum Sangria that can be shared at your table for Thanksgiving.
– Difficulty: Easy
– Serves 6-8 people
Ingredients
5

oz

Hart & Son Blackpool Spiced Rum

2.5

oz

Appleton's 8yr Reserve Rum

1

btl

Malbec

Graffigna's Malbec used here

4

oz

Brown Simple Syrup

*

8

oz

Cranberry Juice

2.5

oz

Orange Juice

5

oz

Ginger Beer

Grace Foods

5

Orange Wheel Slices

3

Cinnamon Sticks
Instructions
In a pitcher, fill with large ice cubes. Add Orange Slices and cinnamon sticks, and simply pour everything into the pitcher. Stir before serving.

Pour Sangria over fresh ice and orange slice.
Recipe Notes
*To create the Brown Simple Syrup, simply combine 1 part brown sugar with 1 part boiled water. Stir until dissolved and use when brought down to room temperature.