There's nothing quite like a Gin & Tonic. It was my first love, the sip I would constantly order at the bar before my appreciation for Negroni's truly florished. Well, sometimes I want to dress up this classic, and honestly, there are so many ways you can. From the Gin you choose, the herbs and produce used, to a special tonic water. I decided to go all out, and deconstruct the G+T to make the ultimate refresher, combining a homemade thyme syrup (I promise it's simple) with cucumber, blanco vermouth and more. Curious how it's made? You'll want to head down below for details!
Before we dive into the recipe, I'm going to breakdown some of the choices I made with this refreshing Cucumber Thyme G+T:
Choosing my Gin
There's so many avenues I could have chosen with this Gin, but the thing is, I wanted a classic. Something simple, easy, with that classic London Dry style I love. So I went to my trusty Collective Arts bottle.
Now there's a lot of quality Gins in the market, maybe a bit too much and it can sometimes feels saturated. That's why when I work with a particular Gin brand, I really look at the company as a whole. How do they support the hospitality industry? How have they been an impact to the industry? Do they have the values I look for in a brand? Are they using REAL ingredients and not just artificial flavourings? THIS is why I support Collective Arts, and not only that, they're local as well. Keep this in mind the next time you grab a bottle of gin, because it really does matter!
Why Vermouth?
I've been "splitting the base" of a cocktail FOREVER now, but I know it's not a concept most people understand. To help lengthen a cocktail, I'll sometimes split the base between two spirits, 1 typically lower in ABV. Whether that's a Sherry, Aperitivo, Vermouth, etc, it's a great way to add a new layer or complexity to a cocktail without making it completely booze forward.
The reason I love to use vermouth is for the fact that it tends to be one of those bottles that sits on peoples shelves. Well there is two things wrong with that statement. Vermouth should technically stay in the fridge once opened (and consumed within 2 months MAX), and Vermouth is such a VERSATILE spirit that SHOULD be used often. I especially love mixing equal portions of tequila blanco and blanco vermouth in a bubbly, refreshing cocktail. There's definitely quite a few examples on this website you can find. It just helps soften and marry the flavours together more harmoniously. Plus it's herbaceous notes help bring out the Thyme in this cocktail!
Don't have Blanco Vermouth? That's okay. I would then go with a Lillet Blanc or Americano Blanco. If what I just said sounded completely foreign, then I would skip the vermouth and just add another 0.5oz of Gin to the cocktail.
Choosing your Tonic
You'll only know what Tonics you love through trial and error. Some Fever Tree tonics I have LOVED, but when paired with a particular flavour, they clash. So what do I carry at home? I keep it simple, with a classic Indian Premium Tonic. I'll maybe have one more flavour like the elderflower tonic from Fever Tree, but I typically avoid the Lemons or Lime infused tonics since most of the time, I'm mixing with that particular citrus and would rather have the real citrus vs artificial flavours!
Why Crushed Ice?
Because this cocktail calls for a bit more alcohol in proportion, that's where Crushed Ice comes into play. The quick dilution from crushed ice is needed to give balance, and as I'm mentioned before WATER IS YOUR FRIEND with cocktails. Plus something about crushed ice in a cocktail makes it that much more sophisticated and refreshing. Don't have the patience to make some crushed ice at home? I get it. I wouldn't do it all the time. Just make sure your glass is full to the brim with ice, and give the cocktail a slightly more vigorous shake before straining.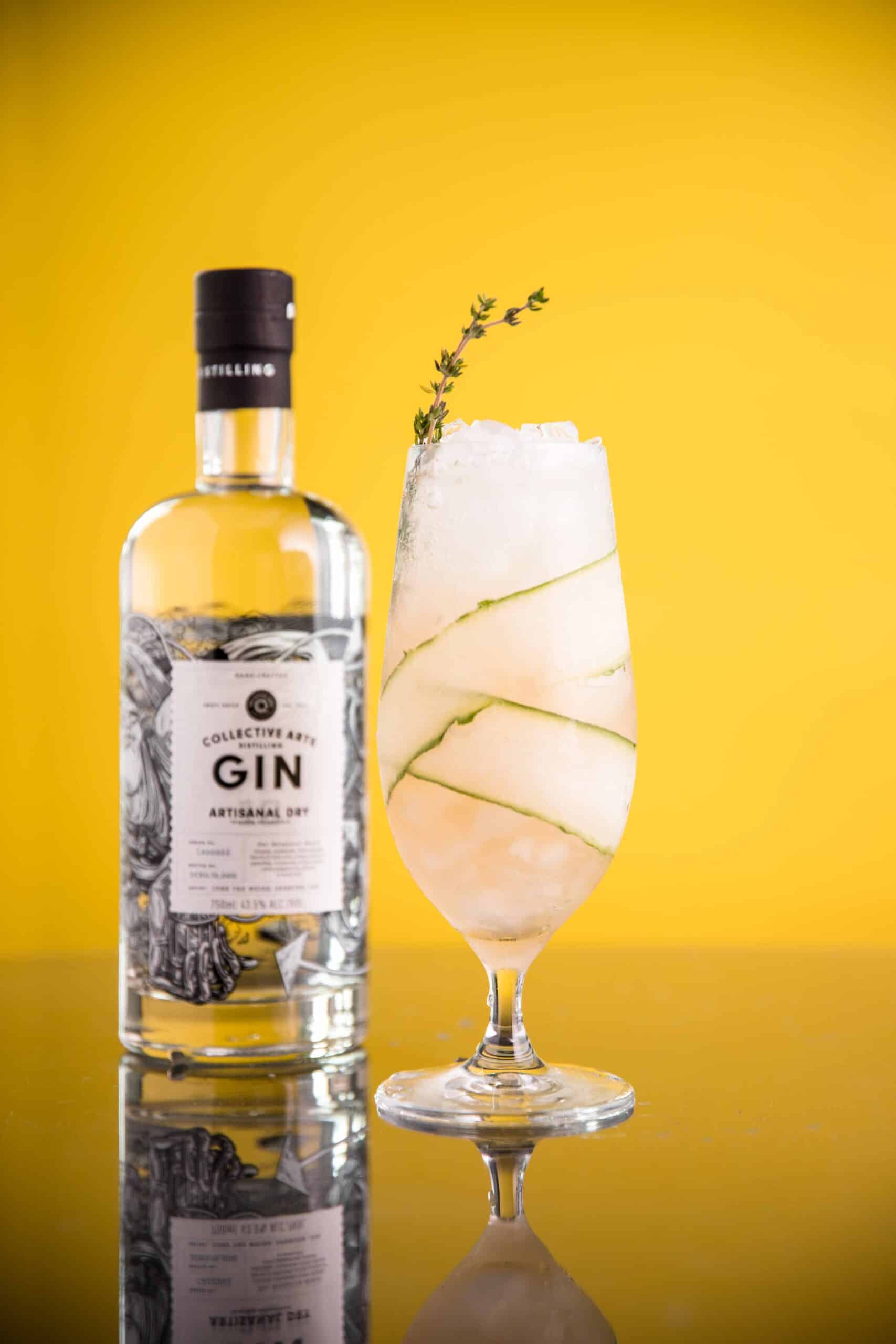 And that's it folks! Here's the recipe details or check out the video above!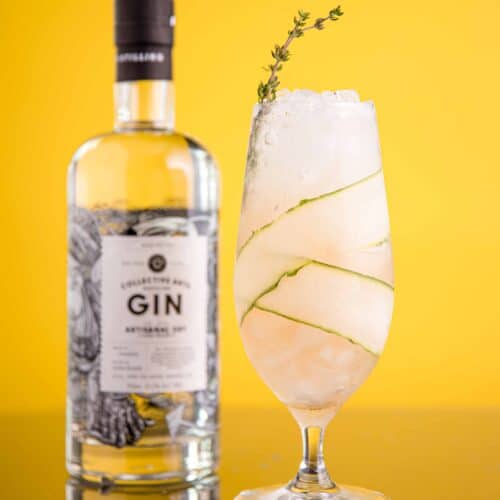 Cucumber Thyme Fancy Gin + Tonic
We're going all out with this Gin and Tonic infused with Cucumber, Thyme and Collective Art's classic Artisanal Dry Gin
– Difficulty: Intermediate
Ingredients
1

oz

Collective Arts Artisanal Dry Gin

1

oz

Blanco Vermouth

¾

oz

Lime Juice

¾

oz

Thyme Simple Syrup*

1

dash Angostura Bitters

3

Cucumbers Muddled

½

oz

Tonic
Instructions
In a shaker, muddle cucumbers.

Add the rest of the ingredients (except tonic) and fill with a handful of ice and give this a short shake.

Strain over crushed ice.
Recipe Notes
*Thyme Simple Syrup is easy to make, simply combine ½ cup boiled water with ½ cup granulated sugar, add in 6 sprigs of thyme and stir until sugar dissolves. Let it sit until it reaches room temperature before use. Make sure to strain after 1 hour.