Today I'm sharing the cocktail YOU voted for in this weeks Valentine's Day Cocktail! If you'd like to cast a vote for #DrinkYourGram, simply head over to my Instagram page every Tuesday in the IG stories for a chance to have your voice heard! See below for recipe and vote results!
Vote #1 – Gin vs. Whisk(e)y (53%)
Vote # 2 – Boozy Dessert vs. Cocktail (59%)
Vote #3 (Want it sweet for your Valentine?)
– Sweet Cocktail (53%) vs. Hell No
Vote #4 Want your creation Red and Fabolous?
– If it's Red, I swear vs Tis the Season (74%)
---
These results made it fairly easy to create a delicious cocktail for you. I incorporated Licor 43 since Raspberry and the Chocolate and Vanilla notes from the Licor 43 would pair very well! The rest was built like your typical Tiki cocktail, with a traditional Ruby Fassionola Syrup that mixes all the tropical fruits you can imagine. If you don't have access to the Prosyro syrup, reduce down a tropical juice mix with sugar. The flavours in a traditional Ruby Fassionola Syrup is Passionfruit, Mango, Grapefruit, Raspberry, Pomegranate and Hibiscus!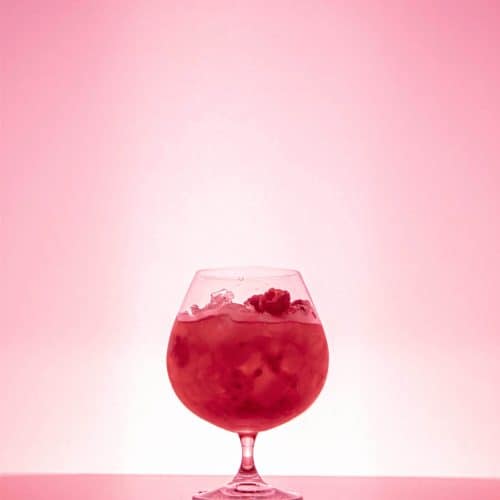 Pretty in Pink
Featuring a Valentine's Day cocktail, created by the votes you made on the @liqculture IG Stories this week! Mixing with Whisky and all sorts of red vibes for V-Day!
– Difficulty: Intermediate
Ingredients
1

oz

Glenfiddich's 12 yr old Scotch

1

oz

Flor de Cana 7 yr Rum

1/3

oz

Licor 43

½

oz

Prosyro Ruby Fassionola Syrup

¾

oz

Grapefruit Juice

1

dash Angostura Bitters

3

Raspberries
Instructions
Fill a shaker ½ with cracked ice, add all your ingredients and give it a short shake.

Dumb into pilsner, brandy or tiki glass and add crushed ice until full.