I know this is the most boring title on the planet, but when it comes to the ultimate Reposado Margarita, this recipe is king. Okay, I may be biased but for those that I've shaken this recipe for, it always wins. See how to whip up a CLASSIC margarita with Reposado Tequila.
Margarita's are so subjective. It's like a Daiquiri. Everyone has their preference of ratio, what sugars to use, the type of rum, EVERYTHING is debated. Margarita's are the exact same. So you may HATE my combo, but I've had a lot of happy responses with this mixture. I'll be going through a THOROUGH breakdown of each ingredients and why it was chosen:
---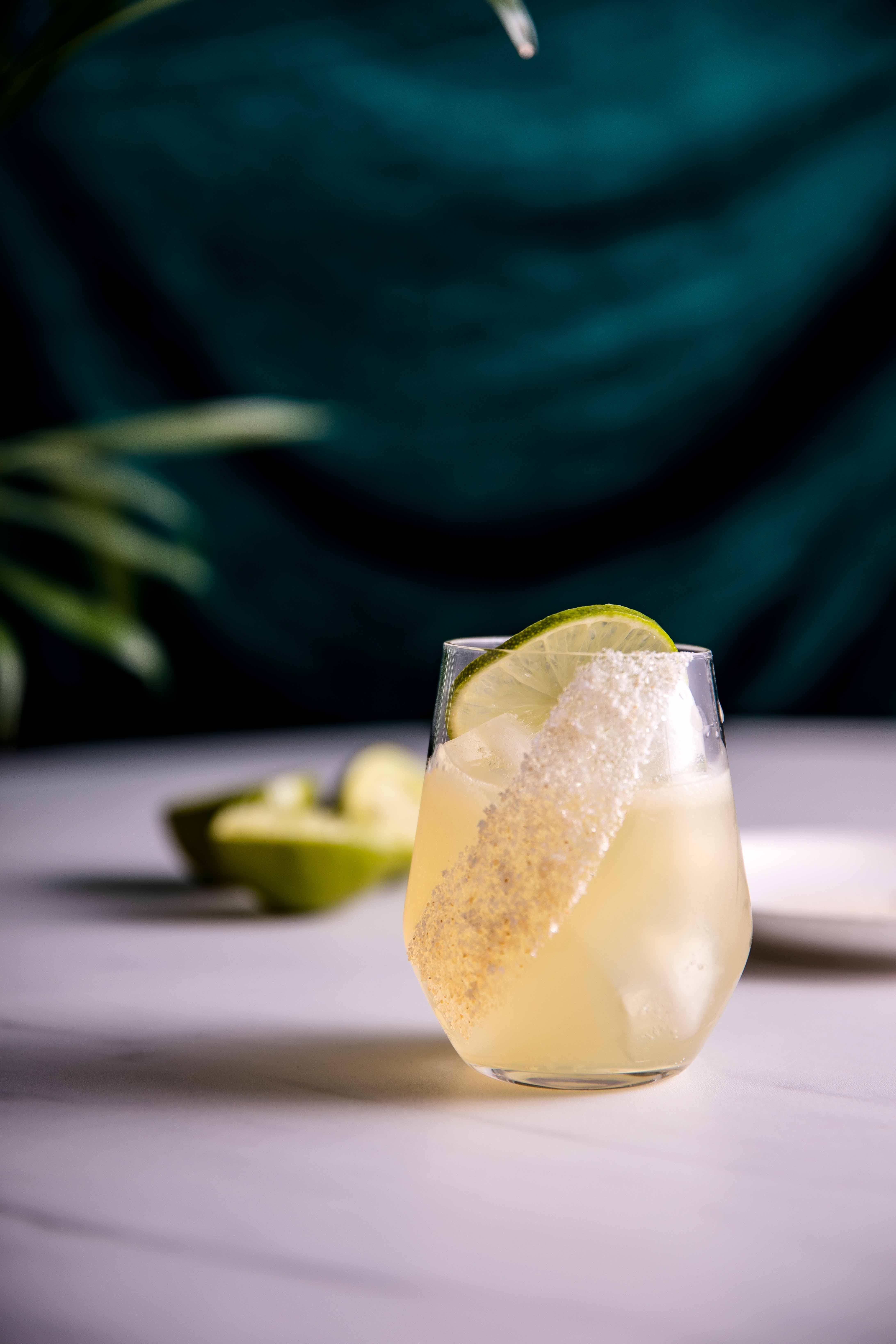 ---
Reposado Tequila
So this was an easy one and that's because you voted for Reposado as part of #DrinkYourGram! Realistically, I'm always team Blanco for a Margarita, but it doesn't mean a Reposado will be OUTSTANDING. Now because I used a Reposado Tequila, I wanted to bring out more of the savoury, nutty notes coming out, which is why I choose this particular Salt Rim…
Cinnamon Salt Rim (Salty Paloma's Sweetie Pie mixed with Kosher Salt)
For those of you that don't know, Reposado translates to "Rested" in Spanish, and to be called a Reposado it needs to be aged for a minimum of 2 months and up to a year. So with that oak presence comes all the delicious notes we love, from caramel and vanilla coming out of the cask and into the tequila. So instead of using traditional kosher salt for the margarita, I decided to dress it up with a bit of Cinnamon. Now I had a batch of Salty Paloma's Sweetie Pie mix, and I simply added a 1:1 ratio of that and kosher salt. If you don't have access to this product, add a dash of cinnamon to 2 tbsps kosher salt. Cinnamon powder goes a long way, so I wouldn't create the same ratios I did with the Salty Paloma product.
ALSO – NEVER SALT THE ENTIRE RIM. Unless you love it, so do you. I made mine decorative for the gram, but I typically just salt about 1/3 of the glass, because there's nothing I hate more than a SALTTYYY margarita.
Grand Marnier vs Cointreau
The short answer here: I couldn't find my Cointreau bottle. BUTTTTTTT had I found it, I would likely still use the Grand Marnier. GM is a cognac based orange liqueur, lending more to those notes that I knew would compliment the REPOSADO tequila used. If this margarita was made with a Blanco tequila, I wouldn't mind using the Cointreau product at all here.
Agave Nectar
Okay, why have TWO sugars, rather than one (aka being the Grand Marnier component)? It's not just me, but the experts split their sugar base as well! Whether it's Agave or a Syrup with Cointreau or in my case Grand Marnier. In Death & Co I trust, ALWAYS, and the Agave Nectar brings out more of the Tequila properties, making this the ultimate agave cocktail.
Lime Juice
This seems like a no brainer, but I'm going to state it anyway. IF YOU DON'T USE FRESHLY SQUEEZED LIME JUICE, DON'T EVEN BOTHER. I'm talking about my mom that used to use that nasty green bottle product that never seemed to go bad. Don't even think about Lime Cordial, orrrr LEMON! No debates here, capeesh?
Excited to make some Margarita's for National Margarita Day? I hope so, because I've got the ultimate recipe here!
Classic Reposado Margarita
Featuring a classic lime Reposado Margarita.
– Difficulty: Easy
Ingredients
2

oz

Reposado Tequila

Used Don Julio's Reposado here

2/3

oz

Grand Marnier

1

oz

Lime Juice

1/3

oz

Agave Nectar

Cinnamon Salt Rim

Sweetie Pie Salt by Salty Paloma mixed with Kosher Salt
Instructions
Rim half of your glass with the Cinnamon Salt and fill with ice (cubed)

Grab a shaker and add your Tequila, Grand Marnier, Agave Nectar and freshly squeezed lime juice. Fill with ice and shake vigorously.

Strain over fresh ice and garnish with lime wheel
Recipe Notes
See post for notes why certain items were used, what to avoid and more.