In an effort to create more Low Alcoholic options on this platform, I'm sharing a very simple and easy recipe to enjoy any night of the week! If you've been wanting to experiment in the world of Sherries, this is an easy cocktail to start with. It mixes with Guava Juice, Aperol, Alvear's Fino (which TECHNICALLY isn't allowed to be called a Sherry because it isn't coming from the Jerez region — if you know the champagne and sparkling wine battle, you'll get this) and a Honey-Ginger Syrup! You can find the recipe below to this low in alcohol cocktail!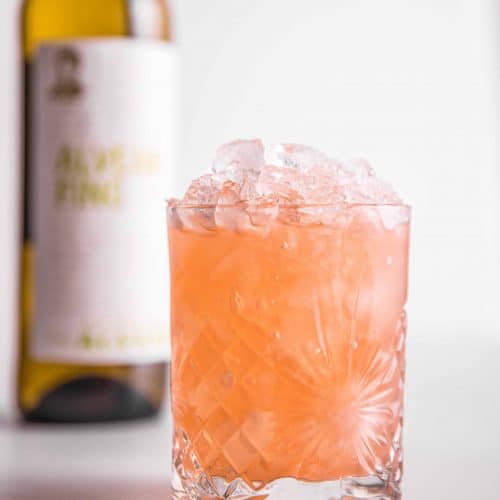 Jerry Guava
Shaking up a delicious, easy Fino sherry recipe that's also low in alcohol! Made with Aperol, Guava and a homemade Honey Ginger Syrup
– Difficulty: Easy
Ingredients
2

oz

Alvear Fino

1

oz

Guava Juice

1/2

oz

Aperol

1/2

oz

Honey Ginger Syrup

*
Instructions
Grab a cocktail shaker and add all your ingredients. Fill with cracked ice and give this a good shake.

Strain over fresh cracked ice (almost crushed)
Recipe Notes
* To make the Honey Ginger Syrup, I simply stirred together 1/2 cup honey with 1/2 cup boiling water and grated 1 inch of ginger. Stir until the honey has dissolved and let it sit for 15 minutes before straining. Can hold in the fridge for at least 2 weeks.
When it comes to Ginger, I always pick up the Peruvian or Jamaican Ginger. Much of the Chinese ginger I find doesn't carry the same amount of heat like Jamaican Ginger. So be mindful of this. I used Jamaican Ginger, but if you only have access to something not as potent, grate a bit more.
I don't have a garnish on here, can't decide if that was intentional or not, but if I were to have add anything, maybe a dehydrated Orange Wheel, or Mint would do wonders.