In honour of Martini Day and Liquid Culture's Wednesday #LCFeature, I thought I would highlight one of my favourite accounts when it comes to a Martini and that is the wonderful Morten of @thecocktail.blog.
Truth is, I love Morten's work for more than just his Martini's. He plays an active role in the community, continuously improves his cocktail photography game and is always introducing new and exciting brands and recipe ideas. But when it COMES TO A MARTINI, this man has done it all. With the #CubesInCoupe initiative, his love for a Vesper, while offering vermouth forward martinis, he has one of the broadest spectrum when it comes to this classic. And it's because of him, that I've expanded my limitations of what a "martini" is, and genuinely enjoy creating a Martini cocktail! So all I have to say is, Martini Day should also be #GraciasMorten day, because I have you to thank for so much!
Now I have been ITCHING to use this product the second I tasted it, and it's a true CANADIAN gem! It's the folks behind Eau Claire Distillery out in Alberta, Canada, and they've produced some outstanding spirits, including the one featured here. This is a cocktail that uses their Prickly Pear Vodka. Now I call it a Vodka, but I really shouldn't. The base is made of Barley, and on the nose, you'll think you're about to have a liqueur, but it's far from it. The Prickly Pear EquineOx has strong citrus peel notes, while being delicate in nature as well. Plus they weren't lying by putting "Prickly Pear" in the name. You can actually taste it and it doesn't have the residue of an artificial flavour! Whether on the rocks, or served with a touch of Soda, the Prickly Pear offers a delicate aroma and adds to the whole experience. It was surprisingly one of my favourites of the brand's selection, and I knew the second I tasted it, that I wanted it in a Martini.
In Morten-like fashion, this recipe breaks traditions of what's found in your traditional Martini. I've mixed it up with Lillet Blanc and a touch of Oloroso Sherry to make a name-sake 'Bond' Martini. May you, and everyone else on here have a Martini in honour of this momentum occasion (#GraciasMorten)!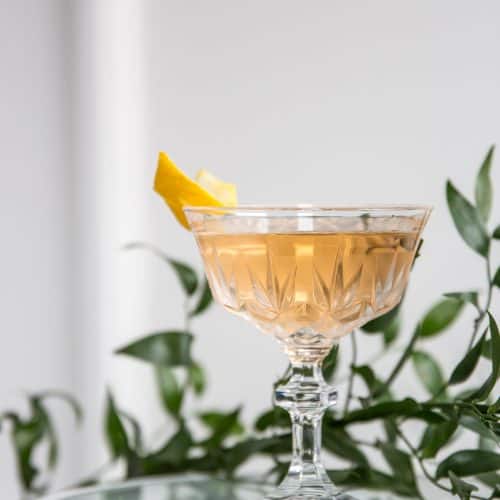 Prickly Morten Martini
Creating a Martini in honour of Martini Day and Morten's constant efforts to break the boundaries of a Martini. Made with a Canadian Gem from Alberta, Eau Claire Distillery 'Prickly Pear EquineOx'.
– Difficulty: Intermediate
Ingredients
2

oz

Eau Claire's Prickly Pear Equineox

1/2

oz

Lillet Blanc

1/2

oz

Gonzales Byass Nutty Solera

1

Lemon Peel
Instructions
Chill your coupe/martini glass by adding ice and water before creating your cocktail. Let that sit.

Grab a mixing glass and add all your spirits. Fill your mixing glass 2/3 with ice and stir well (at least 40 seconds).

Empty your coupe/martini glass and strain the martini inside. Garnish with Lemon Peel.