Today's #TBThirsty feature looks back at the history behind Colonel Joe Rickey, and his influence on what we know today as the classic Gin Rickey cocktail. It's story that was far from my expectations…
I know I've heard of a Gin Rickey before, but I had no idea what was in the cocktail, other than safely assuming Gin. I discovered it during a time when I started to appreciate more spirit forward cocktails, but even Gin isn't the original spirit for this OG. That's right, the Gin Rickey was somewhat 'forced' unto this classic and let me explain why.
---
---
Colonel Joe Rickey was your typical American-loving, army veteran from Callaway County, Missouri. He loved races, poker and would smoke the odd cigar or 5. He would go around from bar to bar, detailing precisely how to make his simple 'cooler' cocktail. Until one day, he got the beloved George Williamson to start making it for him, which landed a spot on the Washington Post somewhere between 1883-1889.
When I tell you it's simple, believe me, you can't get less complicated than this. It combines a whiskey (major battle between whether it was Rye or Bourbon), the juice of half a lime, with ice and soda. It almost sounds like a Tom Collins (with Gin of course), but there is no sugar. That's because Joe Rickey believed that
"any drink with sugar in it…heats the blood, while the Rickey, with its blood-cooling lime juice, is highly beneficial"

Joe Rickey, as per the Imbibe Book by David Wondrich (pg 147)
Got it Joe. Sugar is the Devil. But this drink was a sensation, travelling all around the United States, with people demanding the Joe Rickey. The tragic truth is, everyone kept on swapping the Whiskey for Gin. Gin was going through a craze at the time, that even Joe accepted the reality of his cocktail and would write out of the recipe suggesting either Gin or Whiskey. So I guess the real question here is…are you team Gin or Whiskey?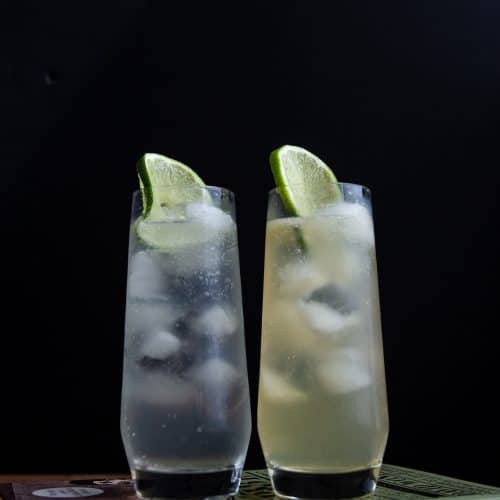 Joe Rickey
Recipe for the classic Joe Rickey/Gin Rickey – as per Imbibe book by David Wondrich
– Difficulty: Easy
Ingredients
1.5

oz

Whiskey or Gin

1/2

Juice of Lime

2

oz

Club Soda
Instructions
Fill a Collins glass with ice, and add all the ingredients, topped with soda.
Recipe Notes
The recipe that was discovered was very vague, with ingredients listed as Carbonated Soda, Ice, Whiskey/Gin and Juice of Half a lime. That is it. So the interpretation of how much lime is really all up to your discretion.