This is the first of many cocktails you will see featuring Toronto's False Ox Shrub Concentrates, and I have to admit, it's definitely one of my favourites. Nothing excites me more than to collaborate with like-minded and passionate individuals who are looking to expand our minds and palates in the beverage industry.
I'll admit, the thought of a vinegar-based beverage had me confused and unsure, but nonetheless intrigued! With some trial and error, I've fallen in love with Shrubs and what they can do to any cocktail (or mocktail!). If you're still doubting the awesome-ness of Shrubs, EVEN AFTER reading my 'What the Shrub' article, then you have to make sure to pick up a few samples from the False Ox line up. Their products are easily accessible in specialty shops and grocers in the downtown Toronto area, and lucky for you, they also have an online store!
Now we all know why you're here, and that's for a DELICIOUS cocktail recipe. A few months prior, I had played around with the idea of a Julep containing shrubs and I created my first recipe ever, the Pineapple Bourbon Julep. I became so obsessed with this cocktail, that when I started working with False Ox, I knew I had wanted to create something similar in structure. Seeing as I wanted something that can handle the weight of a bourbon, I knew their Raspberry Balsamic Shrub could handle the job. It's also an incredible flavour, and one of my personal favourites from the brand. The rest of the cocktail just fell into place and I'm here to explain how!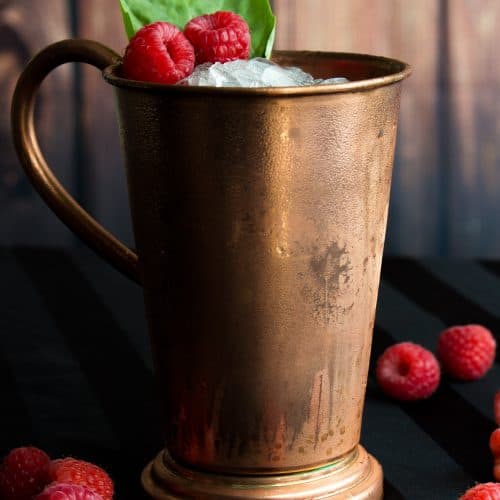 Raspberry & Basil Shrub Julep
A delicious bourbon julep featuring raspberry, basil and False Ox's Raspberry Balsamic Shrub!
Difficulty: Intermediate
Ingredients
3

Basil Leaves

3

Raspberries

2

oz

Bourbon

1

oz

False Ox's Raspberry Balsamic Shrub

½

oz

Simple Syrup

4

dashes

Angostura Bitters
Instructions
In a julep glass, place the bitters, basil and raspberries and muddle until well combined

Pour the bourbon, sugar and shrub and top with crushed ice.

With a mixing spoon, make sure to mix all components well. Crushed ice is very important as it will dilute the drink quickly which is what you need
Recipe Notes
As a reminder, all simple syrup recipes on this site uses a 1:1 ratio of water and sugar!