The fun of Negroni Week continues and I knew I had to stir up one in honour of your votes for #DrinkYourGram. For today's result, you preferred Raspberry over Lavender, Classic Negroni combo and something on the rock(s). Well, I hope this Raspberry Coffee Negroni does the trick. I know it definitely did for me!
If you're new to the #DrinkYourGram concept, it was a way for me to connect with my audience on Instagram and have you vote for what YOU'D like to create at home. Since I started #DrinkYourGram in 2020, I've created some of my favourite cocktails PERIOD and I have all of you to thank. For this week, with Negroni Week taking over the drinks world, I wanted to know your favourite style of Negroni! Curious about the results? Well, here were your votes:
My favourite Style of Negroni is __________
The Classic won with over 35% of the votes. Some of the others you had to choose from was a Boulevardier, Sbagliato and White Negroni variation.
I want a Negroni with
Raspberry (61%) vs Lavender
Serve it to me
On the Rocks (82%) vs Straight Up
I don't know why I struggled coming up with a flavour combo. Maybe because everything I wanted to do, had already been done or broke away from the "classic" Negroni combo. And then it hit me…COFFEE-INFUSED VERMOUTH. Once I had the coffee in my head, it was over. I don't know if I prefer this Negroni over the Strawberry Chocolate. Both are magical. So I guess it depends on your mood!
Campari
To make the infusion, it's actually SUPERRRRRR simple. I mean it. I added about 1/8 cup of Espresso Beans in 1/2 cup of Cinzano Vermouth for 1 hour and it was pure magic. If you want more coffee flavour, let it set for 2 or 3. Just make sure to have a taste test every hour to see how you like it. Again, my way is NOT the highway here. Adjust to your preference!
The other component I wanted to make sure to add was my love and appreciation for Campari Canada and their initiative this week. If you didn't know, all week long Campari Canada is donating to the Bartenders Benevolent Fund to help support the hospitality industry during this time. And there's so many ways you can contribute, from purchasing a bottle of Campari, setting up a post with the hashtag #NegroniWeekCA2020 and tagging @camparicanada, and so much more. Make sure to check out my posts this week because it's all about Negroni love and a simple post on your feed helps!
Raspberry
The raspberry component to this cocktail was the Chambord. This liqueur is a classic and available to most. But if you don't have Chambord at home, go for a Cassis or rich, preferably Brandy based liqueur and muddle one raspberry before stirring your cocktail.
Choosing your Gin
This is a bit more tricky. I actually attempted this cocktail with a floral expression from Violette which is a GREAT gin, but it didn't compliment the coffee notes well. So I decided to go with a classic London Dry Gin, and my friends at Collective Art's never disappoint. I would also recommend something on the more delicate side as well. Maybe more Western-style gins that isn't heavy on the lavender and juniper and more subtle.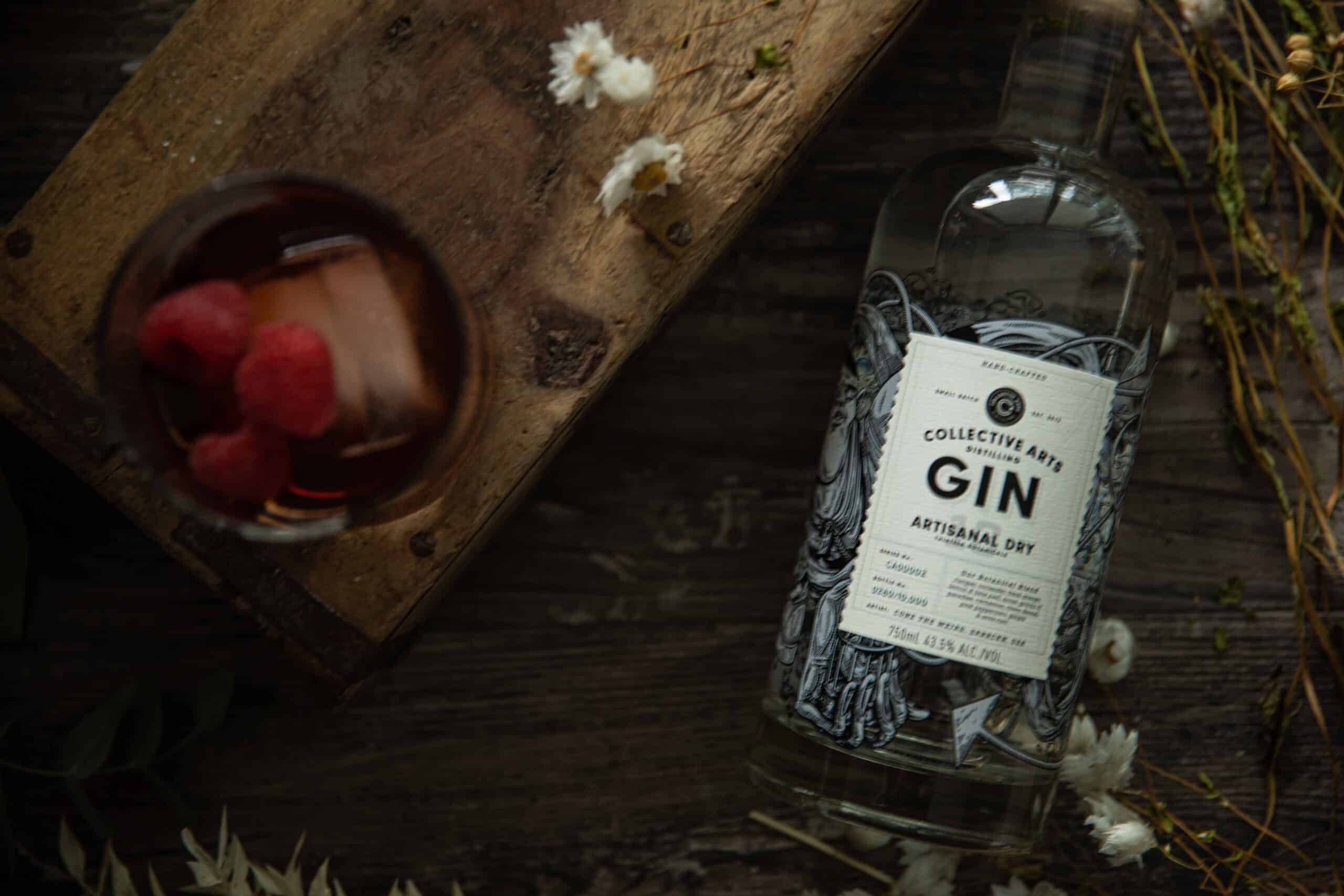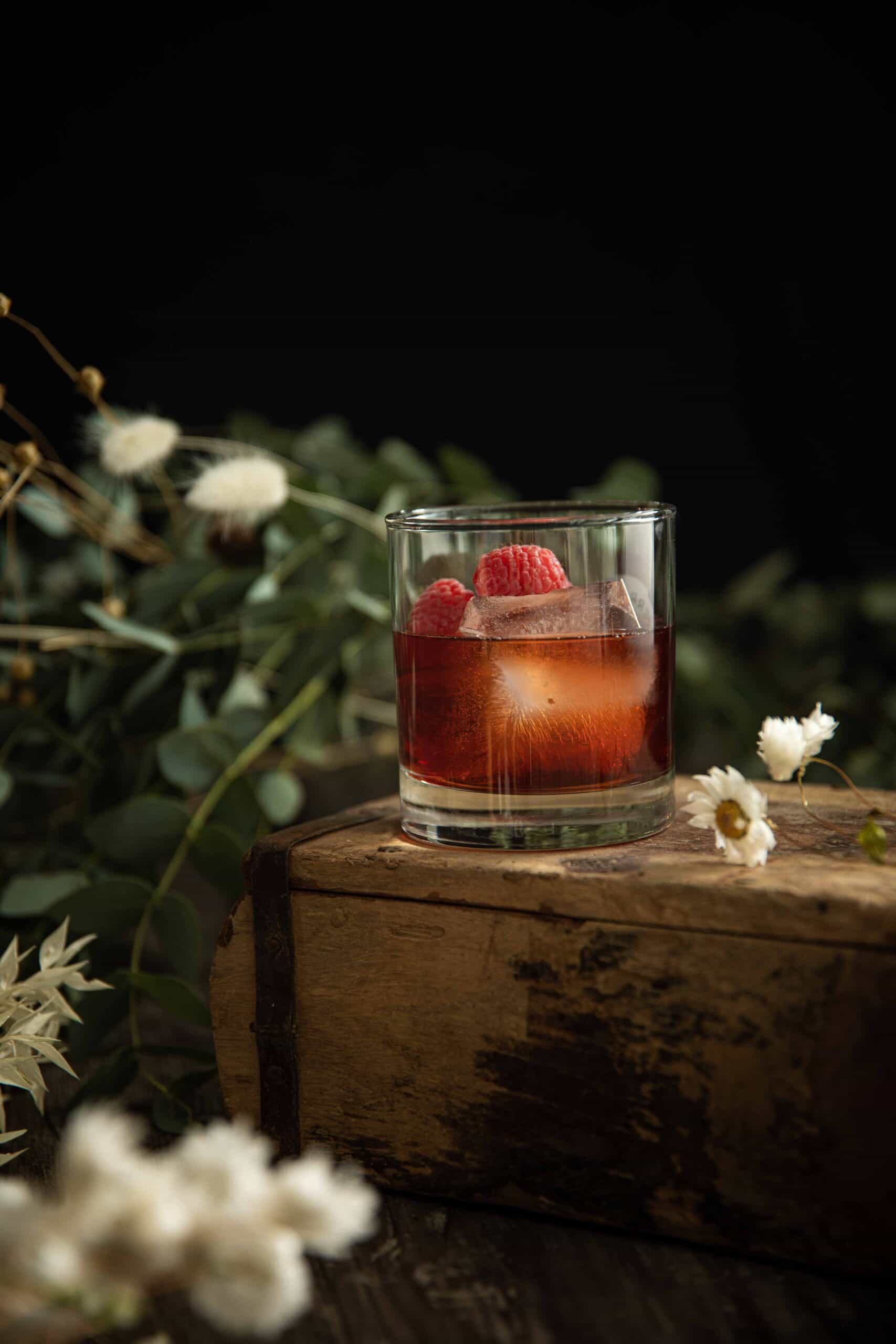 Raspberry Coffee Negroni
A magical combination that's surprisingly simple to make with a London Dry Gin, Chambord, Coffee-infused Vermouth and of course, Campari.
– Difficulty: Intermediate
Ingredients
1

oz

London Dry Gin

Collective Art's Artisanal used here

3/4

oz

Campari

1

oz

Coffee-Infused Cinzano Sweet Vermouth

1/4

oz

Chambord

3

Raspberries

for Garnish
Instructions
In a mixing glass, add all your ingredients, fill with ice and give it a good stir (at least 30 seconds)

Strain over 1 large ice cube and garnish with raspberries.
Recipe Notes
Making the Coffee-Infused Vermouth is straight forward. In a mason jar, add 1/2 cup Cinzano Sweet Vermouth with 1/8 cup fresh Espresso Beans (whole). Let this sit at room temperature for 1 hour. Taste. If you want more coffee flavour, let it sit longer, just keep an eye on it. Strain, cover and let sit in the fridge for a maximum of 30 days. Psst that's because all vermouths should be refrigerated.