The Rhubarb season is upon us, and you can bet that this won't be the only recipe you'll see with it. Although I never really grew up having a ton of rhubarb, it's quickly becoming a household favourite, because there are just so many possibilities and flavour combinations to explore!
So truth be told, I don't think I've ever ordered a Singapore Sling. It's one of those cocktails that I associate with being a sugary hot mess that you order off the placemat from Mandarin. So I had this idea engraved in my mind that it would be just as bad and as BASIC as ordering a 'Sex on the Beach' (Yes, Bartenders are judging you when you order this). When you look at the ingredient list, it screams sugar overdose. You have grenadine, cointreau and benedictine which, if you're not careful with the measurements, it will quickly become a booze-filled sugary mess. But when using a homemade grenadine, and measuring the cointreau and benedictine accurately…this drink is ALL THAT AND MORE! Didn't expect me to say that, did you?
Singapore Slings typically come with Grenadine, another ingredient I thought I hated, because we are all just used to the sugary chemical mess in the grocery stores. But then I realized that grenadine is actually fresh Pomegranate juice with added sugars and spices. Say What?! You mean there's an actual fruit in there? Now this time around, I didn't have time to make my own grenadine, which I'm sure a lot of you feel the same way. So what I did instead was use a Pomegranate Molasses for the recipe. Pomegranate Molasses is extremely popular in Middle Eastern cooking, and since I'm a massive fan of the 'Death and Co.' Cocktail Book, they hinted that they love to use Pomegranate Molasses in their recipes. I've been playing around with this ingredient for some time now, and here's another winning example of it.
Then there is the Rhubarb puree. It's pretty much the easiest and quickest puree you can throw together. You just need to throw some fresh rhubarb in a saucepan with a few tablespoons of water and sugar, blend it up and voila! You have a puree! For further details, just following this quick recipe that can be found here.
And that's it folks. With a bit of St. Germaine Elderflower Liqueur to tie in some floral notes, you have an AMAZING cocktail that you and your gang will love! It's a little bit of time and patience, but that labour of love will really show when you shake this cocktails for your friends. Cheers to an incredible long weekend for my Canadian Community!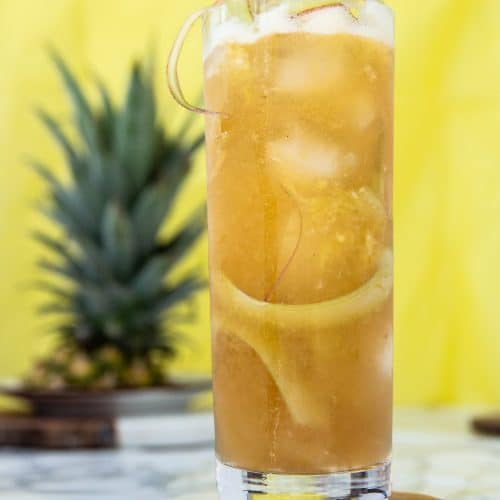 Rhubarb Spring Sling
A delicious and refreshing Rhubarb Spring variation to the classic Singapore Sling.
Difficulty: Intermediate
Ingredients
1.5

oz

London-Dry Gin

2

oz

Fresh Pineapple Juice

**FRESH being the key word here**

0.5

oz

St Germaine Elderflower Liqueur

0.25

oz

Benedictine

0.25

oz

Cointreau

2

tbsp

Rhubarb Puree

1

tsp

Pomegranate Molasses

2

dashes

Angostura Bitters
Instructions
Fill a large Collins Glass with ice

In a shaker, combine all ingredients with a few cubes (a short shake is acceptable here, just enough to have the jam well incorporated)

Strain the cocktail over the Collins Glass with ice and garnish with rhubarb and a pineapple slice
Recipe Notes
For a detailed recipe of the Rhubarb Puree, follow here.