The drinkstagram community came together this holiday season to create a cocktail-inspired "Secret Sante" initiative. Created by none other than Matthias of ServedbySoberon, we were all given an individual in which we would create a cocktail inspired by them. This draw allowed me to meet a very talented photographer and spirited individual, Efren (@imefren). Browsing through his feed, it became apparent that he's a man who speaks to my liver, and loves a Negroni as much as I do. That, with a very tropical and summer vibe, I decided to create a bright and fresh Grapefruit Cocchi Negroni over crushed ice in his honour. May Efren and all of you love this as much as I did!
9 times out of 10, I will always start my night off with a Negroni. ANYONE that is as passionate about a Negroni as I am is definitely someone I'd share a cocktail with…or 2. It became really clear to me that Efren and I would get along, plus with all the warm weather in California, he speaks to my love for tropical and tiki styled drinks. Some of my favourite photos on his feed were those served over crushed ice, and that is when it hit me. I wanted to marry the two concepts together, combining a delicious Negroni and tropical vibe in one glass.
I really wish I got on this sooner, because this is an INCREDIBLE way of serving a Negroni in the summer. In addition, with the bitters diluted by the crushed ice, it makes for the perfect way introduction to campari and other bitter apertifs to those who still doubt this classic. THIS is the kind of drink I would share with Efren any day, everyday. So the next time I'm in California, I know who I'll be meeting up with it! Cheers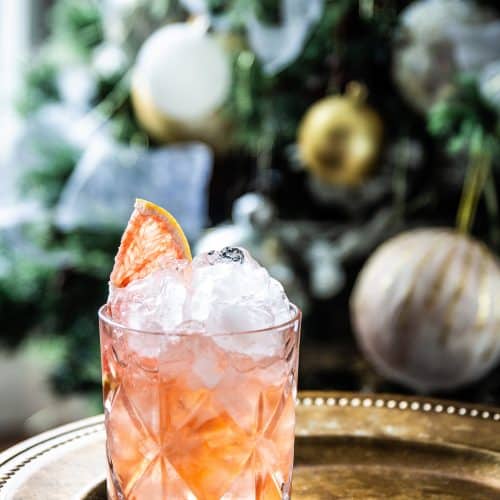 Grapefruit Cocchi Negroni
A delicious, summer inspired Grapefruit and Cocchi Rosa Negroni, created for a talented Drinkstagrammer!
- Difficulty: Intermediate
Ingredients
2/3

oz

London Dry Gin

Broker's Gin used here

2/3

oz

Campari

2/3

oz

Cocchi Rosa

2/3

oz

Grapefruit Juice

1/4

oz

Simple Syrup
Instructions
In a shaker, combine all ingredients and give a short shake

Strain over crushed ice with 2 Grapefruit wedges