This cocktail has been on my Cocktail Bucket list for some time now. Nic told me about this imbibe a while back, and I finally get a chance to showcase this cocktail in it's full cocktail glory. If whiskey cocktails are your jam, you will definitely open up to this delicious imbibe. Say hello to The Wanderer!
As much as I love this Drinkstagram community, there are very few Tequila enthusiasts. You'll find a ton of Gin accounts, or those focused on Whiskey, but when it comes to the wonderful world of Agave, it's a bit limiting. So you can only imagine my excitement when Nic came into my life. I will continue to preach the message that Tequila is YOUR AMIGO. Little do people know the difference between real 100% Blue Weber Agave Tequila and the Mexto you likely drank back in university. Labels make it confusing for consumers because they think they are drinking authentic Tequila when they may not be! I go into a bit more details about this in my educational segment Tequila is your Amigo. This is definitely worth reading when you have a chance!
Nic, you told me this would be an amazing cocktail, and you definitely DID NOT disappoint! I usually get scared when I see maraschino liqueur because I've never been a fan, but thank you for changing my mind with this delicious imbibe. You definitely will want to check out Nic's account which you can find right here (@the_tequila_wanderer). As he says it best, Travel Often, Drink Mexican!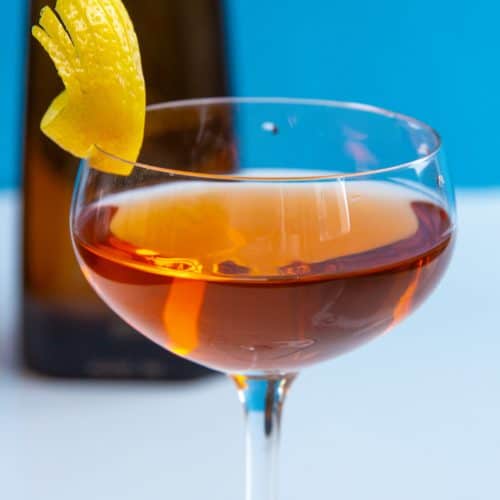 The Wanderer
Featuring our first Wednesday recipe, created by none other than Nic of @the_tequila_wanderer. This is his version of an "improved whiskey" as he likes to call it with Anejo, maraschino liqueur, absinthe and lemon.
- Difficulty: Intermediate
Ingredients
2

oz

Extra Anejo

Don Julio 1942 used here

1

tsp

Simple Syrup

1/2

tsp

Maraschino Liqueur

2

dashes

Angostura Bitters

1

dash

Absinthe

1

Lemon Zest

Garnish
Instructions
Spritz a Coupe glass with absinthe (aka rinse the inside of the coupe with a dash of absinthe, toss out extra liquid)

In a Mixing Jar, combine Anejo, Simple Syrup, Maraschino Liqueur and Angostura Bitters and give this a stir with ice for approximately 30 seconds

Strain into rinsed coupe glass, and zest with 1 lemon peel on edges of coupe and stem.
Recipe Notes
This recipe was created by Nic of @the_tequila_wanderer. Photograph and Instructions are my own.