A low ABV martini was far from what I had in mind when it came to making this friday's feature. But sometimes you just have to let the spirit guide you, and that's exactly what happened here. In honour of welcoming the Winter Season and some delicious inspired cocktails, I stirred up the most fascinating Sake, Pear and Sage Martini. Intrigued? Well you will want to continue reading!
I always like to create a cocktail to launch a new season, but with Christmas taking all of my attention, I let Winter slip. I was trying to wrap my head around what I could possibly make as the first Winter cocktail of Liquid Culture, and two particular flavours stood out; Pears and Sage. I knew these flavours would compliment itself well, but I had no idea how I would put it together. I don't tend to use Sage often because it can definitely overwhelm a cocktail, so if ever you find yourself wanting to use Sage, be very sparing with it.
So ideas of a shaken egg white cocktail came to mind, or creating something a booze forward cocktail with Calvados or a Pear Eau de Vie. Unfortunately, I had no Eau de Vie in the house, and I didn't want to shake up another sour. Whenever I'm stuck, I'll just take a look at my bar. It's definitely full, so a lot of times I forget what I have, therefore I'll browse for some inspiration. That's when I had my "voila" moment and I found a bottle of dusty old Sake just waiting to be used. I'll be honest, it's been a while since I've had Sake, so I gave myself a small taste to refresh my palate. Let me tell you, it was perfect. The second I had it, I knew the delicate notes of Pear would work brilliantly, and that's when the Martini took shape.
Sake is one of those spirits that can easily be masked, such as a Vodka. But I didn't want to find this spirit. I wanted it to the be the star of the show, with slight hints of fruit, herbs and spices. That's when the Cocchi Americano came to play. Truthfully, you can probably switch it out for a Lillet Blanc or a sharp dry Vermouth, but there's something about the Cocchi that has me hooked and it's one of my favourite bottles behind the bar! With that, I mixed it with a rare pear liqueur available in Ontario by a German company called Berentzen. For my local folk, if you find this brand and love pears, then definitely pick this up. This is going to be one of the easiest liquors to pair with on your bar!
---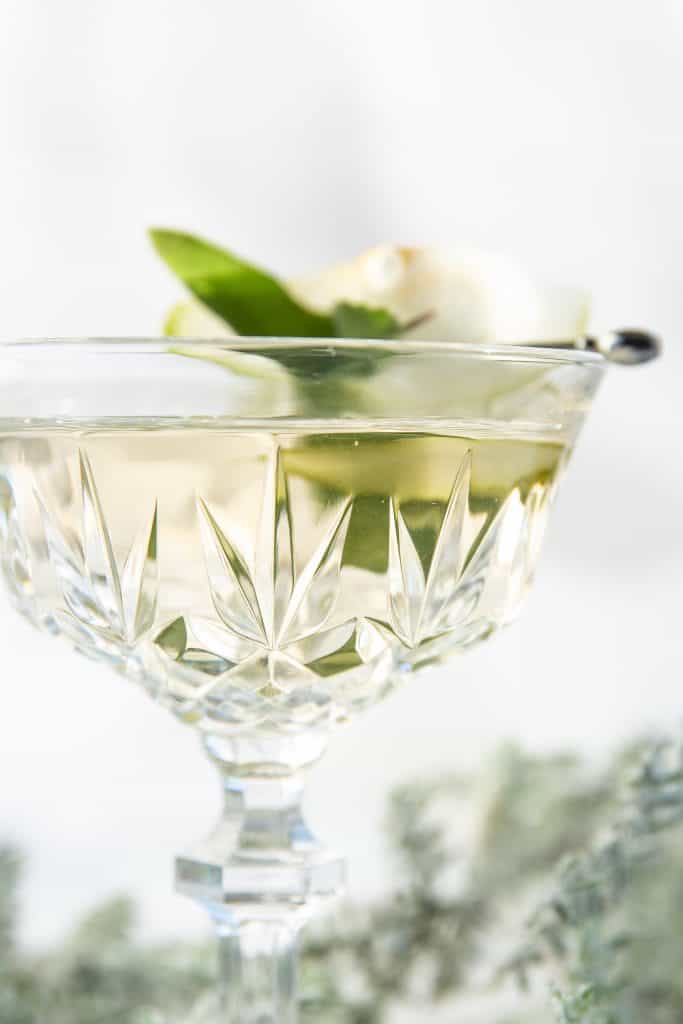 ---
You may be asking, what makes this a low ABV martini, because it sure does sound stiff. Well even I forgot that Sake is one of those base spirits that's typically a much lower percentage than other spirits such as vodka or gin. This particular one was only a mere 13% in alcohol! Now I'm sorry, but I can not tell you the name of the Sake, because not a single word of it was in english. The whole bottle was symbols, but I promise you it was premium and actually Sake!
This ended up tying in quite nicely to the fact that everyone is slowing down the drinking for January after a festive holiday season, or what the Instagram community like to call #DryJan. I would sip this during Dry January, to start off the night, on a cool summer night, it's perfect. My love for martini continues to grow and this is just another example of how magic will happen when you open up your palate. Now let's finally get to that delicious recipe!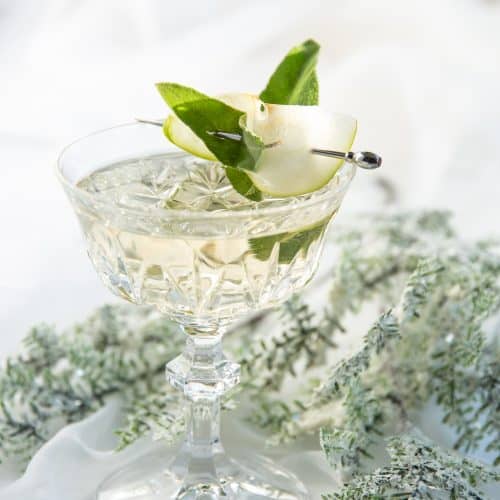 Sake, Pear and Sage Martini
An incredible welcome to winter, with this winter-inspired Sake Martini that combines Cocchi Americano, Pear Liqueur, a dash of Cardamom Bitters and Sage.
- Difficulty: Easy
Ingredients
2.5

oz

Premium Sake

1/2

oz

Cocchi Americano

1/3

oz

Berentzen Pear Liqueur

1

dash

Cardamom Bitters

1

slice

Pear and Sage leaf

for garnish
Instructions
Chill martini glass by adding ice and a touch of water while creating your cocktail

Combine all ingredients and stir. Strain into emptied martini glass.

Gently press the sage to extract its oils and aromas before garnishing with sage leaf and pear