I've been wanting to add to my Mocktail sector for some time now, and with Dry January in full swing, I thought what better time than the present! This lemonade is everything you'd hope for and more. It combines some fresh D'Anjuo Pear with toasted Pink Peppercorn and infused with a Chamomile Tea. This is an example of where an iced tea, meets lemonade and winter, all in one delicious refreshing glass.
Since my Fig and Earl Grey Iced Tea, I've been itching to create another herbaceous imbibe. I tend to work with a lot of Chai and Earl Grey, but this time around I decided to go the opposite direction and use Chamomile instead. I'm not sure why I took so long to get on the chamomile phase. Its something I typically drink on its own, so why don't I use it more often in cocktails/mocktails? Well time is precious, so I'm going to stop dwelling on the past mistakes.
So with Chamomile being the focus, I knew I wanted a particular "quiet-medium" fruit that wouldn't overwhelm the flavours, and that's when the Pear came in. At first I had no idea how I would infuse this flavour. I debated blending it, straining it, boil it down, but it all seemed like too much work for what I wanted to create. That's when I grabbed a mason jar, cut up a full pear using all it's parts (nothing went to waste here) and let the boiled water do all the hard work for me. It was that easy.
Once the chamomile steeped to my liking, I took out the tea bags, muddled up the pears a bit while I waited for the water to reach room temperature. Anyway, I won't get too deep into the instructions because that's what the recipe is for down here!
---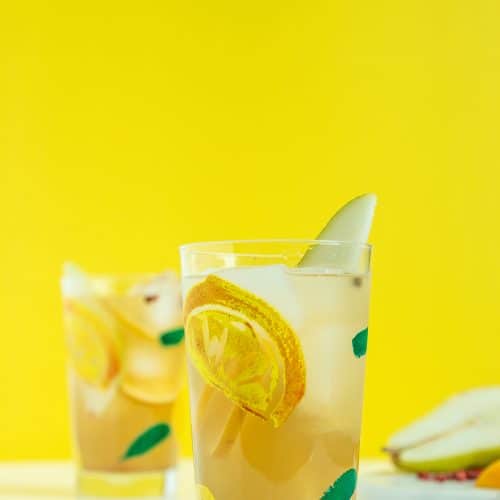 Pear, Chamomile and Pink Peppercorn Lemonade
A delicious refreshing Iced Tea/Lemonade that uses Chamomile, fresh pears, lemon and toasted pink peppercorn.
- Difficulty: Easy
Ingredients
1

tbsp

Pink Peppercorn

toasted*optional

1

D'Anjou Pear

roughly chopped

1/2

oz

Freshly Squeezed Meyer Lemon

2

tbsp

Honey

2

bags

Chamomile Tea

4/5

litre

Boiled Hot Water
Instructions
Grab a litre mason jar and fill with cut up pear (use all parts, including stem, and preferably ripe), pink peppercorn and honey

Fill the mason jar with boiled water and throw in tea bags and steep for 5 minutes

Remove tea bags and start to muddle the pears, or simply pierce so it can infuse and dissolve the honey

Let this come to room temperature before straining out pear and pink peppercorn. Add lemon, stir and keep refrigerated for up to 1 week.
Recipe Notes
If you don't have the patience for toasted pink peppercorn, I understand, but it really does open up the flavours that much more!