For someone that never grew up loving gingerbread, this cocktail is EVERYTHING. Who doesn't love a sip of a delicious Old Fashioned, and for the holidays, I'm bringing out the big guns and listing some of my favourite Bourbons to mix with! Get excited, because things are about to get real delicious and festive this Christmas.
As I mentioned, gingerbread was never really my thing, until a fateful syrup changed all of that for me. I created this syrup last year when I mixed up a delicious cranberry and gingerbread margarita, and I've been hooked on this syrup since. It's so easy to throw together, plus you can use this syrup in so many unique ways. It can easily be incorporated into your morning coffee, a delicious mocktail, or even in a pork marinade! To get access of this syrup recipe, follow the link here.
When it comes to choosing a spirit, you have an abundance of options. This particular cocktail uses a Pecan-infused Bourbon I created a while back. I knew the flavours would marry well together, but if you don't have time for an infusion, there's a ton of great whisk(e)y's to choose from. You may already know that I have a slight obsession with Rye, so I actually learn towards that flavour. But if you're stuck on Bourbon, you have some amazing varieties to choose from. Basil Haydens, Elijah Craig, Woodfords and Blanton's are all great examples of Bourbon that you can use. These brands offer some of the best Bourbon's you can find in the Canadian market, at the best value.
This cocktail is all about ease, and welcoming the flavours of the season. All it takes is a simple stir and this cocktail is ready for you. Open up your presents this holiday with this cocktail in hand! And to my community, I just want to wish everyone a very MERRY CHRISTMAS, HAPPY HANUKKAH, FELIZ NAVIDAD and every other celebration around the world today!
---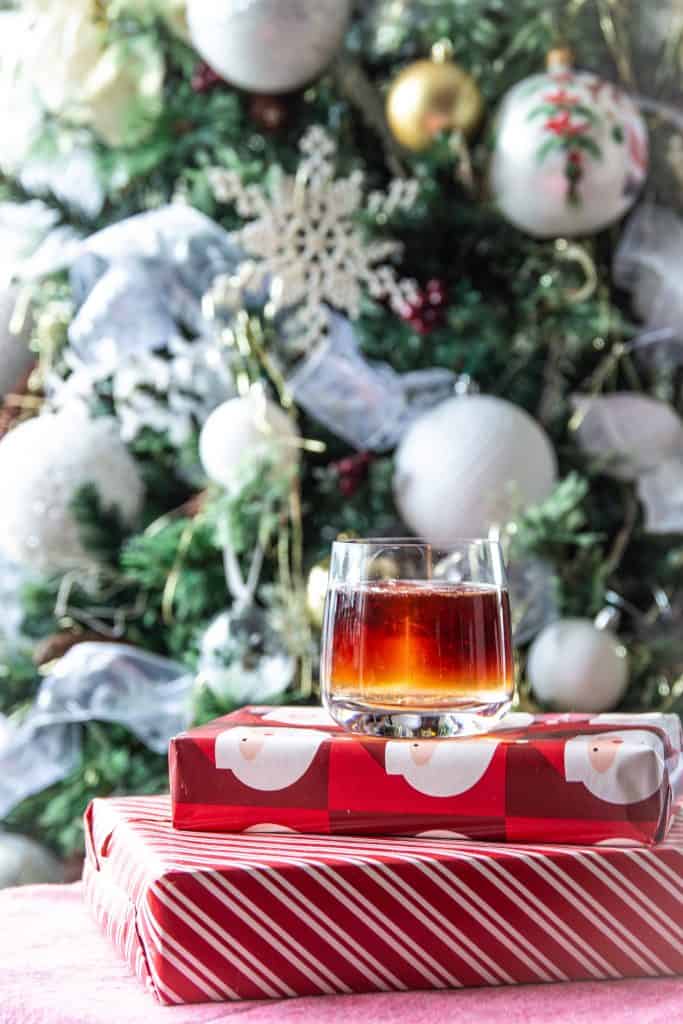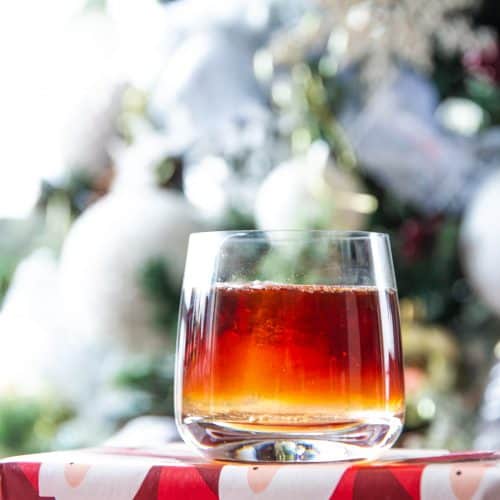 Gingerbread and Pecan Old Fashioned
Combining a homemade Gingerbread syrup, spiced with the season's greetings, and infused with a Pecan toasted Bourbon, this may be your favourite Christmas Holiday Cocktail.
- Difficulty: Easy
Ingredients
3/4

oz

Gingerbread Syrup

2

oz

Pecan-Infused Bourbon

1

Orange Zest

Optional

2

dashes

Angostura Bitters
Instructions
In a mixing jar, combine the syrup and bourbon. Fill the jar 3/4 of the way with ice and stir until well chilled (30 seconds minimum)

Strain over 1 large ice cube and garnish with orange zest
Recipe Notes
To access the Bourbon infusion or the Gingerbread syrup, make sure to follow the links attached! If you haven't had a chance to read the right up, make sure to look at some of your other options when it comes to spirits to use in this cocktail.