If you've been following my socials closely, then you will realize that I've been having a thing with Panettone lately. This all started one fateful Christmas party, because my long-time Italian friend Nick said he had never liked Panettone. Since he knows I'm passionate for food and drinks, he immediately turned to me and said that I should make a cocktail to convince him otherwise. CHALLENGE ACCEPTED. So I decided to go to the one place I know and trust to hook up a quality Panettone, and that is Toronto's own Cheese Boutique. That cake did not last very long, and the cocktail went down even faster! Let me tell you why.
First let's talk about Panettone. The reality is, I never really had much of this cake growing up. I know I tasted something cheap and dry before, which my young naive palate knew was very wrong. So it was never in the house, nor were we Italian and felt nostalgic to purchase this for the holiday. BUT the foodie in me is always curious and I think I've had a chance to taste the real deal AND I LOVE IT. For someone who is addicted to bread and doesn't care for sweets, this is the perfect dessert. It's fluffy, it comes with some of my favourite flavours, and I could easily eat half of the cake feeling only slightly guilty. The best way to describe this dessert is that it's a sweet bread that's typically filled with festive flavours and candied fruit. Naturally, I picked up the Candied Peach, Amaretto and Hazelnut Panettone by the Italian brand Bonifanti. This stuff is unbelievable, so I was pretty excited to get the cocktail started!
---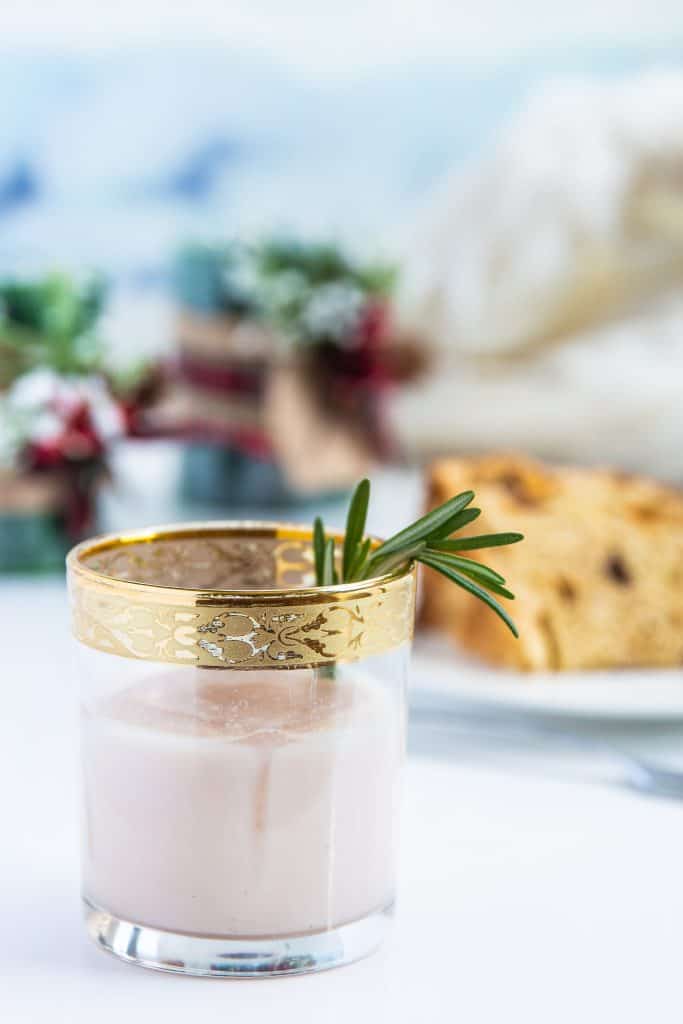 ---
There's a few ways I thought about approaching this infusion. The obvious coffee and espresso would work wonders here, but I didn't want it to mask the panettone flavour. I also thought about a Ramos Gin Fizz and simply infusing the cream, which is a great option, but I've done a Ramos Gin Fizz a few times already and needed something different in my portfolio. That's when it hit me to create a milk punch. This is not my traditional imbibe, since most lean towards the sweeter side, but with the holidays here, I've been having a serious craving! So if you love a White Russian, then this cocktail is definitely your jam!
The thing you have to know about Rum is that it is one of the most complex spirits out there. So don't even THINK about switching Rum brands and styles when it comes to cocktails because they are not as forgiving as most spirits. The rum I used is somewhat rare to find in Canada, so I'm sorry to my people here, but for those of you that have access to Barbado's R.L. Seale 10 yr Rum, make sure to pick it up. Giffard's Vanille de Madagascar liqueur was also an important component that I used that I wouldn't switch around. So that's pretty much it folks, those are my words of wisdom, now lets get to my words of recipe (I know, terrible).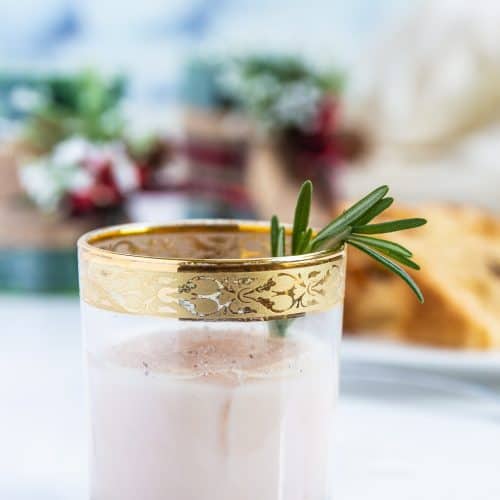 Babbo Natale Punch - Rum and Panettone Milk Punch
An Italian inspired milk punch that infused the rich flavours of Panettone with rum, vanilla and amaretto!
Ingredients
1.5

oz

R.L.Seale 10 yr Rum

1/3

oz

Giffard's Vanille de Madagascar

1/4

oz

Disaronno Amaretto

2

dashes

Angostura Bitters

2

oz

Panettone Infused Milk

1

sprig

Rosemary

garnish

Fresh Nutmeg

Zest for garnish

1

pinch

Salt

optional
Instructions
In a shaker, combine all ingredients except Rosemary, fill the shaker 1/2 with ice and give this a short shake.

Strain into rocks glass with 1 large ice cube and garnish with nutmeg and rosemary
Recipe Notes
To infuse the panettone, simply combine 1 cup of milk with a 2 inch slice of panettone, soaked in a bowl for 1 hour before straining.