We're going old school with this classic cocktail, shaken up with Spain's very own SHERRY! If you've never dived into the world of Sherry, trust me it's a big category that's under appreciated and it's slowly seeing itself flood into the bar scene. It's one of the four unique spirits I highlight in my special cocktail segment with CTV's The Social.
For most people when they think Sherry, they think of the sweet, creamy Sherry your Grandparents drink. But let me tell you, Sherry is making a major comeback in the bar scene and for very good reason.
---
---
If you know nothing about Sherry, the basic definition is that it's a fortified wine coming to us from Jerez, Spain. In all honesty, I COULD rant a ton more about Sherry, but the fact is the world of Sherry is so vast, with each varietal, style, technique, flor (yeast), vintages, ALL THAT AND more having contributed to the final product. It's like comparing the different varietals of wine, and the only way to learn is to give it a try! When it comes to cocktails, you'll typically find a Fino, Amontillado or Oloroso styles shaken (or stirred) into cocktails, and I'm going to highlight one of my favourites.
The reason I love using an Amontillado is because it's that happy medium of both a Fino which is typically very Dry, and an Oloroso Sherry which is characteristically sweet. I have more control over the sugar levels, while still offering that unique funky style of this fortified wine. And one of the classic cocktails created with Sherry is a Sherry Cobbler! Most cobblers are similar. Ice and sugar plays a major role in this classic, and it truly is all about the technique. Once you nail that, and put an emphasis on the ice, you will see why this was revered in its hay days.
I'm adding a subtle change to the classic riff, by creating my own Chestnut Syrup and utilizing the fruits of the season. I love its simplicity and it's very easy to recreate. You can watch the link of the video here or read the instructions below!
---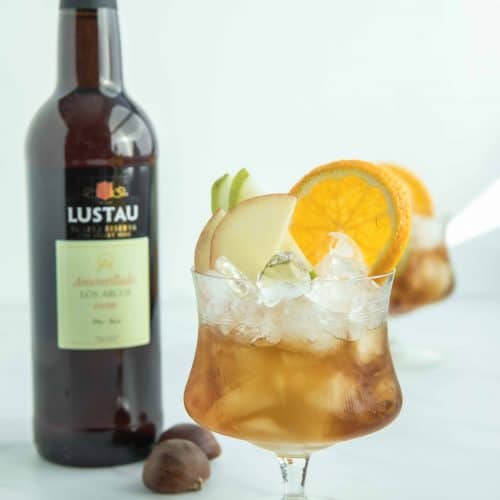 Sherry Chestnut Cobbler
A Classic riff on the Sherry Cobbler infused with Chestnut, Pears and Apples.
– Difficulty: Intermediate
Ingredients
4

oz

Lustau Dry Amontillado

1

oz

Chestnut Simple Syrup

2

slices

each of Apple

Pear and Orange
Instructions
Fill your shaker with crushed ice and all the ingredients and shake vigorously. Pour the cocktail into a julep tin unstrained.

Add more ice and fruit if necessary.
Recipe Notes
The classic way is to shake it up with the fruit/berries. This isn't fancy or refined, so you'll find that some bartenders will strain the cocktail instead. This is COMPLETELY up to your preference! I just wanted to show you how the OG's used to make it.
To find the Chestnut Recipe, click here!
Love the glassware? Visit my friends at Cocktail Emporium – They even have an online shop!