This week's #DrinkYourGram was "Netflix and Sip" inspired. With most of us binging through Netflix during COVID, I wanted to know what my community was watching and create a cocktail inspired by your shows. A similar theme kept coming up. You loved the drama, the mystery, the drugs, money and SMOKE! So, I came up with this Spirit Forward sip for you to enjoy all binge-night long. Combining Mezcal, Reposado Tequila, Chartreuse and Vermut with Smoked Apple bitters. Can you handle the heat?
For those of you new to the concept of #DrinkYourGram, I ask my audience to vote every Tuesday on a cocktail they'd like to see based on the ever-changing themes I come up with. I love it. Some of my favourite creations have happened because of it and this is another sip-worthy imbibe!
---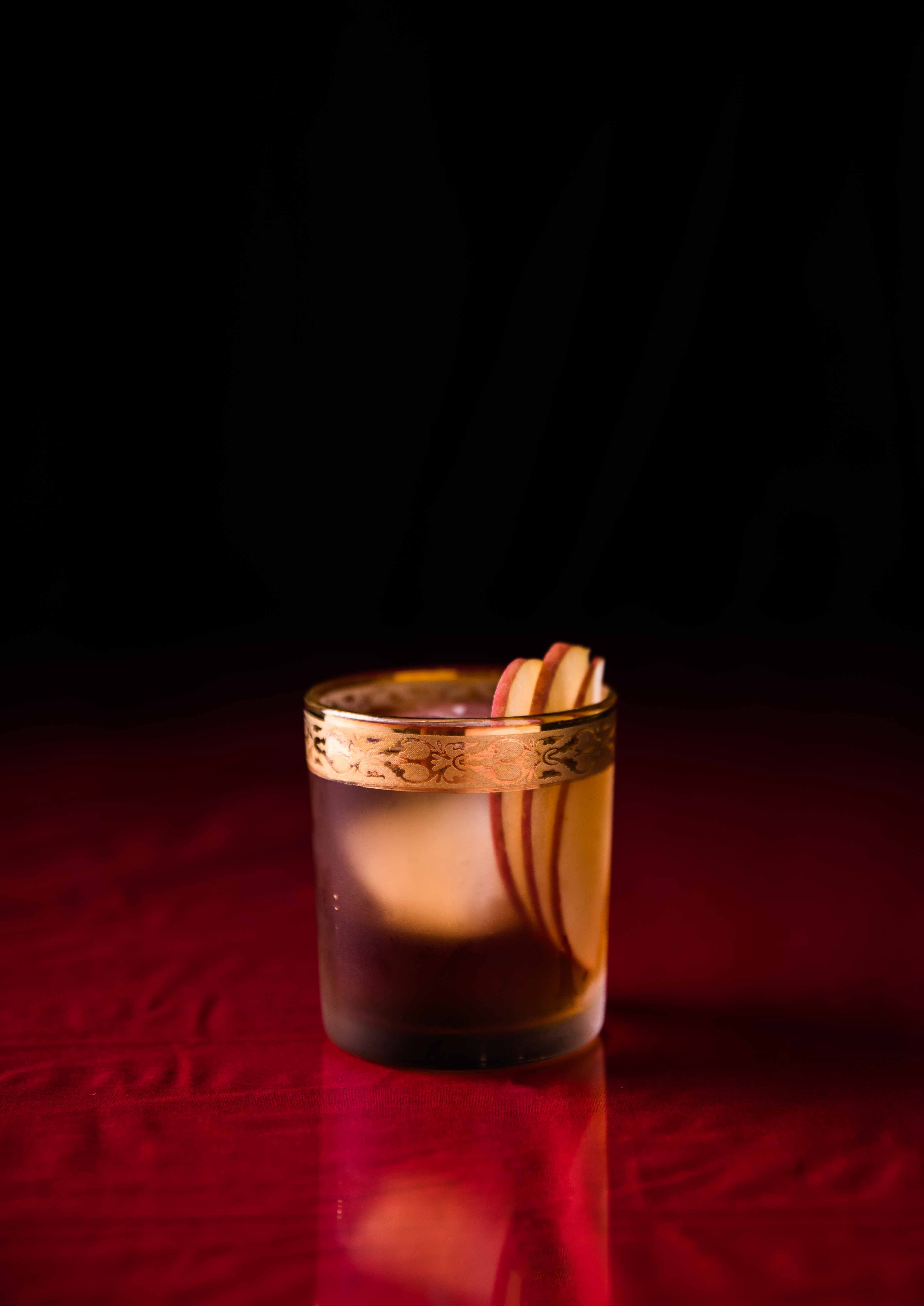 ---
When I asked you what shows you were binging, the following came up the most: Money Heist, Waco & Ozark. They all have some common themes, and are full of drama, so I knew you needed a cocktail that can handle the stress of the shows!
Now let me explain why I chose certain flavours and spirits. First, let's talk about the 'Apple'. When I watched the trailer of Waco, I will admit how uncomfortable I felt because I am a religious person. But it got me thinking about the story of Adam and Eve, and Eve being tempted by the Apple. Temptation and deception is definitely a common theme with Waco, and with the story line around a dangerous religious leader, I had to add this in.
Then we have Money Heist and Ozark, that follows the premise of the Mexican Cartel and Drug world. Well I'm not into the whole drug scene, but I am a big supporter of Mexican spirits, so Mezcal and Reposado Tequila had to be added to this sipper.
Smoke was a must. With fire and shooting happening CONSTANTLY in all the shows, I had to add the element of Mezcal which brings that smoky flavour and the Smoked Apple Bitters by Nickel 9 Bitters!
There's one more thing I wanted to share in terms of why I chose the products that I did. You may not have known that there is a very religious component to the Chartreuse brand. They are created under the watchful eyes of the monk, with only a handful that know all the herbs and spices included in their portfolio. Again, we have a product surrounded in secrecy, which couldn't have hit the mark more with all 3 shows.
And that's it! I wanted to explain my thought process a little with each spirit, because believe me, they were all carefully thought out. Now that I have a cocktail for the shows, I'm ready to binge! Cheers!
---
Smokes & Apples
Serving up a Netflix and Chill worthy sip to get you through some of the current binge worthy shows you watch! Made with Mezcal, Reposado Tequila, Smoked Apple Bitters, Chartreuse and Vermut!
– Difficulty: Intermediate
Ingredients
1.5

oz

Reposado Tequila

Don Julio Used here

1

oz

Lustau Red Vermut

1/3

oz

Mezcal

Mezcal Creyente used here

1/3

oz

Liqueur de Gentiane des peres Chartreux

Aperitif

1

dash

Simple Syrup

a little less than 1/4 oz to round out the flavours

2

dashes

Smoked Apple Bitters

Nickel 9 Bitters

3

thin

slices of Apple

for garnish
Instructions
In a mixing glass, add all the ingredients (except garnish), fill with ice and give this a good stir.

Strain over 1 large ice cube. Garnish with Apple fan.
Recipe Notes
The Chartreuse used here is very different from the typical green or yellow chartreuse we're used it. It's not as sweet (it's an Aperitif, not a liqueur), very herbaceous and bitter. It is definitely worthy to have on your bar because there's very few flavours quite like it. If for some reason you don't have it, China China would be the closest substitute but that's even a bit of a stretch. Cheers