Inspiration for my cocktails comes from any form, and this was definitely the case for this gem here. Elf is one of my favourite Christmas movies to watch over the holidays, and who can forget when Buddy screams 'Son of a Nutcracker' during an epic snowball battle. As soon as I heard the line, I knew I wanted to create a cocktail with that in mind. I used a surprising blend of flavours, from Cachaca, Lustau's Deluxe Cream Capataz Andres Sherry, Campari and a dash of Licor 43. Plus I bring out Apothecary's Southern Pecan Bitters which brings all the nutty flavours together. There's a remnants of a Manhattan with this cocktail, so if you love a boozy sipper, YOU'RE GOING TO LOVE THIS!
---
---
The anchor of this cocktail all started when I tasted the Lustau Deluxe Cream Capataz Andres Sherry. I have been so addicted to Amontillado's lately, that I decided to branch out with the line and give the Sweet Sherry a try which was a VERY PLEASANT SURPRISE. I guess in my mind, I assumed that having been labeled a cream sherry, it was going to be way too sweet for my palate. Again, I assumed…which we all know better. Needless to say, it reminded me SO MUCH of the Spanish vermouths I've been having, which if you know me, you know I love my vermouths. So let's just say this was a massive win!
---
Choosing the Cachaca
With that in mind, it constructed the rest of the cocktail, because it had this element of surprise, plus a ton of nutty notes. I'm embarrassed to say that by this point, I still haven't had the chance to open up my premium Cachaca I picked up from Brazil. Having wanted to know it's taste profile, I finally opened it up. Funny enough, on the first sip, it reminded me of a Reposado Tequila. It's very sharp and vegetal on the palate, but once the spirit opened up, the natural characteristics of the Cachaca I know and love came through. I got a ton of apricots and caramel from the cask, while still offering a very bright spirit. It worked out since I had already debated working with a tequila for this cocktail, and this brings the best of both worlds!
Campari came into play because the truth is, I've been neglecting it in my cocktails lately. I love Negronis, so naturally Campari and I are really close. But I've been distant from this flavour in the last little bit, and for no good reason. Since we all know how Campari lends itself to vermouth, and I knew it would work wonders here. Plus it cuts a bit of the richness of the Sherry and Licor 43 which I'm about to get into.
---
---
Licor 43 is just one of those bottles I will always have on my bar. It's great for desserts, great for cocktails, and a little goes a long way. I even supplemented it over Vanilla Extract in my latest brownie recipe I'm about to drop later this week. Plus it's a great substitute if any cocktail recipe calls for vanilla or a spiced syrup. If you don't have the time to create the syrup yourself, just add a dash of Licor 43 and you're almost there! That's exactly why I wanted to add a dash of Licor 43 in this cocktail, because I knew I was trying to serve this warming nutty piece, and Licor 43 brings in that balance of flavours to tie it all in!
Then we have the Apothecary Southern Pecan Bitters. This is a TRUE gem, and when it comes to bitters, this is a must on my bar. The reason is, I hate picking up bitter flavours I can easily incorporate, such as grapefruit or lemon. I can easily squeeze the real citrus juice and I'm happy, but things like Jalapeno or Nuts is a bit more difficult and time consuming to extract. I will admit, I first created this cocktail with a Walnut Bitter in mind, but I couldn't find anything I really liked, and this pecan is such a winner! So gracias Apothecary for this beauty here!
This is the strangest combination of flavours on paper, but it comes together so well. This is officially my go to Manhattan cocktail over the holidays, and you can bet I'll be sipping on this the next time I watch ELF!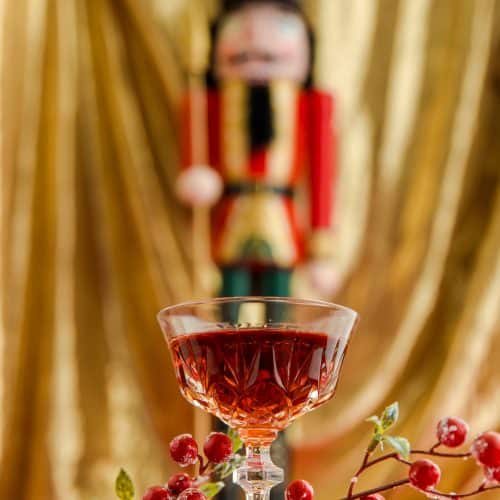 Son of a Nutcracker
A surprising mixture, inspired by the movie Elf, combining Aged Cachaca, Licor 43, Campari and Lustau's Cream Sherry. If you love a manhattan, you'll love this nutty cocktail.
Difficulty: Intermediate
Ingredients
1.5

oz

Germana Cachaca Brasil Sergio Caetano & Filhos

1/2

oz

Campari

1/4

oz

Licor 43

1

oz

Lustau Deluxe Cream Capataz Andres Sweet Sherry

2

dashes

Apothecary Southern Pecan
Instructions
In a Mixing Glass, fill your glass with ice and all the ingredients

Stir until well chilled (at least 40 seconds)

Strain into chilled coupe glass.