For today's #LCFeature, I'm getting festive with a classic holiday spirit we rarely use nowadays; Advocaat. It's the first time I used this Egg liqueur, and that was all thanks to the Rum King of Toronto himself, Robin Wynne. I was always hesitant to work with this liquor, assuming it would be a syrupy, sweet hot mess. But that's the thing about assuming…you know the saying. Inspired by the classic Stinger cocktail, I made something that I absolutely loved, and I'm ready to share here!
---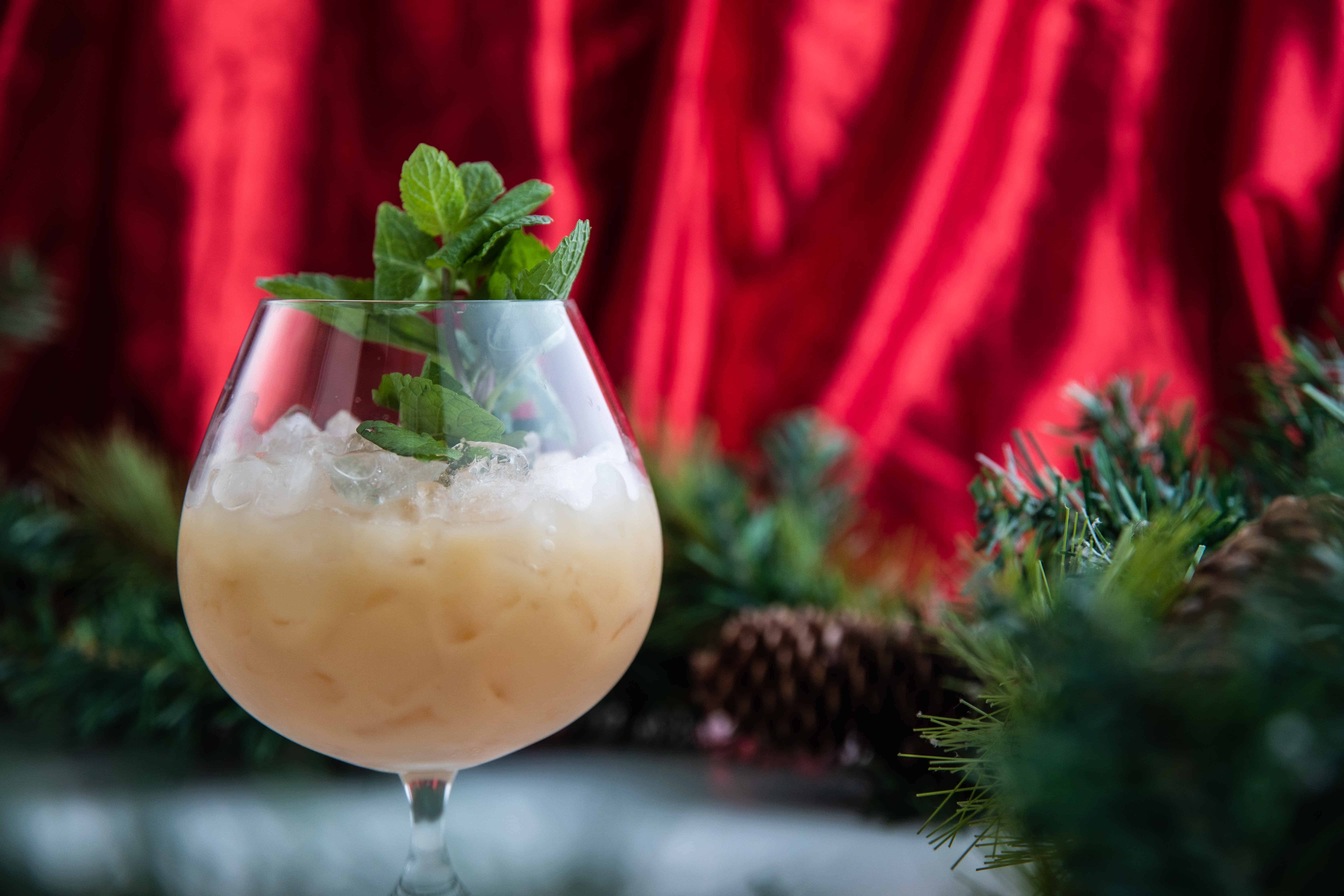 ---
It was very tempting to create a cocktail that had a rum base. One because I whipped this up in honour of Robin, but I also had the strongest urge to mix with an Agricole after I tasted the Advocaat for the first time. Bad news though, I don't have any Agricole on my bar. Believe me, this isn't on purpose, especially since it's not sold here in Ontario (Update: Last night I found out we got our first agricole in our market, so you can bet I'll be picking that up soon!). In addition, lately my travels have been somewhat limited and I can't seem to find a bottle of Trois Rivieres rhum anywhere.
I could have also gone the route by mixing it in a Ramos Gin Fizz riff. If it hasn't be obvious enough, cream is definitely a friend when it comes to mixing with this spirit, and just a few dashes of Advocaat can really go a long way by adding some holiday flavours. Anyway, I've done enough Ramos Gin Fizzes on Liquid Culture that I really wanted to branch out and try something different. That's when the Stinger came into play. It's not like the Stinger mixes with a cream to begin with, but the strong presence of white creme de menthe reminded me how Cognac can really hold its own against sugar.
---
---
The team behind Death and Co. creates their Stinger with a dash of a heavy Simple Syrup, which made me think to bring out Prosyro's Ruby Fassionola Syrup. This tiki inspired syrup is rarely heard of, but it was one of the original syrups for a classic Hurricane. It's a wonderful blend of tropical fruits, and Prosyro's version is UNREAL! I first discovered it when I was experimenting with Cocktail Emporium's Holiday Launch, and I wanted to use it again. Plus, this gave it a bit of a Robin Wynne touch with the tiki vibes and mint. If you don't have access to this syrup, use any tropical syrup if you'd like, or even go classic with a 2:1 ratio of Simple Syrup (2 parts sugar: 1 part boiled water).
It's actually a fairly simple cocktail to throw together, just make sure you're stocked up with crushed ice, and you have your new favourite dessert cocktail. See how I've whipped it up here!
---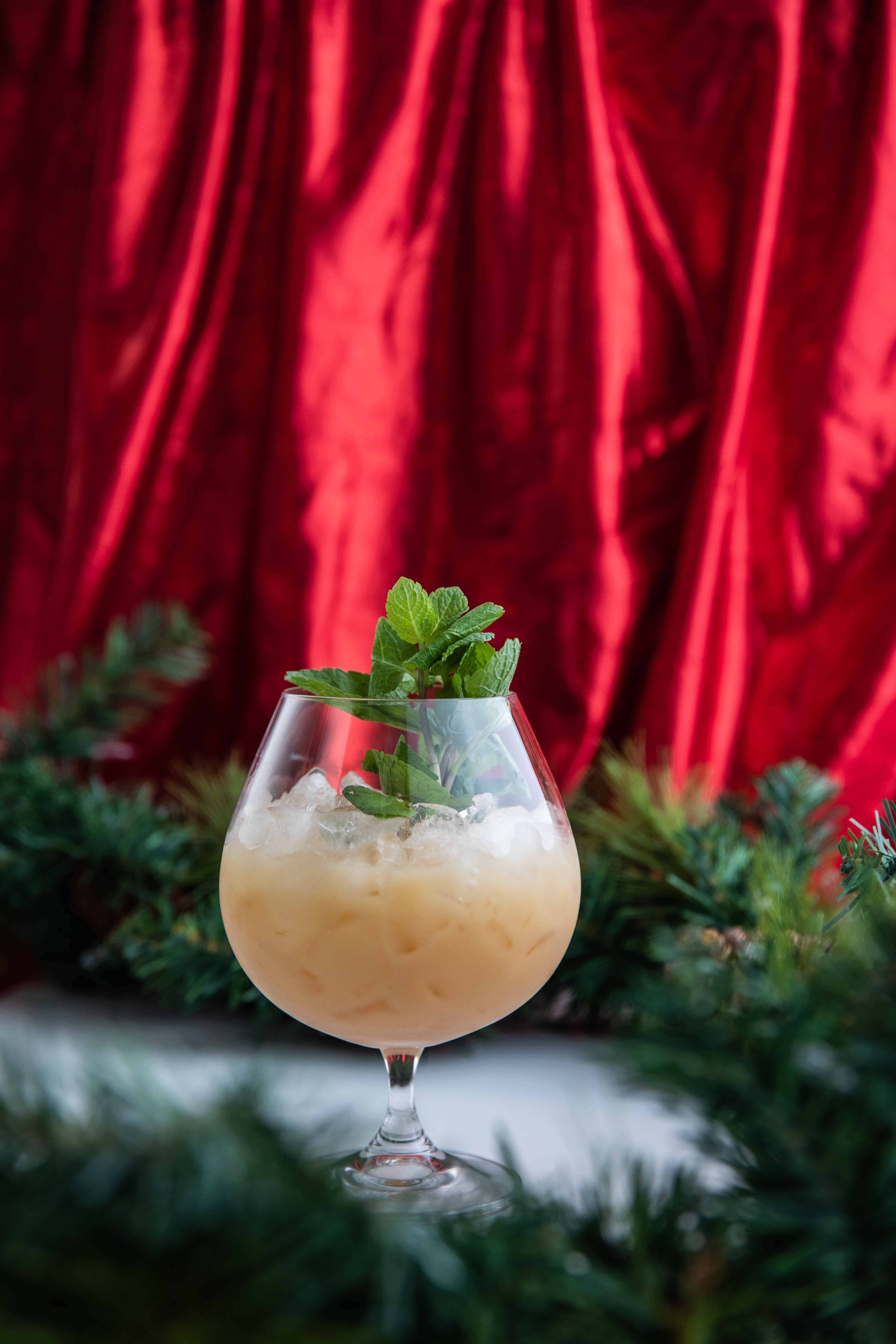 The Christmas Sting
Inspired by the classic Stinger Cocktail, we're mixing with the traditional holiday spirit Advocaat, with H by Hine Cognac and Prosyro's Ruby Fassionola.
– Difficulty: Intermediate
Ingredients
2

oz

H by Hine Cognac

1/2

oz

Advocaat

1/4

oz

Prosyro Ruby Fassionola

2

sprigs

Mint

1 for garnish – 1 for mixing
Instructions
Fill your snifter with crushed ice.

Grab your shaker and lightly press 1 sprig of mint and toss it in.

Fill your shaker with the rest of the ingredients, add 3 ice cubes and give this a short shake.

Strain over crushed ice and garnish with Mint Sprig.