When I think of the Caribbeans and Central Americas, I know that they have a bounty of fresh produce that you can't find anywhere else in the world. It is what inspired this cocktail right here, highlighting the variety and the abundance that the lands have to offer! With that said, the true star of this cocktail is its syrup, and the inspiration to the cocktail created here. So make sure to follow here to get the syrup recipe, because it's unreal, and represents everything good that the Latin countries have to offer!
The syrup itself combines fresh Guava, Orange peels and cinnamon! If that doesn't get you drooling, then I don't know what will. So with that as my inspiration, I decided to pair this syrup with a Rum. Cinnamon can work wonders with rum, so I first experimented with a spiced, dark rum. To my dismay, it was a bit too much. The cinnamon from both the syrup and the rum overwhelmed the palate, so I went back to the drawing board. This time around, I tested out some white rums. It was perfect. The spices didn't overwhelm the cocktail, but you got the subtle notes of every flavour, which is exactly what I was going for.
Since I was trying to keep this cocktail fresh, I threw in some Fresh Strawberries and Lemon wheels. And what better way to tie all these flavours together than with delicious Ginger! I normally would go the ginger beer route, but this time around it was a bit too much and too sweet. I've mentioned this before and I'll mention again, finding good quality ginger beer is SO hard. If I buy any of the mass produced stuff, I pick up Grace's Ginger Beer. It has the right amount of heat, not too sweet, and doesn't taste artificial! Unfortunately, I didn't have any in the house, so I wasn't able to use it, so I used Canada Dry's Gingerale instead. It was perfect. It was light, refreshing, very flavourful and every flavour and component was highlighted beautifully.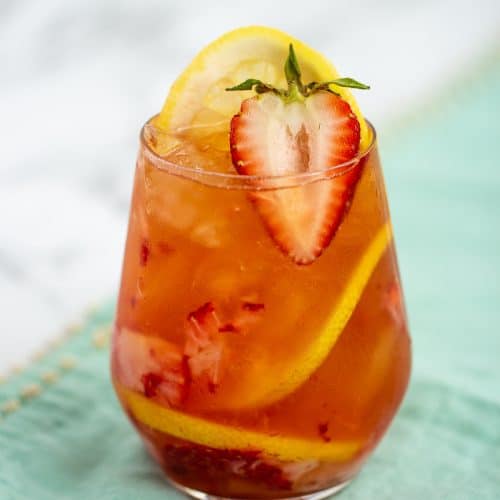 Strawberry, Guava and Ginger Spritz
A refreshing cocktail inspired by the Caribbean and Latin flavours!
Difficulty: Easy
Ingredients
1.5

oz

White Rum

1/2

oz

Guava, Orange and Cinnamon Syrup

1/3

oz

Freshly Squeezed Lemon Juice

2-3

oz

Ginger Ale

1

Large Strawberry

3

Lemon Wheels
Instructions
In a small collins glass, muddle strawberry to a pulp

Layer in ice and lemon wheels, and pour the rest of the ingredients, topping off with ginger ale

Give it a stir to combine. Cheers!
Recipe Notes
For recipe details of the Guava, Orange and Cinnamon Syrup, follow here!