Shrub? Vinegar? Amaretto? So many questions, and if you have time, I have the answers, because I can guarantee that this unique Sour is unlike anything you've tasted before!
If you've been following Liquid Culture for sometime now, than you know that I love to use Shrubs as a not-so-secret ingredient in my cocktail game. First off, if you're one of the many wondering what a shrub is, no I'm not talking about the TV show. The most basic explanation that I can give is that it's a vinegar-based infusion. I can see your sour faces already, judging me for mixing vinegar in a cocktail, but I'm telling you…it works. The first company I got a chance to work with is the False Ox guys from Toronto, creating their own unique Shrubs and Switchel recipes. It's completely unique and one of a kind, and I knew I wanted to mix with it in a sour. As a side note, if you want to learn more about Shrubs, I have a write up just for you attached to the link here!
---
---
The concept of this cocktail is very simple. You have a delicious Sour cocktail, which we already know that Amaretto + Sours just works! So why not mix it up with a few different elements? With Strawberries flooding the market, I knew I wanted to work with this flavour. Plus, Strawberry and Almonds are naturally a great flavour pairing together. With that in mind, I used False Ox's Strawberry Mint Shrub. Now Shrubs have added sugars to their infusions, and with Disaronno in the mix, I knew I didn't need much else for this cocktail. Next, I decided to mix things up and use a Cognac for the cocktail. Why I knew it would work? Well, think of the classic Sidecar which mixes with brandy and citrus. It was one of the first classic cocktails I grew to love and appreciate, and I wanted to compliment the tones and spices coming from Disaronno. Now I love H by Hine and I'll always promote their Cognac. Mind you, I don't live in France and have as much access to some specialty brandies. If you have any recommendations, make sure to comment below!
If you don't live in Toronto, and don't have access to False Ox's Shrub, don't fret! You can easily make Shrubs at home. Or visit your local market and see if anyone is creating their own unique Shrub Infusions. It's worth learning about Shrubs because they are a great non-alcoholic mixer as well! Simply top with Tonic or Soda and you have yourself a party!
---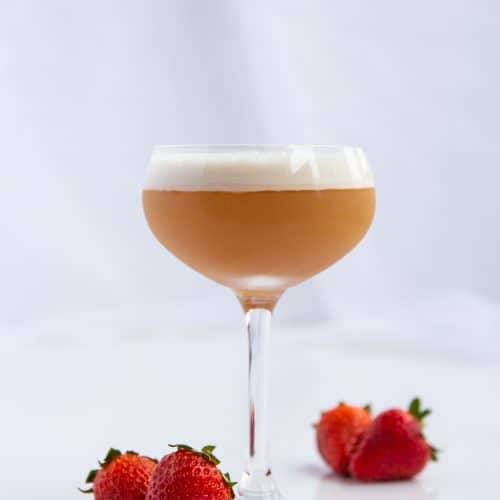 Strawberry Shrub Amaretto Sour
If you love a Sidecar or a tasty Sour cocktail, than this is the drink for you! Combines H by Hine Cognac with Disaronno Amaretto, Fresh citrus and False Ox's Strawberry Mint Shrub.
– Difficulty: Intermediate
Ingredients
3/4

oz

Disaronno Amaretto

3/4

oz

H by Hine Cognac

3/4

oz

False Ox's Strawberry Mint Shrub

1/3

oz

Freshly Squeezed Lemon Juice

1

Egg White
Instructions
In a shaker, combine all ingredients and DRY SHAKE (meaning you shake without ice) for approximately 20 seconds.

Add ice to your shaker and shake once more for an additional 20 seconds (until shaker is almost too cold to hold)

Strain cocktail into your favourite coupe glass. Garnish with Strawberries