I'll pretty much never say no to a Julep, unless it isn't made with crushed ice, which then gets me into a nerdy bartenders rage. We talk a lot about the importance of ingredients, but in a julep, the ice is just as important as the spirit! Needless to say, I'm here to celebrate Spring, Disaronno and the upcoming Amaretto Day with this delicious Disaronno Mint Julep recipe!
Sometimes I forget that I'm writing to beginners. The concept of a Julep seems so simple, and having worked behind a bar, we always keep instructions a bit bare and to the point. This week I got the reminder that not everyone on here has the bartender's experience, and that's okay! I just need to explain better.
First off, if you want to know why Ice is so important and why it has such emphasis in cocktails, you need to read my Educational Report – Importance of Ice and Cocktails. I can't tell you how much it would kill me when someone would ask for no ice in their cocktail. It takes away a vital ingredient to the cocktail experience that most people don't realize or understand. So before you start saying no to the ice, head over to my article for an informative read!
The traditional Mint Julep cocktail doesn't actually have a ton of juices. The recipe is strictly bourbon, fresh mint and a little bit of sugar. So how does the Julep tin get filled? Well it's all about the process, and I'm here to explain why.
---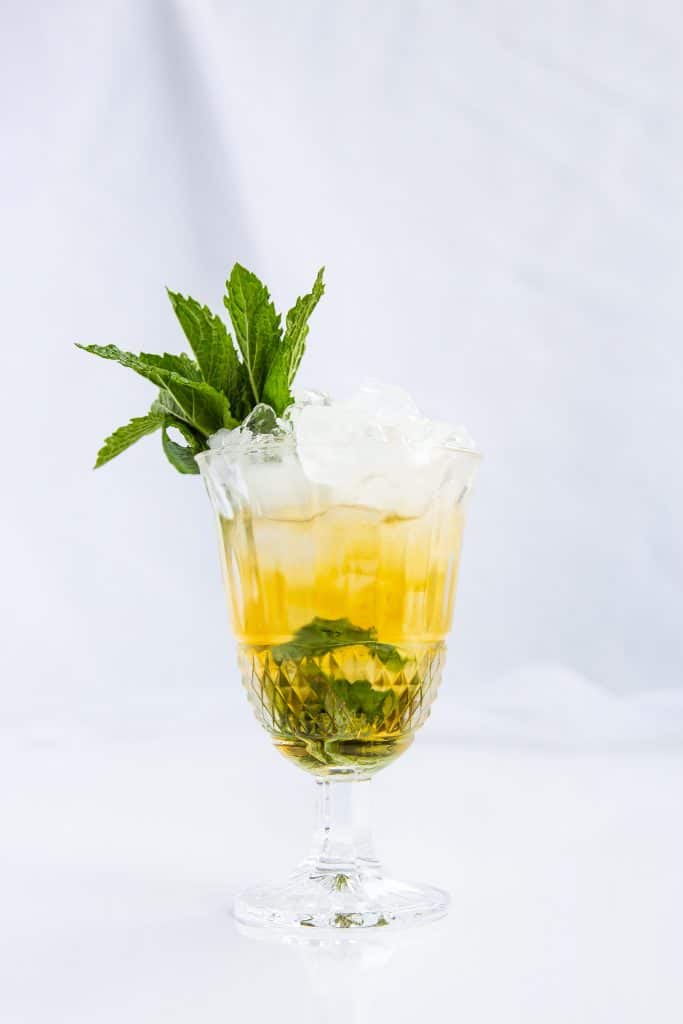 What Makes A Julep?
Like I mentioned, it's all about the Crushed Ice. First off, WHY are we using crushed ice? This is a cocktail that is built in the tin. We aren't stirring it, or shaking it PRIOR to being served, which means all the necessary dilution must occur in the glass AND fairly quickly. This is when the Crushed Ice comes in handy because of its tiny surface area, and it allows for the quickest dilution of all the different types of ice.
Next we have the TIN. Why do we use this particular glassware? Well, it's actually able to tell us when the cocktail is ready! Think of what Coors Light did with the Blue Mountain in their cans. Once it turned blue, it was at the ideal temperature to enjoy the brew, and that same concept relates to a Julep as well. What people need to understand is that you must churn/stir the ice with the ingredients for approximately 20 seconds before the next step. You know the cocktail is ready with the appropriate ratio and dilution once the Julep tin has properly chilled and frosted on the outside. I'll explain exactly what to do in the instructions below!
Lastly, you NEED water. You need the DILUTION. Like I mentioned, Mint Julep's is simply booze over ice. Another popular example of this is the Old Fashioned. There's a reason why the best Old Fashioned's take time, and that's because they follow the same criteria being predominantly spirits. Old Fashioned's are stirred for some time before it's then poured over a large ice cube to hold the temperature, without causing any dilution. We should almost list in our ingredients and recipes a certain percentage of water, but that may confuse the masses. That is how important ice and dilution contributes to many cocktails and this particular Julep as well. So avoid adding more booze because it doesn't seem like there's enough liquid, there will be, you just haven't allowed the cocktail to finish yet!
---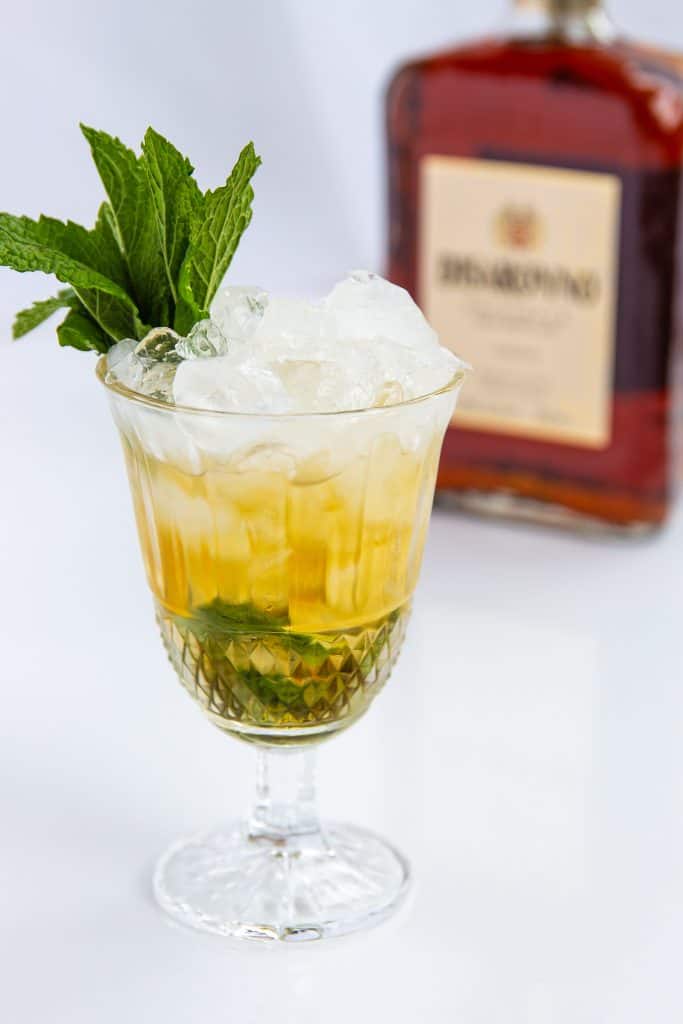 Okay back to the whole point we are all here and that's because of Disaronno! We're honouring Amaretto Day (pretty much #DisaronnoDay) with some special unique cocktails this week that you can easily whip up at home. For me, Disaronno in a Julep seemed like a no brainer! And I decided to put a Canadian influence with a Canadian Rye. There's so many good products out there in the market that I would recommend. Crown Royals Northern Harvest, Canadian Club 100% Rye, Lot 40 Rye, Dark Horse, Collingwood 18 yr, Kinsip, Pike Creek…the list can literally keep going. I have to admit, there's a TON of great American Rye's as well, but that's for another post.
Why did I mix it up with Rye? The truth is, Disaronno has a spice to it that I knew would compliment a Rye Whisky. We don't really think of Disaronno having a spice, and that it's just sweet, but it truly does! Sip it on it's own and you'll notice notes of Almonds, Marzipan, a slight hint of sharp citrus zest and herbs. Plus the crushed ice would break down that sharpness to create the most outstanding Julep. It's without a doubt a favourite of mine in this weeks lineup and I hope you love it as much as I did!
Disaronno Mint Julep
An Amaretto infused Mint Julep that you can enjoy this Spring!
– Difficulty: Intermediate
Ingredients
1

oz

Disaronno Amaretto

1

oz

Canadian Rye

See Notes for Suggestions

3

Sprigs

Mint

1 for Garnish
Instructions
Grab a Julep Tin and remove leaves from 2 sprigs of Mint. Lightly press the mint and add to the bottom of the Tin

Add Amaretto and Canadian Rye to the tin and fill up the tin 3/4 full of CRUSHED ICE. Churn/Stir the Ice until the liquid starts to dilute and reach the surface. Once it has, top off the rest of the julep tin with more crushed ice and give it a slight stir until the Julep Tin is completely frosted on the outside. That is when your cocktail is ready!
Recipe Notes
There's a ton of great Canadian Rye products to choose from. Some of my go-to's are Canadian Club's 100 Rye, Crown Royals Northern Harvest, Lot 40, Dark Horse, Kinsip, and Pike Creek.