We're going Alcohol-Free for this Valentine's Day with this delicious beverage, combining Tamarind Syrup, Pineapple, Lime and Almond Milk. Think a Mai Tai meets Pina Colada that's alcohol free, with a splash of Tamarind. It will be the next favourite Summer drink, with or without alcohol!
Want to see this TV Segment live in action? Make sure to click the photo below to direct you to all the fun on TV.

Why Alcohol-Free?
I'm an advocate to always offer creative Alcohol-Free solutions when it comes to your drink menus. It's important for everyone to feel included, and no that doesn't mean pouring a simple Gingerale. There's lots of ways to get creative with Non-Alcoholic Beverages, and I wanted to ensure you have something tasty for this Valentine's Day.
Now it may seem strange that I'm setting up Olivia Pope with an Alcohol-Free beverage. She is regularly sipping a gorgeous Bordeaux wine on the show, but did you know the actress playing Olivia Pope doesn't drink alcohol? Plus I think spreading a message that an independent woman can have balance in her life and choose not to drink, is just as sexy.
Making your Valentine's Day Alcohol-Free Cocktail
There were many directions I could have gone when creating an Alcohol-Free Beverage for Valentine's Day, but I wanted something with a PUNCH of flavour that was unique. Just like Olivia Pope's character, she stands out and her beverage should do the same. Plus I built this drink as an option that can easily introduce a spirit if you'd like, whether it be R(h)um, Cachaca, Whisk(e)y and/or more.
Tamarind has been a flavour I've been wanting to experiment with for some time now. I used this opportunity to bring this sweet and sour fruit into my creations, and I can promise you, I will use Tamarind more often. It's hard to describe the flavour, other than citrus and tangy. The one thing I can promise, is that this Tangy Tamarind Syrup will come in handy in so many ways for your next beverage.
I combined that with some Almond Milk, Pineapple and Lime for the ultimate tropical destination. Oh, and we can't forget the Mint. It goes a LONG way to brighten up this beverage that I know you'll love.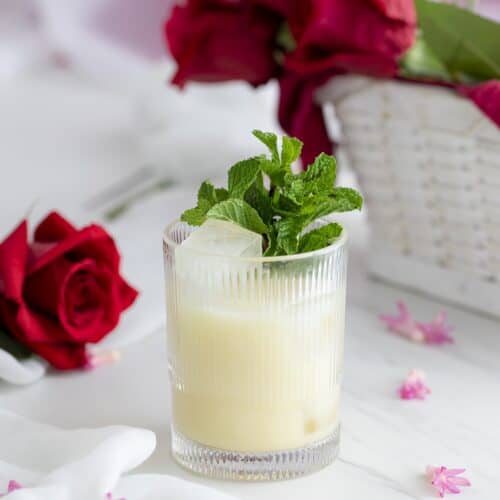 The Independent
An Alcohol-Free beverage that combines a simple Tamarind Simple Syrup, Pineapple, Lime, Almond Milk and Mint in honour of Olivia Pope from Scandal on Valentine's Day.
– Difficulty: Intermediate
Ingredients
2

oz

Pineapple Juice

1

oz

Tamarind Syrup *See notes below for recipe

½

oz

Freshly squeezed Lime

1

oz

Almond Milk

3

Sprigs Mint
Instructions
In a shaker, add 1 sprig of mint (stem removed) and the rest of your ingredients.

Give this a good shake and strain over fresh ice.

Top with a beautiful bouquet of Mint (2 remaining sprigs).
Recipe Notes
To make the Tamarind Syrup, in a small saucepan, add 2 overflowing tbsp Tamarind Paste, with ½ cup Granulated Sugar and add ½ cup Water. Let this come to a simmer and break down the Tamarind Paste. Simmer for approximately 3-5 minutes. Strain. Store into fridge, up to 2 weeks. This recipe makes enough for 4 drinks.