I grew up with Sex and the City, and the Cosmopolitan becoming iconic thanks to this show. Well the "hopeless romantic" in me, wants another cocktail to get some shine in the spotlight and that is the classic Sidecar cocktail. I re-shake this classic to make it more like a Valentine's Day Sidecar, with Guava and Grapefruit in the mix. Plus this cocktail is bold with it's Cognac and bright, just like our Carrie.
Want to see this TV Segment live in action? Make sure to FOLLOW THIS LINK HERE to catch the segment on TV.
Why the Sidecar Cocktail?
The classic Sidecar cocktail is absolutely stunning on its own. It combines a nice Brandy (typically a cognac), shaken with fresh lemon and a healthy pour of an orange liqueur, for example Triple Sec or Grand Marnier. This was one of the first cocktails I tried that made me first fall in love with cocktail. I realized there was so much more than a Gin and Tonic or Vodka Cran.
With that said, I wanted to shake something up that would fit more of the Valentine's Day Theme, so I adapted it to include a splash of Guava Juice, Grapefruit instead of lemon and a homemade hibiscus syrup to round out the flavours. But the true star has to be the Meukow Cognac featured here.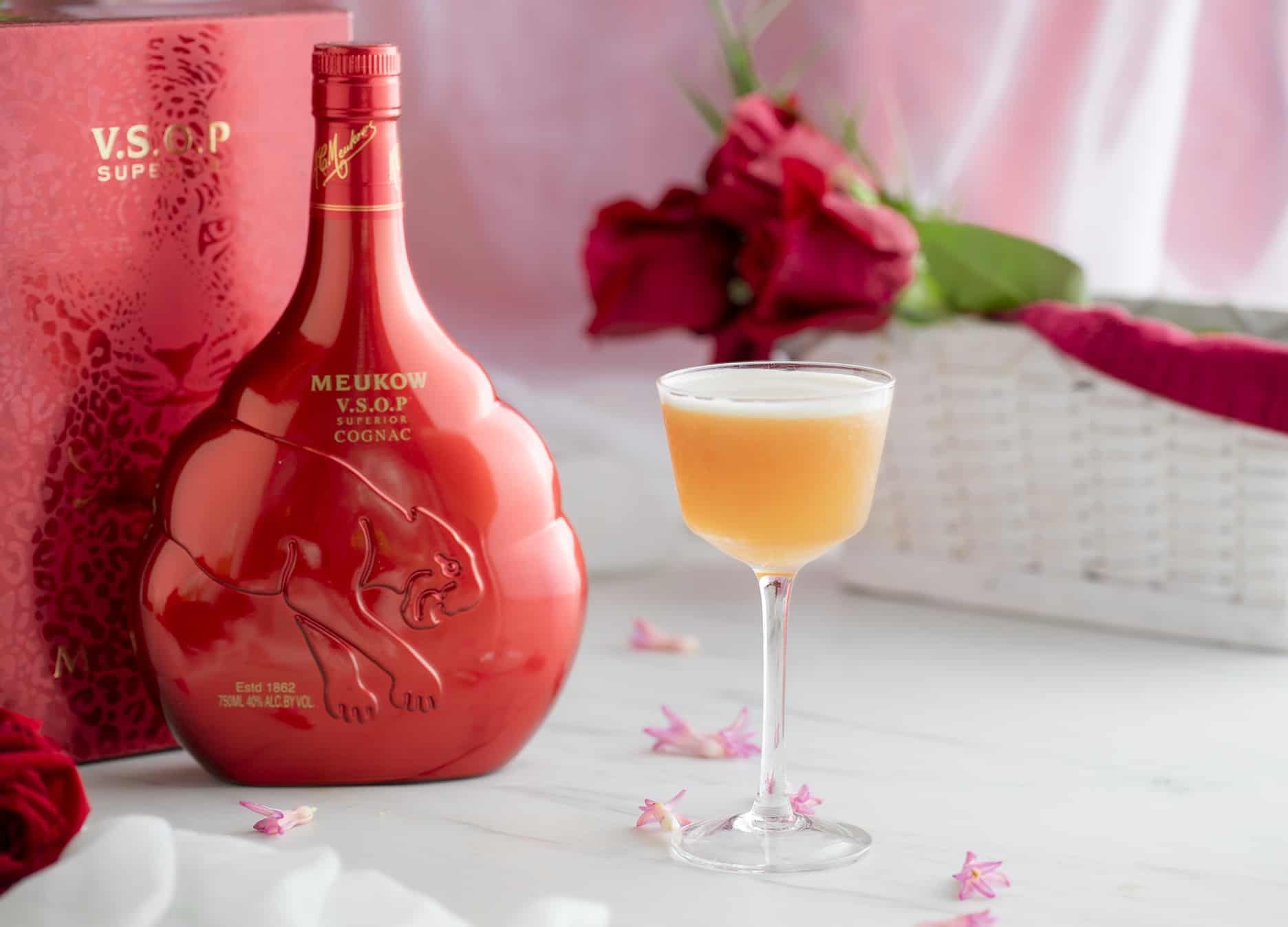 Choosing your Brandy
I mention that the classic Sidecar cocktail uses a Brandy, but truly you should always go with a Cognac (although I wouldn't object to an Armagnac also). With that said, and with the theme of love, Meukow's VSOP Bottle screamed Valentine's Day cheer, and exactly the sophisticated cognac we would need to represent the iconic Carrie Bradshaw.
I do want to mention that I went with the VSOP because I knew the flavours and bottle would fit in well with the Valentine's Day theme, but I am here with your budget-friendly options too. I do not oppose the use of Meukow's VS Cognac as well for this cocktail, because it has the tasting notes that would compliment this creation! Grab that bottle that fits within your budget this Valentine's Day and make sure to share with me your creations on my social channels (@liqculture).
Building the rest of your Valentine's Day Sidecar
The classic Sidecar Cocktail is very simple. You've got Brandy, Citrus and Sugar. With this base structure, it's easy to adapt it to whatever theme or mood you're in. That's why I brought out the Guava juice (which tropical flavours pair so well with Cognac), Grapefruit Juice, and some Hibiscus homemade Syrup. This was easy to make at home, but I know it's a flavour you can find in stores as well. If you don't want to do that either, I would stick to the traditional Orange Liqueurs such as Grand Marnier or Triple Sec. All great ways to build a cocktail that's right for you!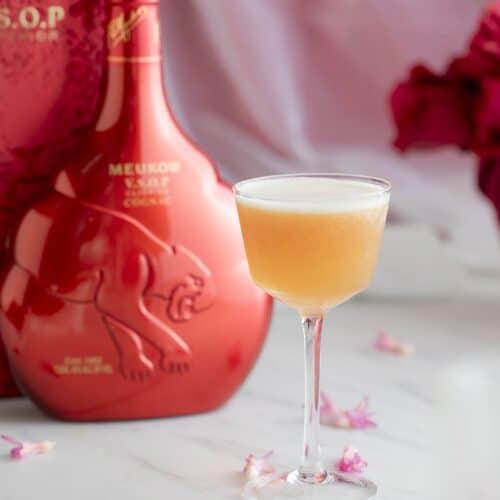 Hopeless Romantic
The Sidecar Cocktail gets a Valentine's Day re-shake with Meukow VSOP Cognac, Guava, Grapefruit and hibiscus!
– Intermediate
Ingredients
1.5

oz

Meukow Cognac

0.5

oz

Guava Juice

1

oz

Grapefruit Juice

0.5

oz

Hibiscus Syrup *see note below for recipe
Instructions
In a shaker, fill with ice and add in all your ingredients. Give this a GOOD shake.

Double strain into coupe glass and enjoy.
Recipe Notes
To make the Hibiscus Syrup, combine 1 cup boiled water with 1 cup granulated sugar, and stir in ¼ cup of dried Hibiscus Flower until sugar dissolves. Let it come to room temp before serving. Strain and can be left in the fridge for up to 2 weeks.