When summer rolls around the corner, you'll find that I shift the range of spirits I work with for the season. You'll find a lot more recipes shaken up with Gin, Tequila, Rum and of course some Aperitivo offerings for my Spritz craze. This time around, I was introduced to a premium gin entering the Ontario market that has quickly become a staple on my home bar. To match the elegance of Scapegrace Gin, I went sophisticated with my creation, bringing together Shochu, Gin and Absinthe together as one. If you're looking for a bright, sophisticated and fruity Summer Martini, look no further!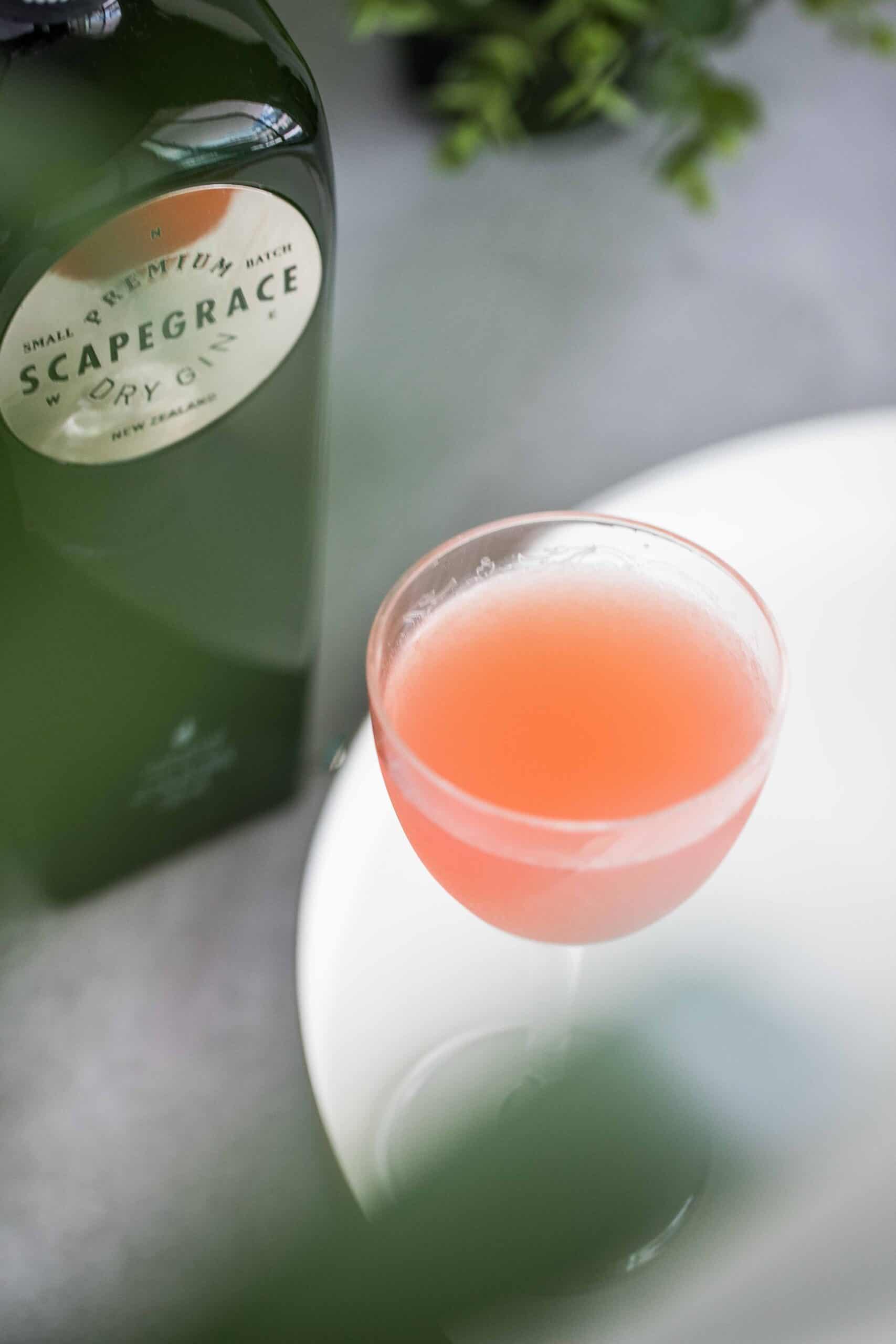 Getting to know Scapegrace Gin
It's easy to get overwhelmed by all the different Gin expressions available at your local liquor store. There's so many options, varying price points, that it can be hard to figure out which style best suits your needs. So here is what I'm going to tell you about Scapegrace. If you're an avid Gin Martini fan looking for that distiller that offers that perfect balance of Juniper, Citrus and Spices, YOU'LL LOVE THIS GIN! I recommend this to my people looking for something different. I'm talking about those that traditionally gravitate towards the Tanqueray 10 (mind you, I love Tanqueray 10, but sometimes a girl is looking for something new!).
It comes to us from New Zealand, honouring tradition with its Modern take on its Genever-style bottle, crafted with traditional methods and style. They want to allow nature to do all the work, which is the result of this gin and also the reason for their MANY awards, which you can check out here.
But enough about the Gin, why did I build the Summer Martini this way?
Shochu and Gin Magic
Again, with this award-winning gin, it deserves sophistication and something unique to highlight its notes. For one, I love a good Shochu and Gin combination (or Sake and Gin together). They're WONDERFUL in a martini pairing, and I thought it would highlight the watermelon nicely without overwhelming the flavours. Remember with Watermelon I don't want to get too loud with the spirits I use. With a combination of Shochu and Gin, it helps bring out each other's flavours without distracting from the whole cocktail. I highly recommend you start experimenting with this combo. Even in a classic martini, split the Gin and Shochu in half and see how you'll fall in love with this pairing.
When choosing your shochu, it's important that with this premium gin, that you grab a decent Shochu expression. I went with the Shochu Yokaichi thanks to its barley base that I knew would compliment this gin. PLUS, it's something that's available at the LCBO (yay!). It's worth a buy, especially if you're a big Gin Martini fan and looking to explore some unique pairings.
Avoid the Sweet Potato Shochu base here, I attempted it and it ended up overwhelming the balance and there was just too many flavours by this point.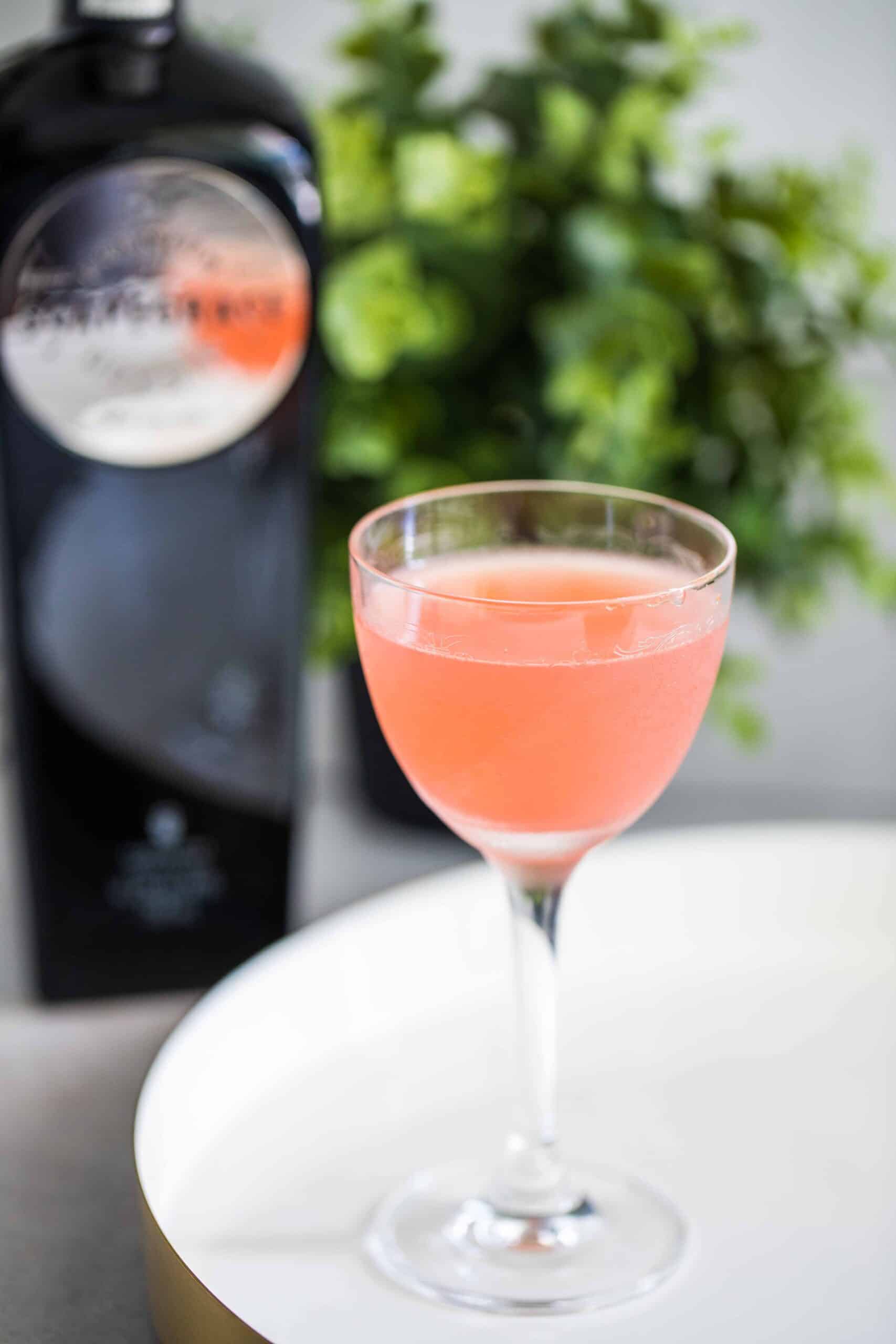 Building the rest of this Watermelon Summer Martini
I knew I wanted to go with something spirit forward here. But I had to keep the summer theme in mind and the delicacy of the Watermelon, to ensure a balanced cocktail. So that's when I brought out the Lillet Blanc as that "lengthener" in the martini. But the cocktail needed acid. That's when my verjus came in super handy! Although it isn't an alcoholic ingredient, it lends well when measured appropriately.
Now Watermelon and Absinthe is one of those pairings that always works, but I'm not the biggest Absinthe fan. That's why I simply prepped the glass with a rinse of Abinsthe. It's pronounced, adds that bit of aroma and again, expands this ever-layered cocktail in the most beautiful way. This addition is obviously not necessary. But if you know the power of Watermelon and Anise together, you know this is not something you'll want to skip!
OKAY, now I'm officially thirsty! Want to see how this Summer Martini comes together with Scapegrace Gin? Well the recipe is just down below!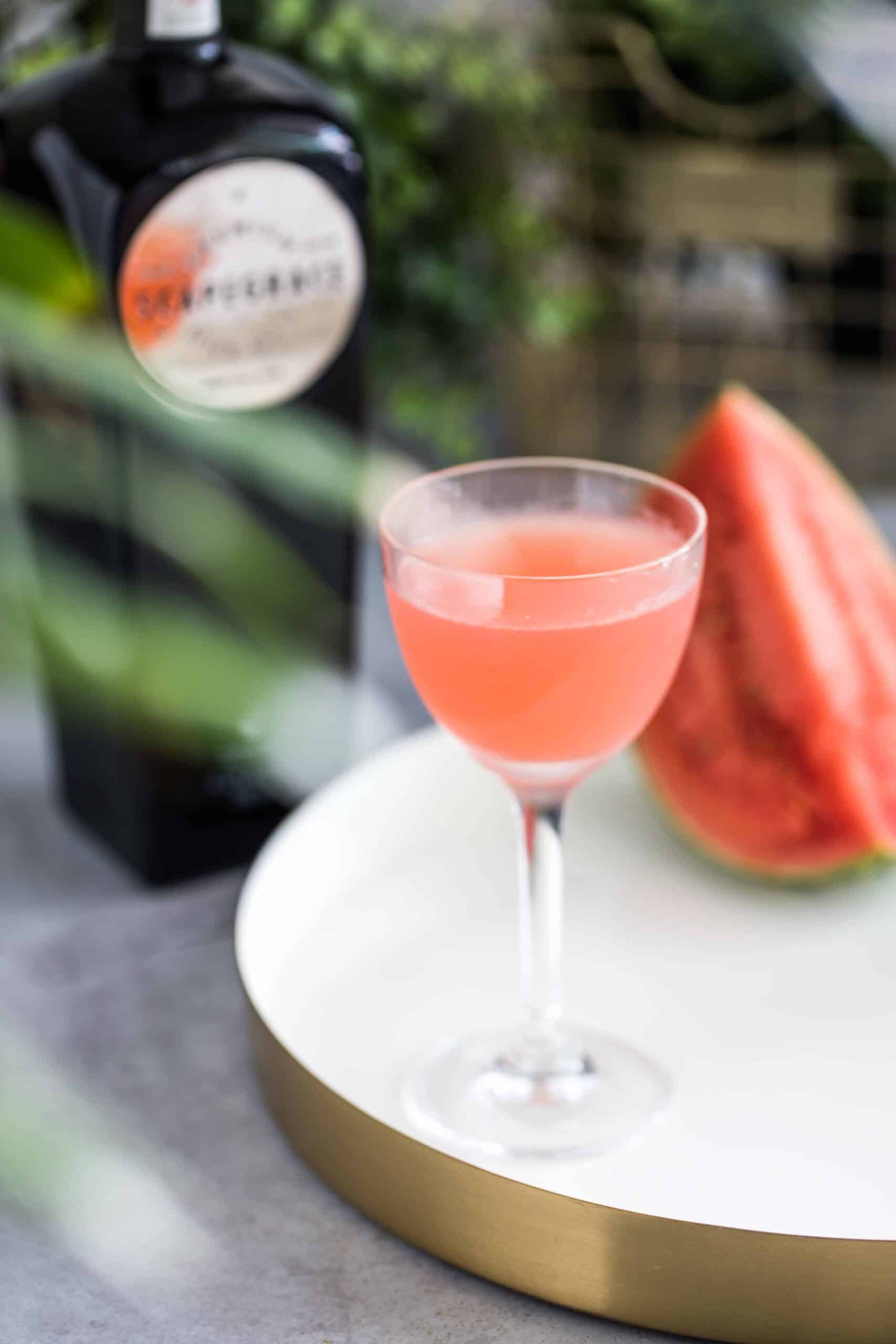 The Summer Beat
A sophisticated Gin cocktail for my Martini lovers looking for their Summer fix. Scapegrace Gin, Shochu, Lillet, Watermelon and Absinthe come together as one in this unique serve.
– Difficulty: Intermediate
Ingredients
3

Cubes Watermelon

approximately 1/8 – ¼ cup

1.25

oz

Scapegrace Gin

0.75

oz

Shochu

0.75

oz

Lillet Blanc

0.25

oz

Verjus

Spritz of Absinthe
Instructions
Prep your glassware first. With the Nick and Nora, rinse the inside of the glass with absinthe (whether with a spray or adding a small dash inside and coating. Toss out any potentially extra absinthe

In a mixing glass, muddle your watermelon slices / cubes.

Add the rest of your ingredients, fill with ice and give this a good stir.

Double Strain into a Nick and Nora Glass and enjoy.
Recipe Notes
Optional Lemon Twist
For more Martini action, look for inspiration here on the Liquid Culture website!