We have one a very special Sunday right now. It's the First Day of Summer 2021, which always gets me excited because me and humidity and cocktails just do well together. It also marks the first day of my #IceCreamSundazeee creations which I ABSOLUTELY LOVE. PLUS, today is Father's Day here in Canada, so I get to encompass 3 beautiful concepts into one. With that said, I brought out the new Caribbean Cask Whiskey from Tullamore (inspired by the whisky dram fathers out there), and ripe bananas in this perfect serve. Ready to finally dive into the world of boozy Ice Cream Creations? Because LC is here, and we're ready to share this Whiskey Banana Ice Cream!
#IceCreamSundazee is back and I wanted to give you a refresh on some of the things to be mindful of when making Ice Cream, Sorbet or Gelatos at home (ps these are instructions if you have the ice cream attachment freezer bowl, instructions are different for others):
2 Days Prior: Toss in Ice Cream Maker into your freezer. Before you go to bed, just don't forget to toss it in.
Next Morning: Blend/Make your Ice Cream base. This doesn't take a ton of work, but you need to let it chill. So make it, toss it into the fridge and cover for a minimum 6 hours.
Later that Night: Add your chilled Ice Cream Base to the Ice Cream Maker. Let it churn slowly for approximately 20-50 minutes, depending on recipe. Pour into container. Cover. Toss into Freezer.
Enjoy the following Day: That's really it. Give it time to sit and solidify some more. Before serving, make sure to let it sit at room temperature for 10 minutes or 30 minutes in the fridge.
When it comes to Ice Cream Creation, it does call for planning. With my #adulting ways, I find this easy to schedule now, because I've become that person that plans the family meals now a week in advance now. I will say, with that switch, it has made grocery trips much more efficient and it's great way at saving money and ensuring you have no waste! But the process of actually making Ice Cream at home, actually calls for VERY LITTLE action time. But first let's talk about the inspiration for this serve.
Choosing Your Spirit
This time around, I actually had the spirit guide the flavour I wanted to mix in this ice cream. I was recently gifted Tullamore's Irish Whiskey Caribbean Cask expression which if you haven't picked up, comes with some AMAZING expressions of tropical fruit and especially bananas. That was it for me. As soon as the bananas and spices came through, I knew I wanted that to be the main ingredient for this creation. That flavour also holds a very personal attachment to my roots.
Before I dive further into my inspiration, I did want to quickly mention what else you can work with when building an Irish Whiskey ice cream. The amazing thing about Irish Whiskey is that it really can work with so much. I love it with tropical fruits such as passionfruit and pineapple. But you could also go the direction with some of those Fall fruits or peaches that come with so much depth. You almost can't go wrong with pairing and creating an ice cream with Irish Whiskey. So let me know what you'd like to see together, or make it yourself and tell me your favourites!
Building your Cream Base
This is the only thing that may seem slightly intimidating if you're absolutely brand new to the kitchen, but I promise, it takes VERY little effort. Allow the cream to simmer a touch, get your whisked yolks set up (because we've got a more "custard" style ice cream here to match the richness of these flavours). Lastly, ensure you have a fine mesh strainer handy in case any egg bits end up cooking during the process.
The other thing to make sure you have ahead of time is some ripe bananas. With my love for banana breads, I freeze any ripe bananas I can't take advantage of right away. This way I always have it handy, which came in handy today! Ready to bring out the Ice Cream Maker? You won't regret it, nor will your Dad's for Father's Day!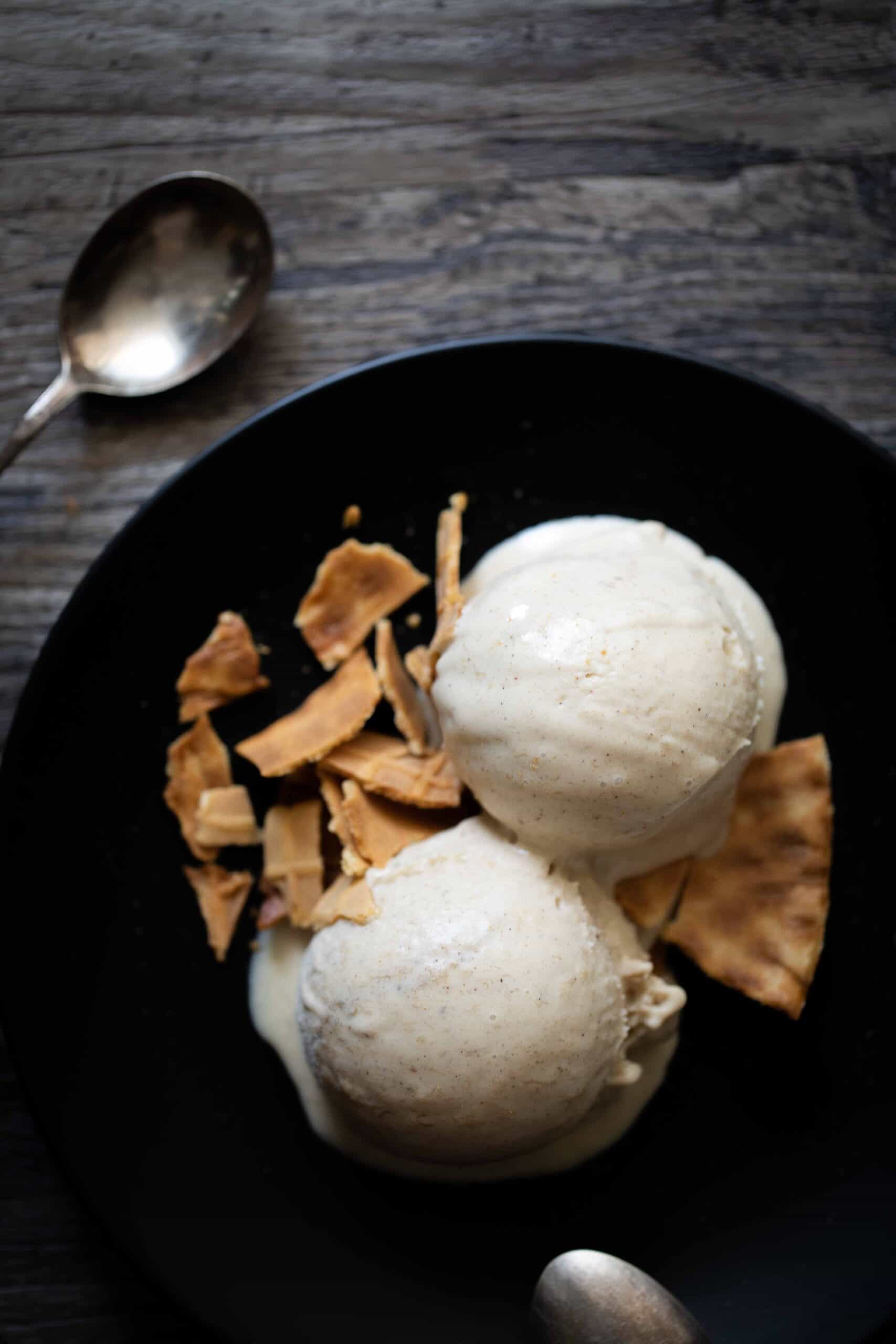 Irish Whiskey and Banana Ice Cream
An outstanding Ice Cream that will be your new household favourite using Tullamore's new Caribbean Cask Whiskey.
– Difficulty: Intermediate
Ingredients
Fruit Base
4

Ripe Bananas

2

tbsp

Granulated Sugar

1

pinch

Salt

1/3

cup

Tullamore Dew Caribbean Cask Whiskey
Cream Base
2

cups

Heavy Cream

1/2

cup

Granulated Sugar

1

twp

Cinnamon Powder

1

pinch

Sea Salt

5

Large Egg Yolks
Instructions
In a blender, puree all the Fruit Base ingredients until smooth.
Making the Base
In a small pot, simmer cream, sugar, cinnamon and salt. Stir and once the sugar dissolves take it off the stove. Whisk egg yolks in a separate bowl and while constantly whisking, slowly pour in 1/3 of the warm cream base. Once combined, whisk this egg yolk and warm cream base back into the cream base pot.

Return pot to the stove and bring it back to just a simmer (will coat back of a spoon, will read about 170 degrees in thermometer).

Remove from stove and strain the mixture through a fine mesh strainer. Stir in Banana Fruit base and let this come to room temperature before chilling (make sure to cover the bowl) in the fridge for at least 4 hours or overnight.

Follow Ice Cream Maker instructions to finish it off.