So a Spritz was not intentional today, especially since you've been seeing a ton of it on my feed lately. BUT, for #NoDrinksWasted this week, I had people putting in requests for something with Sparkling Wine and well, why not go with something simple! This cocktail ends up satisfying 3 requests from #NoDrinksWasted, with this delicious Pineapple Sage and Vermouth Spritz. Looking for a fresh bubbly cocktail? Well it's coming your way now!
What's #NoDrinksWasted?
After a fun year of #DrinkYourGram on my social platforms, I wanted to create cocktails with you in mind. Many of you likely have random bottles or ingredients around the house that you don't want to go to waste, so why not use them in a cocktail? For today's creation, I was able to accommodate 3 requests! The first being that someone had way too much sage in her garden, second was a colleague who had some sparkling wine to spare. Lastly someone who requested something with Dry Vermouth that isn't a martini. I let the Sage take the drivers seat here, but the rest of the ingredients really compliment each other with this serve.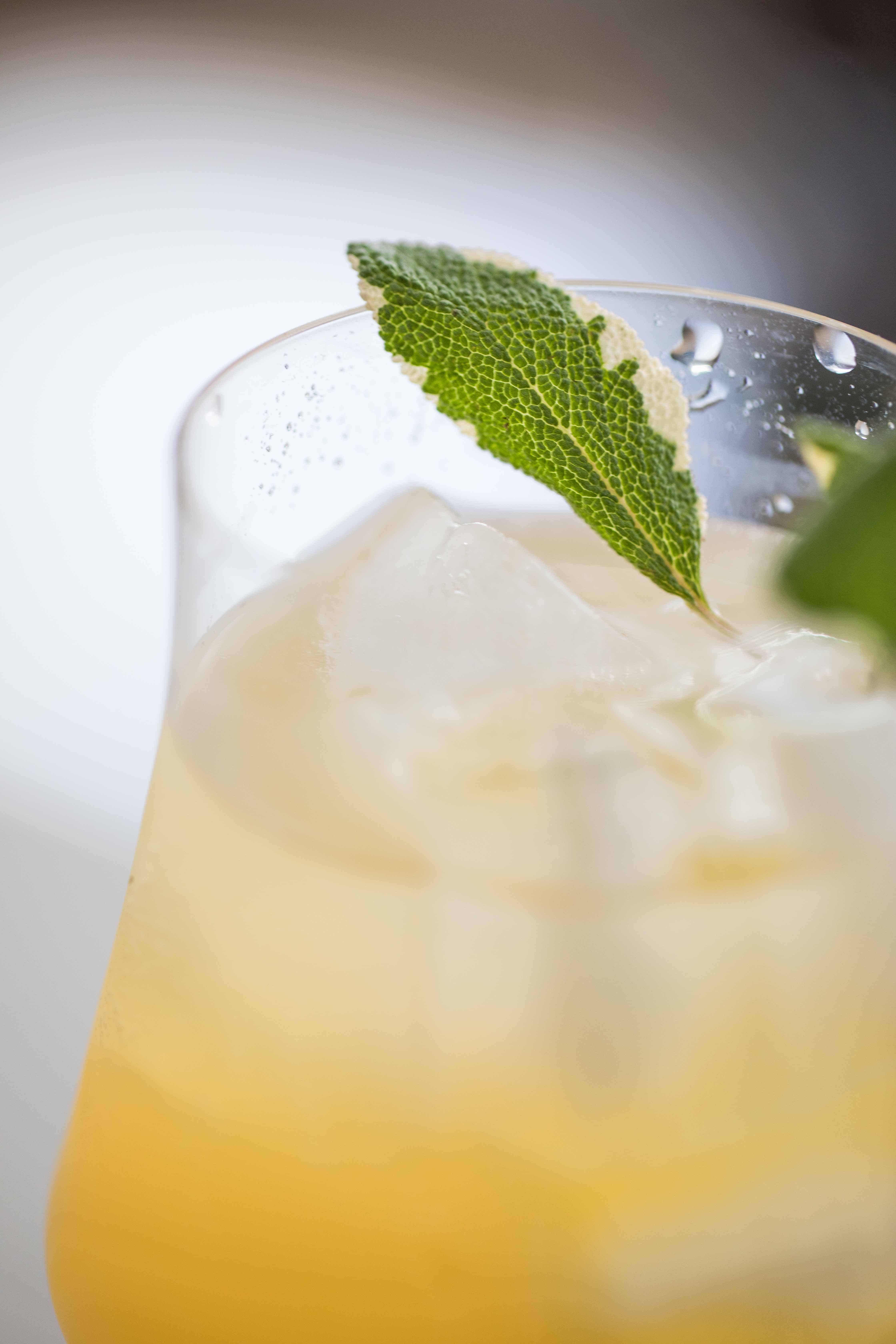 Why Sage? And how do you work with it?
So Sage is one of those herbs that goes a LONG way in a cocktail. Even if it may seem subtle at first, let it marinate in your drink and it can quickly overwhelm. The moral of the story here is to ensure you don't add in a ton of Sage in your glass, and let it work its magic with time.
My favourite pairing with Sage happens to be Pineapple! I absolutely love the flavour combo, and I know this isn't the first time I've put these two together. This is one TASTY, refreshing Spritz that doesn't ask for much from you. That's right, we don't have any syrups or anything involved, just fresh easy ingredients.
Sparkling Wine and how to work with Vermouth in a Vermouth Spritz
I'm a HUGE advocate for a delicious Spritz and experimenting with its ratio. Now what I love about this recipe is that it uses Dry Vermouth in much larger volumes than your typical martinis. There's a lot of people uncomfortable working with Dry Vermouth, and I think the first question I need to ask them is if they've tried it on it's own. Because for most of us, we think of dry vermouth simply for martinis, but it can pretty much go into SO many different cocktails and offers a great way to lengthen your drink. For inspiration, make sure to check out this link here for all the ways you can work with Dry Vermouth.
When choosing your Sparkling Wine, I always aim for something that's typically Dry. I avoid anything too sweet because then I have more control over the cocktail. If a sparkling wine has so much going on, it makes it more difficult to work with. I went with a simple prosecco, but experiment with cava's and local sparkling wine expressions.
And that's pretty much it for this Vermouth Spritz! You don't have to shake this cocktail or anything. The pineapple offers a touch of acid and sweetness that you don't need to mix with anything else. You could do this with Guava or even passionfruit here. Missing sweetness? Add a dash of simple syrup, which I typically stick to a 1:1 ratio of granulated sugar and water.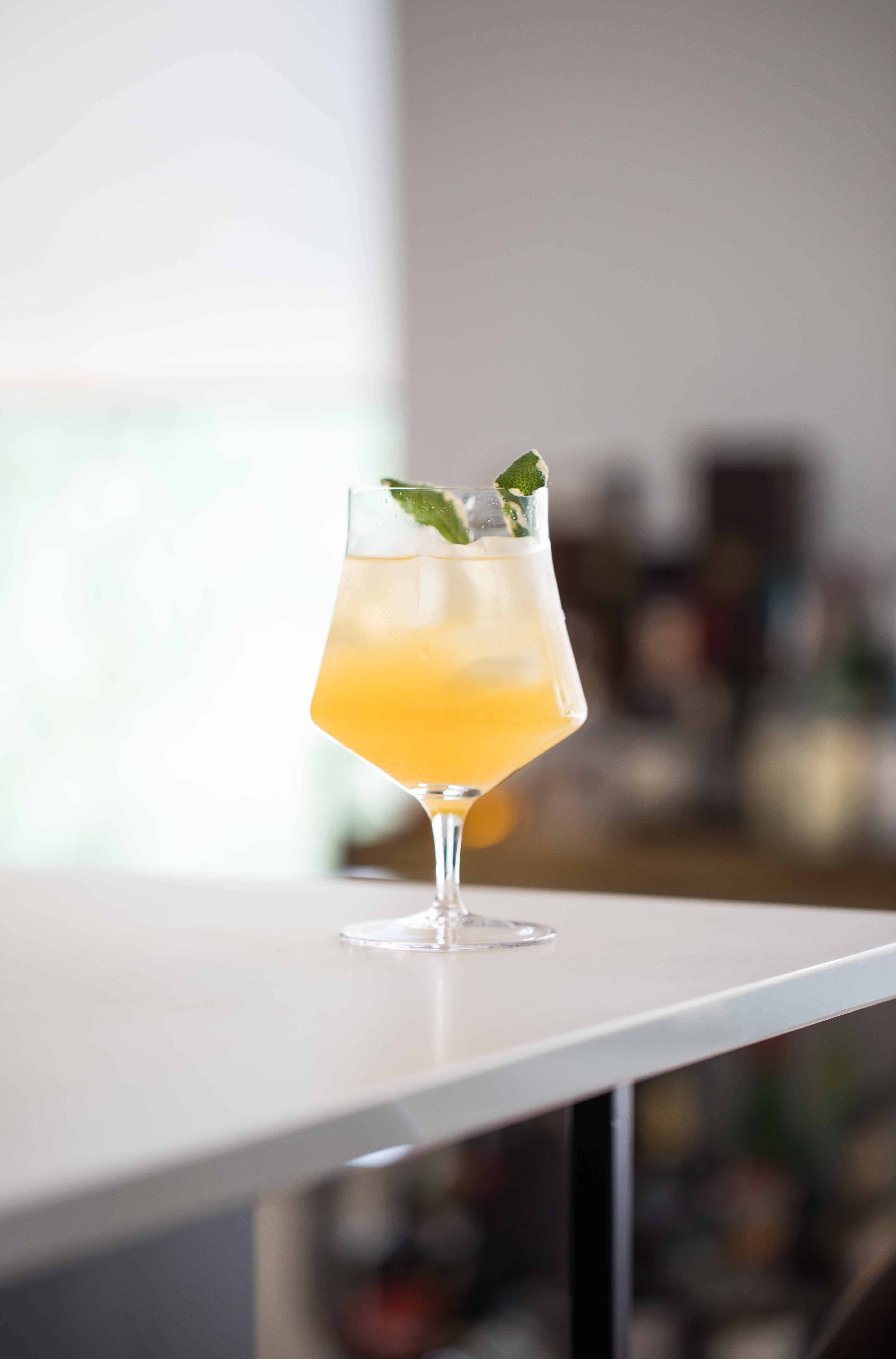 Pineapple Sage Spritz
Featuring a Pineapple Sage Spritz made with a base of Dry Vermouth. It's an easy, no fuss, delicious spritz you'll love to start off all summer.
– Difficulty: Easy
Ingredients
2

oz

Dry Vermouth

Preferably Spanish or Italian style

3

oz

Sparkling Wine

1

oz

Pineapple Juice

Preferably not from concentrate

1/2

oz

Tonic water

1

Sprig

Sage

2-3 leaves max
Instructions
Fill your glass with ice and add all your ingredients (finish with sparkling and tonic).

Garnish with Sage and stir and enjoy!