As much as my boyfriend would appreciate a quick, efficient trip to the grocery store, I definitely love to wander the aisles to find something new or exciting to add to my pantry. This was very much the case with Thirsty Buddha.
For those who know me well, if something has coconut in it, I will pretty much always say yes…and quesadilla, but that's a story for another time. So when Thirsty Buddha brought out their sparkling flavoured products, I got really excited to try! Need I remind you that Liquid Culture is way too new right now, so NO this is not an AD, but the honest truth is that I fell in love with their watermelon flavour. And with that said, it was an easy way to incorporate this flavour into the 3 Series brand of Liquid Culture. The possibilities are endless, but again, I wanted it to be simple for this part of the LC. Throwing in some herbs such as mint and basil pair extremely well. Fresh cuts of pineapple also make a delicious concoction for this beverage. I hope you fall in love with this easy mixture as much as I did!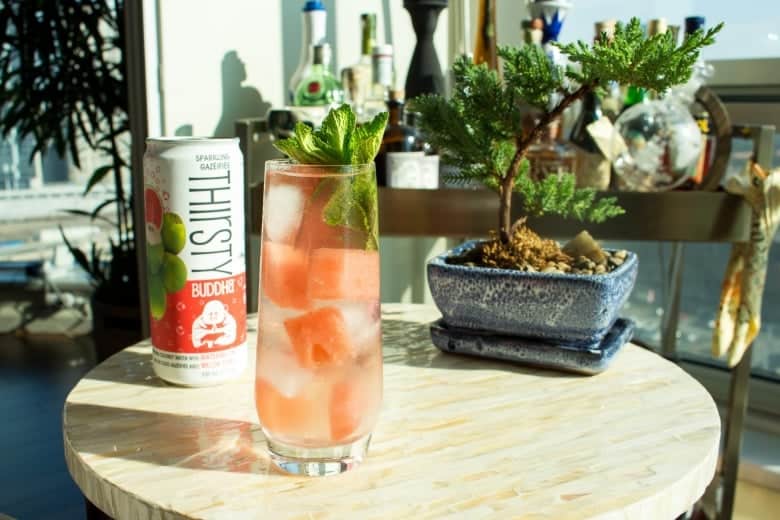 Watermelon Buddha
A delicious mix of coconut water, watermelon and rum to cure any day in a hurry!
Difficulty: Easy
Ingredients
1

part

Vodka or Light Rum

4

parts

Thirsty Buddha Watermelon Coconut Sparkling Water
Instructions
Pour all ingredients over ice
Recipe Notes
Rum and Vodka worked best with this sparkling ingredient, and remember to keep it a 1:4 ratio. In addition, throw in some fresh pineapple slices if you have it lying around. I also found mint and some extra watermelon made this drink fantastic and quick!