I have to apologize to my community that it has taken this long to put up this amazing Turmeric Coconut Rum cocktail on my feed. Things have been wild at LC, and the thing is, this pregnancy has not helped with the energy. But needless to say, this was a #NoDrinksWasted entry that deserves all the praise! This Rum cocktail comes packed with flavour like Campari, pineapple, lime and coconut. You'll want in on this, trust me!
Jump to Recipe
What's #NoDrinksWasted?
After a fun year of #DrinkYourGram on my social platforms, I wanted to create cocktails with you in mind. Many of you likely have random bottles or ingredients around the house that you don't want to go to waste, so why not use them in a cocktail?
For this particular week, I had a community reach out wondering how she can use some turmeric in her mixology. Other than the fact that turmeric loves to stain, in measured dosages it can go a longgg way. I used a bit of powder with some other strong flavour characters to build this Turmeric Coconut Rum Cocktail.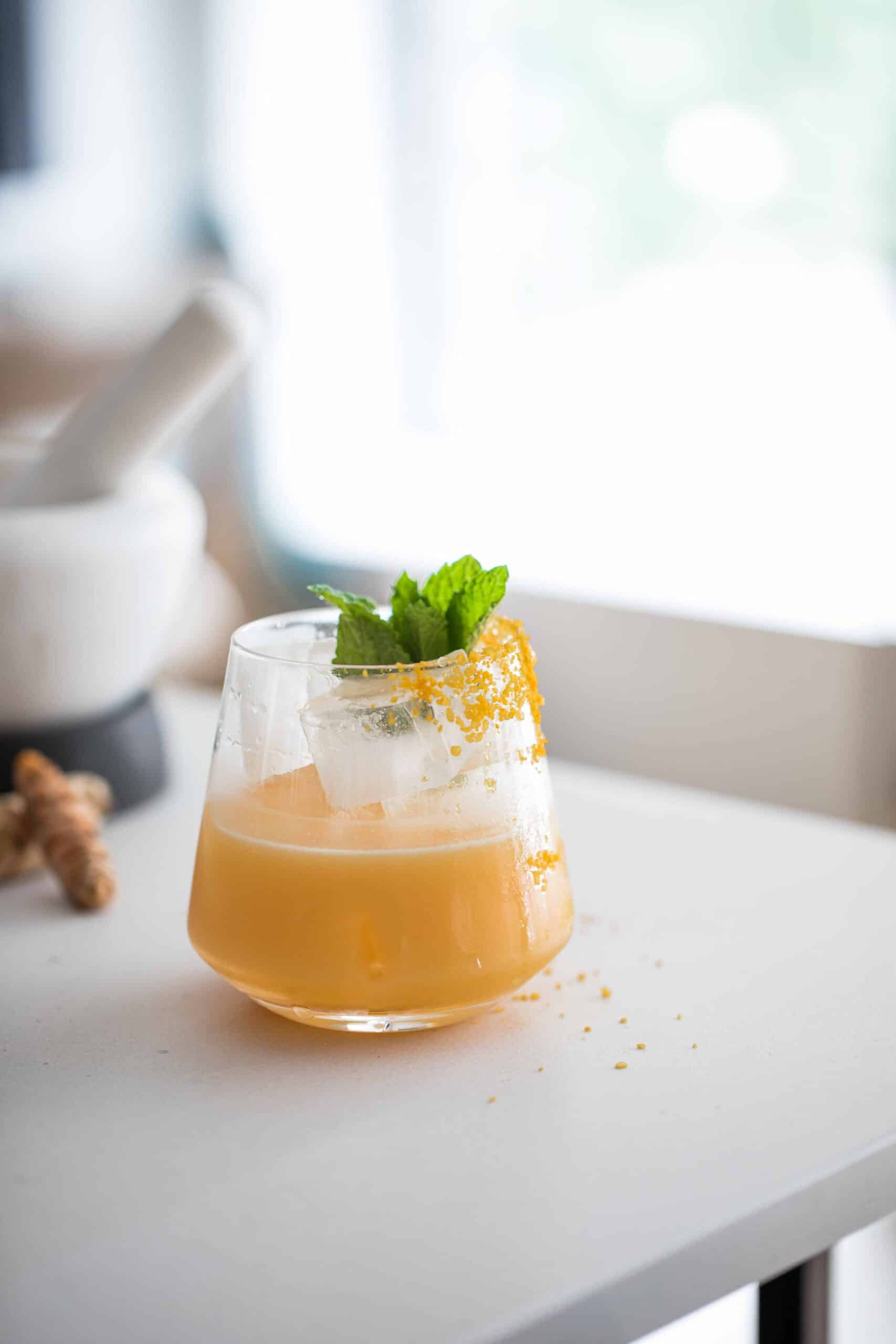 Build your Turmeric Coconut Rum Cocktail.
Something I learned through the industry is that rum and Campari (especislly a splash in a pina colada) can go a long way! They're a great flavour pairing together, and worth experimenting with. Now if you don't love Campari, I would cut this out of the recipe. But it really does go a long way, AND adds those bitter attributes to the cocktail to combat the sweetness. If Campari is omitted, I would increase the lime a touch (by a ? or ¼ oz).
Choosing your rum for this cocktail was fairly easy, but I would NOT deviate from their style. Go for a lighter style rum like the Havana Club 3 yr used here, or a Flor de Cana. Avoid anything heavily aged or infused from oak. The brighter it is, the better. I'd even say Cachaca or Rhum Agricole would go a long way. Or even a Pisco!!
I'm sure you're as thirsty as I am by this point. Let's get to that recipe shall we?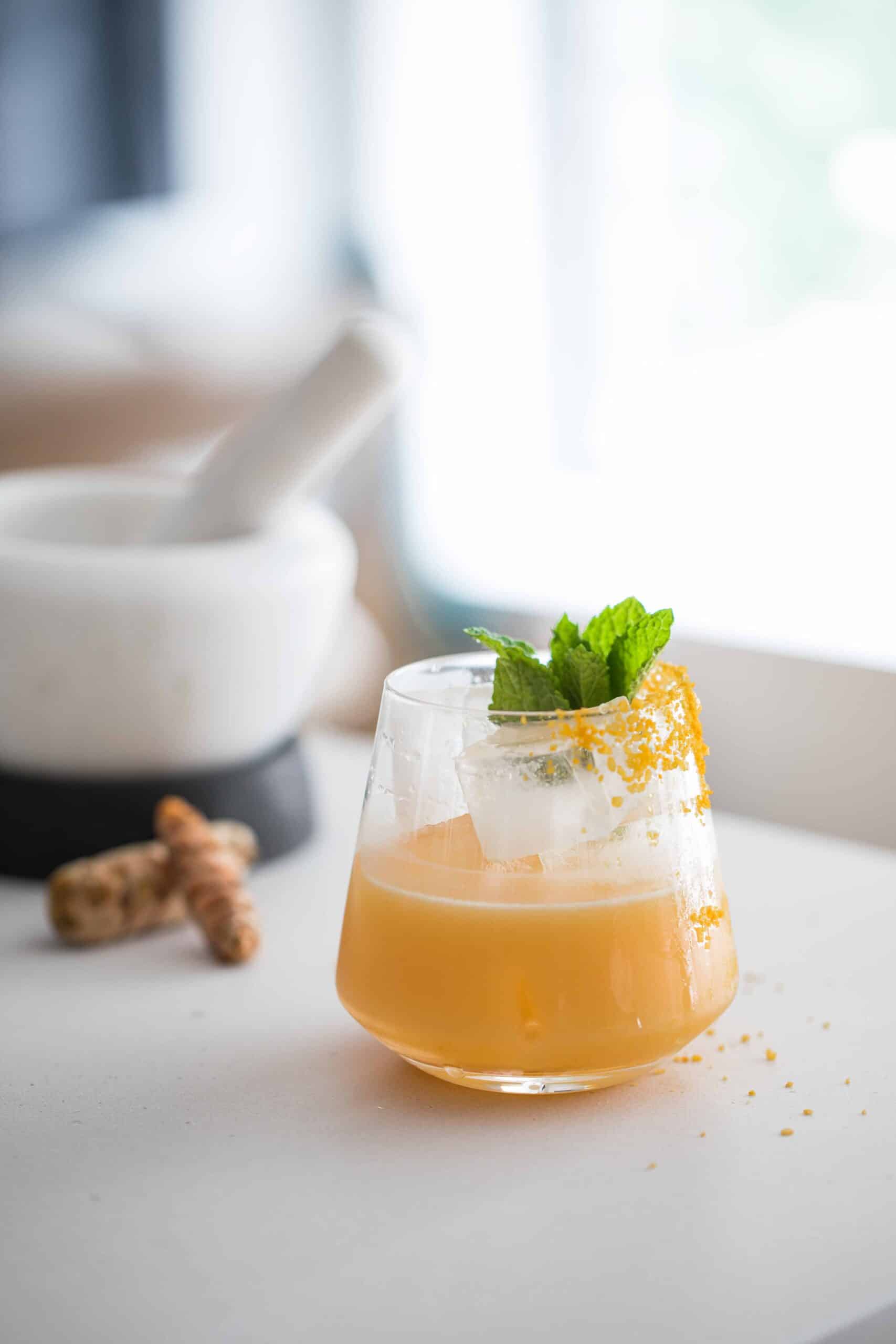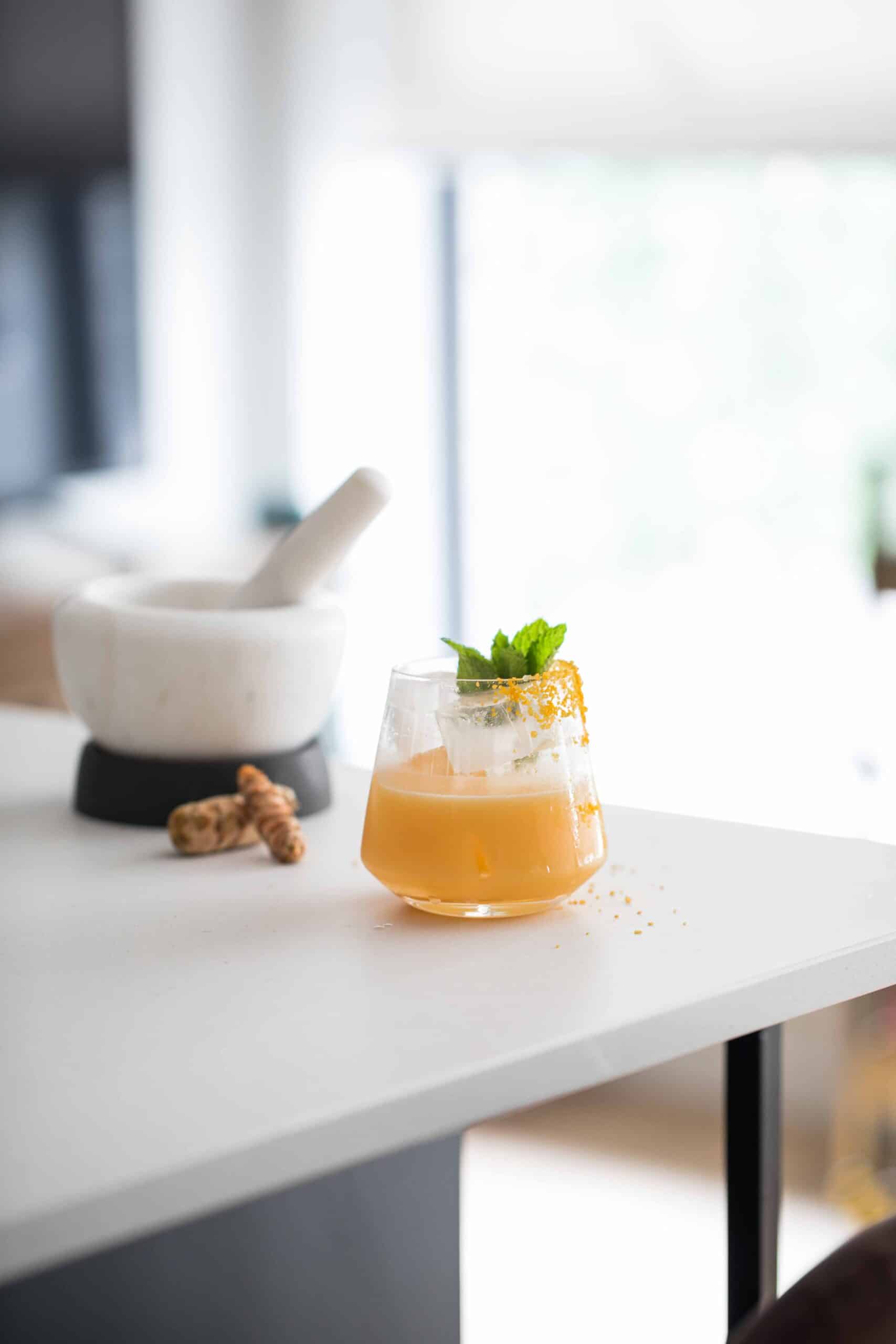 Turmeric Coconut Rum Cocktail
This cocktail is PACKED with flavour with some Havana Club Rum, Pineapple, Campari, Turmeric and so much more!
– Difficulty: Intermediate
Ingredients
Salt and turmeric powder salt

1.5

oz

Havana Club 3 yr Rum

0.5

oz

Campari

1

oz

Real Coconut Syrup

1

tsp

Turmeric Powder

0.75

oz

Lime Juice

0.5

oz

Pineapple Juice

2

sprigs of mint

set 1 aside for garnish
Instructions
Start by prepping your glassware by rimming with the Turmeric and Salt (use lime wedge to help let the salt stick).

In a shaker, stir together turmeric powder and coconut syrup. Add one sprig of mint and the rest of the ingredients.

Fill your shaker with ice and give this a good shake.

Strain into your prepped glass over fresh ice. Garnish with remaining mint sprig.
Recipe Notes
For the Turmeric and Salt Rim, simply combine 1 part Sea Salt with 1/4 part Turmeric Powder. Give it a mix until combined. 
Here's the link to the Real Coconut Syrup I'm talking about.
Looking for more #NoDrinksWasted Cocktail creations? Click on the link attached.