I'm feeling a bit nostalgic today, because this is going to be my last, creative piece when it comes to a Peach Wednesday cocktail feature. Next week I have something lined up for Christmas, but other than that, the year is over. So when it came to deciding on what cocktail I would make for this fateful day, I thought of my favourite creations, and honestly, nothing could take me away from a Negroni and Tequila. Since I already made an epic Tequila Peach Negroni, I knew this riff had to be different. I stuck with the same concept of a Negroni, but it truly different from what I've created in the past. This variation uses a spritz of mezcal, muddled organic South African peach, agave nectar, reposado tequila, raisin-infused Campari and  Cocchi Americano. I call her xo Amor Peach Weber.
This is it folks. If Liquid Culture were to end today, then I finished it off with some of my favourite spirits and combinations to date. We got a little bit of Peach, it's a Negroni variation, it has my favourite Raisin-infused Campari and not to mention the epic Cocchi Americano. This cocktail is light and yet powerful at the same time. The mezcal I simply rinse inside the glass for that slight hint of smoke, while the peach is sweet and bright and never overwhelmed. Now one thing I must stress is the importance of the peach. I splurged and bought some plump and very ripe peaches from South Africa. Of all the peaches I've mixed with here at Liquid Culture, this was without a doubt the juiciest, most delicious peach I've tasted. I really can't explain it, so what I'm going to do is tell you to trust me on this one. Give this a quick stir at home and you will never look at a Negroni again.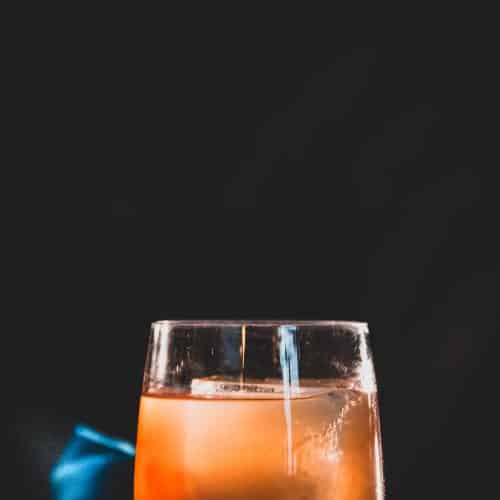 xo Amor Peach Weber
A peach-infused, smoky Tequila Negroni with raisin-infused campari and Cocchi Americano. It's going to be the new classic here at Liquid Culture.
Difficulty: Intermediate
Ingredients
1

oz

Reposado Tequila

Don Julio recommended here

3/4

oz

Raisin-infused Campari

1

oz

Cocchi Americano

1/2

tsp

Agave Nectar

1/2

Organic South African Yellow Peach

1

spritz

Mezcal

Leyenda Mezcal Used
Instructions
Rinse the inside of a rocks glass with mezcal

In a mixing glass, muddle the organic peach to a pulp. Add the rest of the ingredients before filling the mixing glass with ice. Stir until well chilled.

Double strain over 1 large ice cube in rocks glass. No garnish