Maybe you need a little pick me up? Getting exhausted from all the prepping and work involved for the holidays? Well I have a cocktail and coffee beverage served into one to solve all your problems! The best part about this cocktail is that it's served as a punch, so you can easily batch this cocktail and have it at a moment's notice; No shaking or immediate bartending skills necessary! Featured as one of the holiday punch recipes on CTV's The Social, I'm sure you will love having this punch ready for your next holiday function.
I'll always appreciate a white, snowy Christmas, cuddled up by the fire, but every once and a while, I miss the sun during the holidays. Whenever I'm in need of some Vitamin D TLC, I will whip up a tropical cocktail to pick me right up. Plus, the islands celebrate Christmas too, so this punch recipe is dedicated to everyone down south, enjoying the sun, because I would want to be sipping on this cocktail with you!
---
---
I love serving punches for the holidays because not everyone wants to be mixing and shaking all night long. With a punch, you can easily make the cocktail ahead of time and set up a station for guests to easily pour themselves. No hassle necessary! So for this tropical themed Christmas punch, I've combined some of my favourite ingredients, from Havana Club 7 Year Rum, Barista's Rum Coffee Liqueur, a homemade Gingerbread Syrup, Fresh Clementines and Angostura Bitters. It's extremely simple to throw together and I'm here to show you how.
To see the cocktails live in action, you can follow the link here to watch!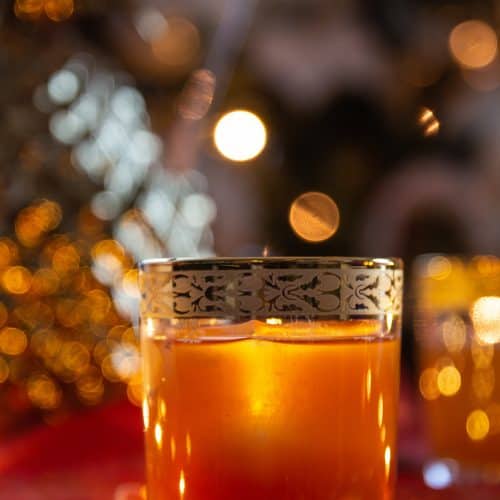 Tropical Gingerbread and Coffee Holiday Punch
A tropical-inspired Christmas punch that combines some homemade gingerbread syrup, Barista's Coffee Rum liqueur and Clementines!
Difficulty: Easy
Ingredients
9

oz

Havana Club 3 yr Rum

3

oz

Barista Coffee Rum Liqueur

4

oz

Gingerbread Syrup

8

oz

Pineapple Juice

6

oz

Clementine Juice

2

oz

Lemon Juice

20

dashes

Angostura Bitters

4

oz

Club Soda
Instructions
In a pitcher combine all ingredients + 1 oz of club soda. Fill ¾ full of ice and stir until chill

Strain into punch bowl with 1 large ice block.

Pour into individual cups with 1 large ice cube and garnish with pineapple. Top with a splash of soda for each.