I've got a special treat for my whisky drinkers for a Single's kind of Valentine's Day. Well, even if you're not single, you're going to love this cocktail, especially if you love a manhattan. Mixed with Glenfiddich's special experimental series Project XX, Amara (an Amaro Liqueur) with Cocchi's Chinato and a dash of Pecan bitters. Cheers to a festive Valentine's Day.
All the delicious ingredients in one photo

Amara – An Amaro Liqueur with Blood Orange Peels!

When it comes to Aromatized Wine, you can never go wrong with Cocchi

This pecan bitters from El Guapo is one of my favourite new additions!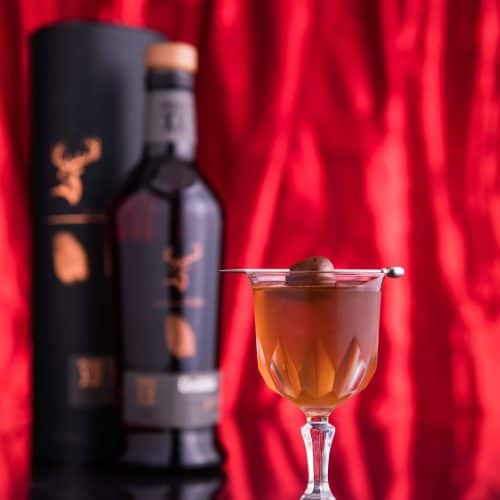 XX City
Stirring up with Glenfiddich's Project XX Single Malt Whisky for Valentine's Day, mixed with Amara Blood Orange Amaro liqueur, Cocchi's Chinato and El Guapo's Chicory Pecan Bitters!
– Difficulty: Intermediate
Ingredients
2

oz

Glenfiddich Project XX Single Malt Whisky

2/3

oz

Amara

Blood Orange Amaro Liqueur

1/3

oz

Cocchi Chinato

2

dashes

El Guapo Chicory Pecan Bitters
Instructions
In a mixing glass filled with ice, pour all your ingredients and give this a good stir. Strain into coupe/martini glass.
Recipe Notes
If you don't have Cocchi's Chinato, try to find a Spanish Red Vermouth that has quite a bit of body to it!
Amara is a wonderful Amaro liqueur with Blood Orange peels coming through. It's herbaceous, not too sweet and perfect for this cocktail. If you can't seem to find this product at your liquor store, I would use regular Amaro Nonino but only use a 1/2 oz instead of 2/3 oz and increase your vermouth or Cocchi Chinato to 1/2 oz as well.