#IceCreamSundazeee is BACK and I can't tell you HOW excited I am to share this season's first creation. I'll admit, I was fairly intimidated at first, but once I got into a rhythm, I remembered just how EASY it is to make ice creams at home. This time around, Apricot's have been all over the market, and I decided to whip up something sophisticated for summer. Combining Cream of Coconut, Whiskey, Peaches and Dried Apricots, you'll be obsessed with making more delicious boozy sorbets at home!
Let me get real with you, I pushed this off for as long as I could. I think with all the experimenting I did last year, I had this idea that this time around it would be very complicated and time consuming. FRIENDS, I can honestly tell you, making sorbet calls for VERY LITTLE EFFORT on your part. You just have to time things accordingly.
So here's my quick go-to guide when it comes to making boozy treats at home:
2 Days Prior: Toss in Ice Cream Maker into your freezer. Before you go to bed, just don't forget to toss it in.
Next Morning: Blend/Make your Ice Cream base. This doesn't take a ton of work, but you need to let it chill. So make it, toss it into the fridge and cover for a minimum 6 hours.
Later that Night: Add your chilled Ice Cream Base to the Ice Cream Maker. Let it churn slowly for approximately 20-50 minutes, depending on recipe. Pour into container. Cover. Toss into Freezer.
Enjoy the following Day: That's really it. Give it time to sit and solidify some more. Before serving, make sure to let it sit at room temperature for 10 minutes or 30 minutes in the fridge.
It's all about being patient, but does it make you work very hard? Not even for a second. Don't believe me? Well check out the recipe below!
---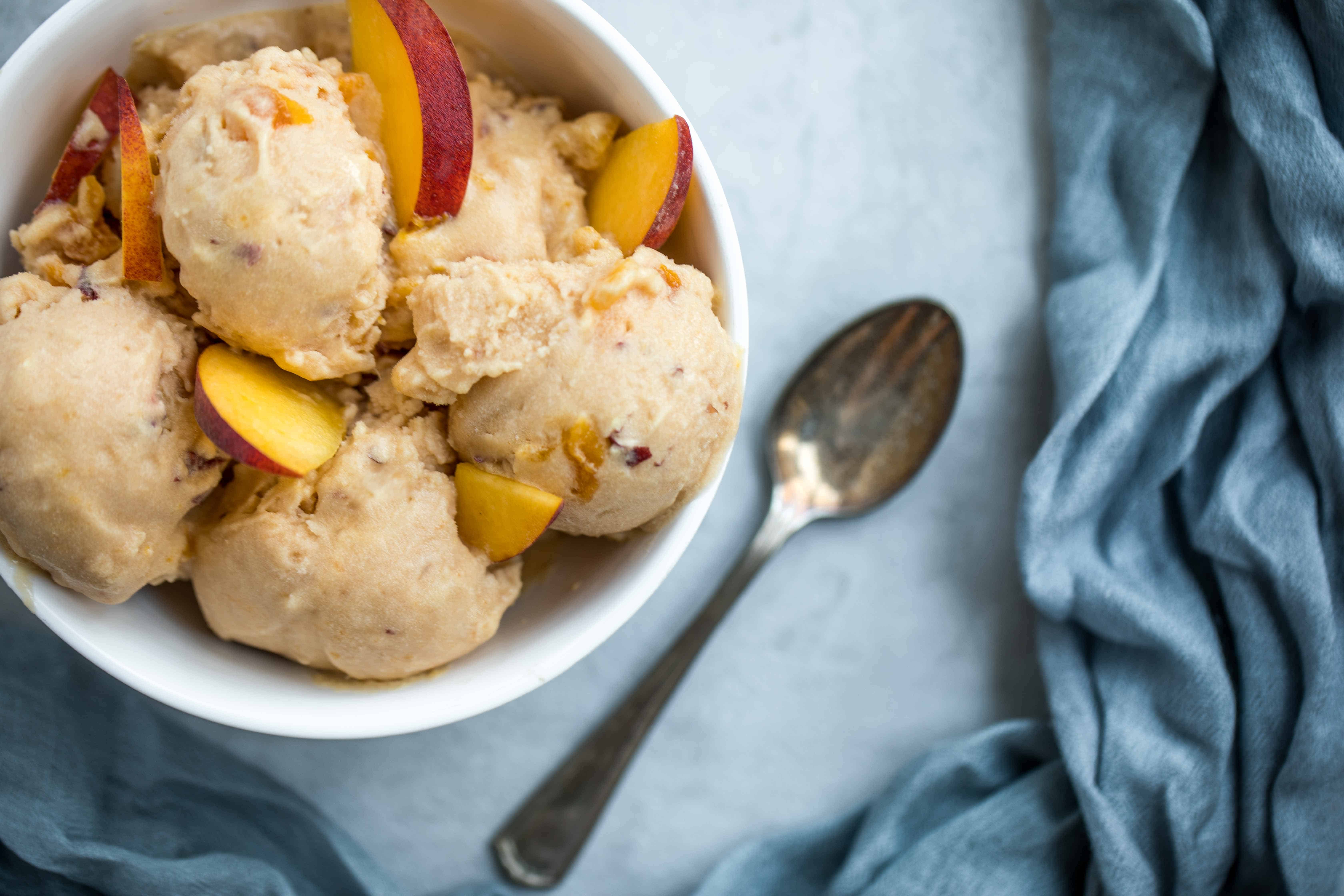 ---
A Few Things to be Mindful of with Home Made Ice Creams
Before we dive into the recipe, I did want to explain a few trial and errors for me during this process. Because I had some frozen peach slices in the fridge (store bought), I used that, but I would heavily vote against it. Try and use fresh peaches for this one, which the second time around, it was incredible. It's best to remove the peach skin for this, but if you're feeling lazy (don't worry, I definitely was), keep it on, plus I don't mind the bitterness it added.
The reason I used peaches in the first place because I knew I would get some decent volume and juices from it (compared to fresh apricots). Being so similar in taste profile, I combined both flavours and loved it! You could also used Peach Juice if you'd like, but be mindful of the sugar. I would probably add less than half of what is in the recipe below. But the peaches I used were super tart which I love, hence the amount of sugar used below. Which leads to my next point.
YOU CAN TASTE the ice cream base before chilling. Now you want it to be a bit sweet, because once it chills, it DOES balance itself out. Obviously if it's WAY TOO Sweet? Add a bit more citrus. Adjust to your preference, but be mindful that the ice cream maker won't hold too much volume. What I've outlined below is best for the Kitchen Aid attachment and will be full.
---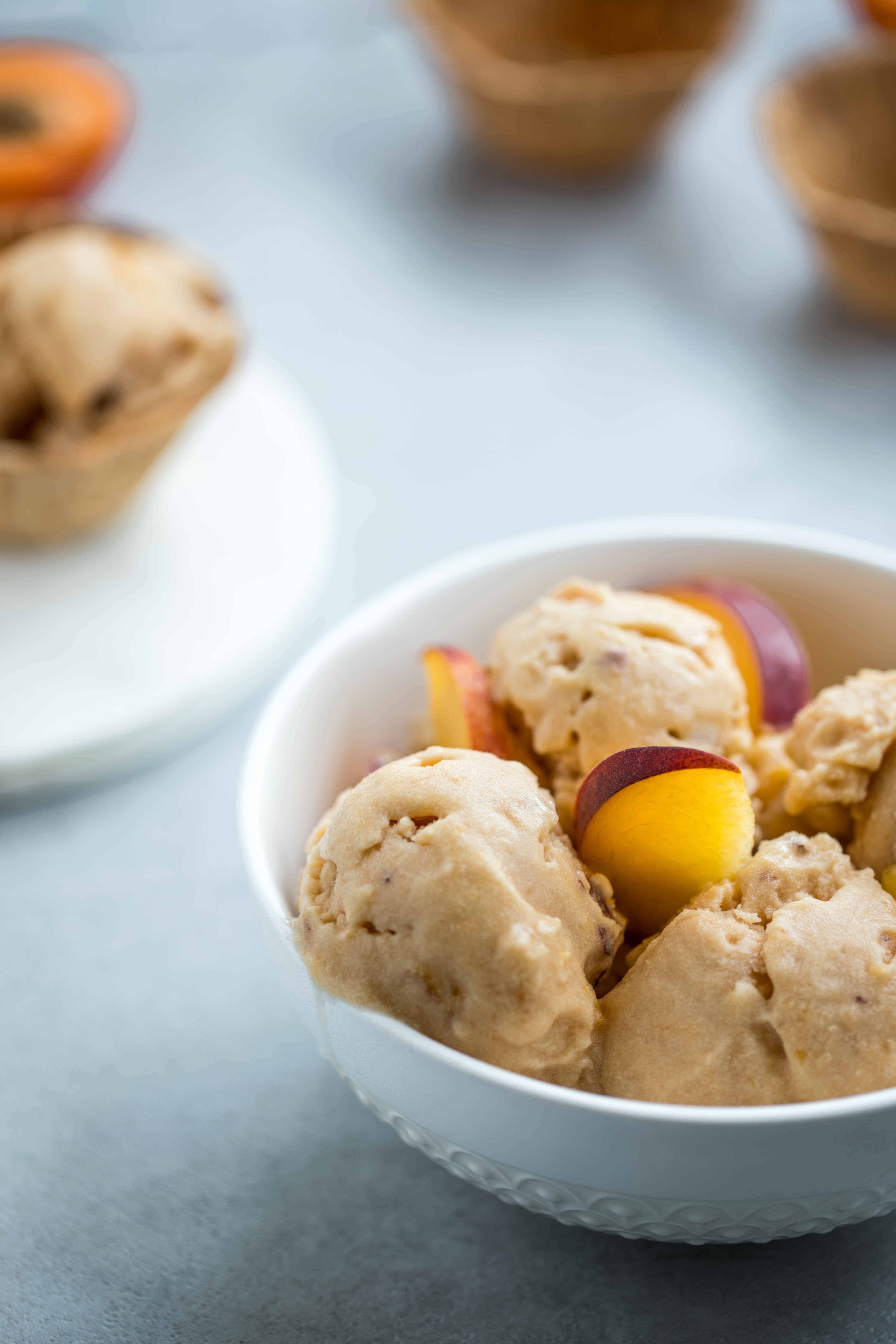 ---
Do you have to use Whiskey?
Technically, no. With this flavour profile, Cognac could work really well, or even a gin! But having not experimented a ton with whiskey last year, I really wanted to give it a try and I was so pleased with the results. I went with Jack Daniels, since a) it's accessible, and b) delicious, easy bourbon. You won't believe the complexities of the tasting notes combined. For some reason, bananas come SCREAMING out when you taste this sorbet and I know the combination of whiskey was the result of that.
Dressing on top
I decided to add this after the fact, but NUTELLA or really any chocolate drizzled on top took this cocktail to the next level! You can even dress up a Sorbetto cocktail, which I did, combining a bit of Licor 43 and sparkling wine. The picture turned out horrible though, so I'm not sure that here, but trust me, it worked!
Okay now let's get to that recipe!
---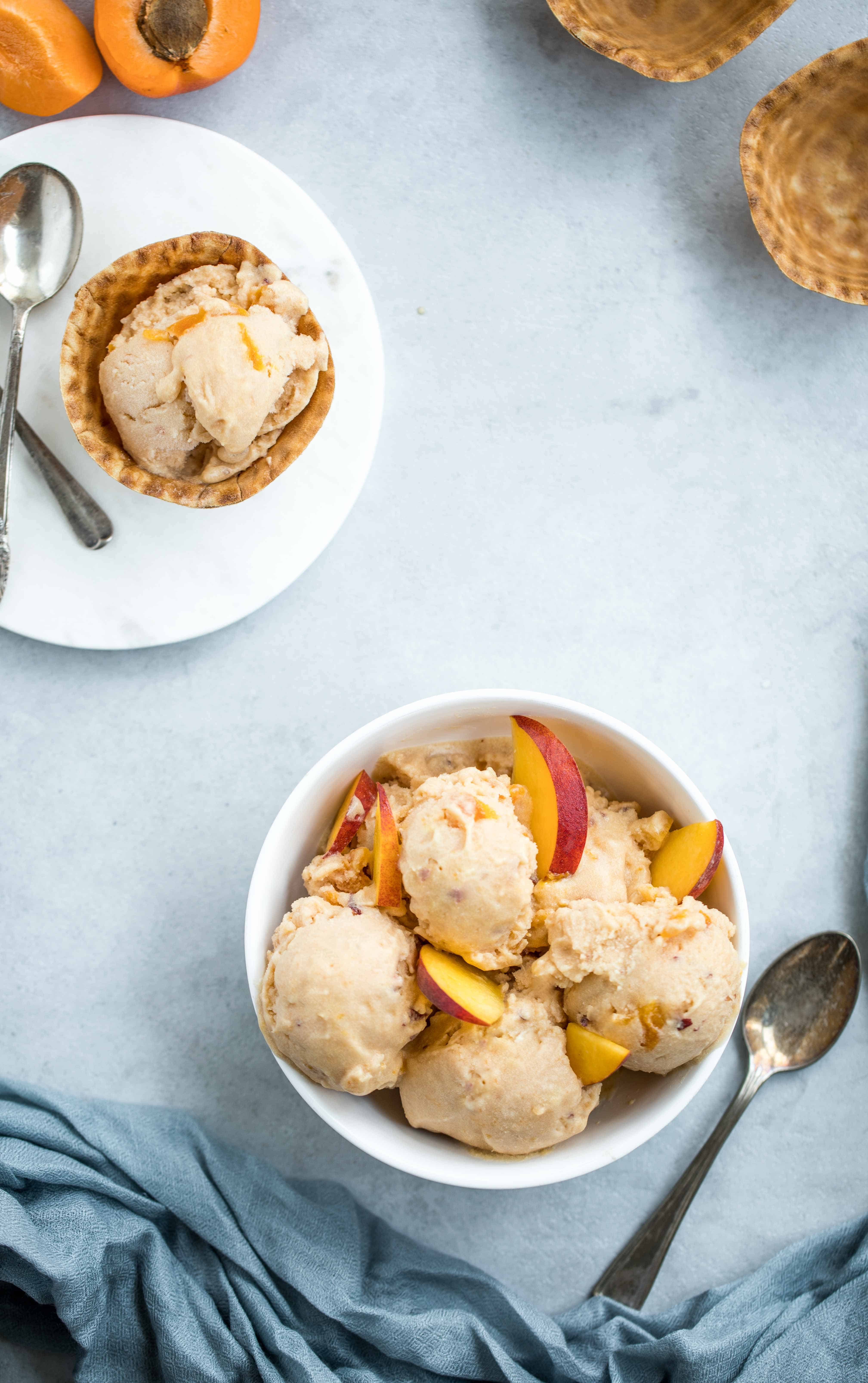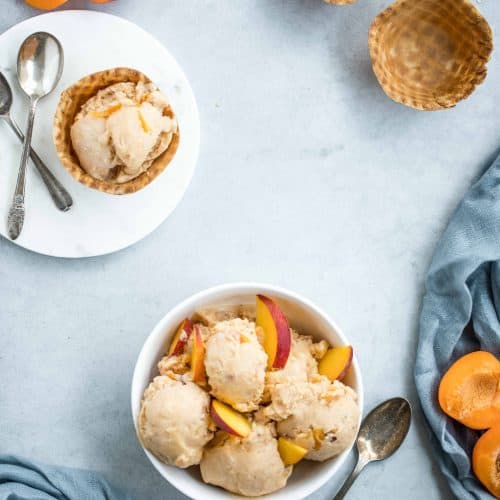 Apricot Whiskey and Coconut Sorbet
A delicious adult treat that is easy to whip up at home, combining Jack Daniels Whiskey, Dried Apricots, Fresh Peaches and Cream of Coconut
– Difficulty: Easy
Ingredients
2.5

cups

Fresh Peaches

Pitts, skin removed and halved. Preferably Ripe.

1/2

cup

Coconut Water

1

can

Cream of Coconut

Coco Lopez used here

1

tbsp

Freshly Squeezed Lemon Juice

2/3

cup

Granulated Sugar

1

pinch

Sea Salt

5

oz

Whiskey

Jack Daniels Used Here

1/2

cup

Dried Apricots

Diced

3

Oz

Disaronno Amaretto Liqueur
Instructions
2 Days Prior: Toss Ice Cream Maker attachment into freezer.

The Next morning, blend all the ingredients except Dried Apricots. Pour into a bowl, cover and let this sit in the fridge until chilled for a minimum 6 hours.

Attached your Ice Cream Maker, add your chilled sorbet base and churn for approximately 30 minutes.

Place into container, and let it sit in the freezer over night (or at least 2 hours).

Before serving, make sure to let the sorbet sit at Room Temperature for 10 minutes or 30 minutes in the fridge.