In an effort to bring more drink recipes relevant to your day to day, I'm sharing my most recent and DELICIOUS inspiration. For the month of February, Irene Matys has been sharing some incredible Cypriot inspired recipes. Pretty much every single one has caught my eye, but if you know me well, I have a profound love for a well balanced sandwich. Her Grilled Halloumi Sandwich made me think about what I would pair with this dish. Building something bright, fresh and with the mandatory Ouzo, became the structure and inspiration for this Sparkling Ouzo Cocktail. You'll definitely want in on this…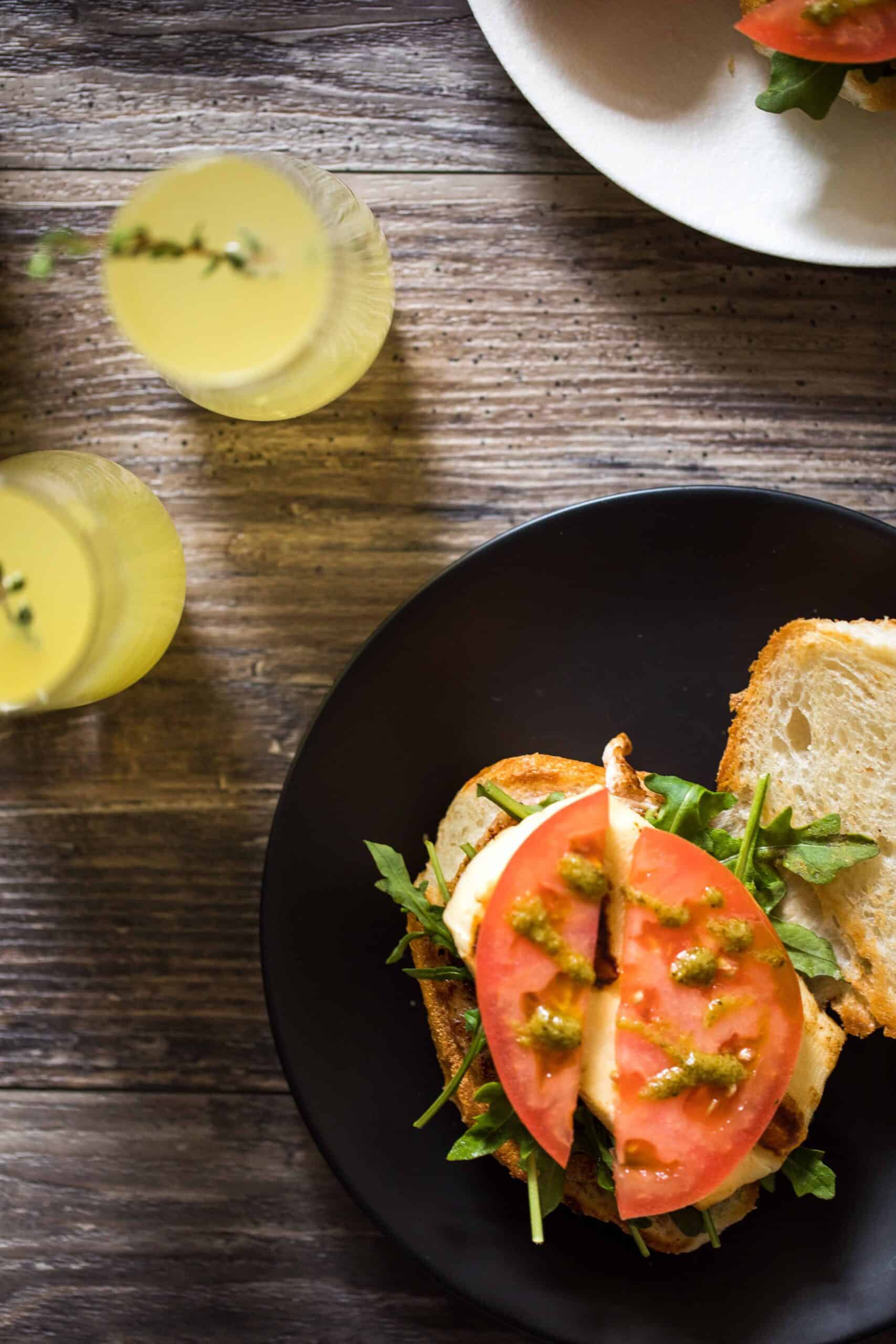 Figuring out how to Pair Food and Drinks
I love creating cocktail pairings with food. Typically you always see a Beer or Wine Pairing, but cocktails can lend a delicious hand in your next pairing adventure. There's two trains of thought I want you to think of when pairing your Food and Beverages. Think about the origins of the ingredients and some of the classic spirits / wines imbibed in that region. Secondly, what are some of the classic pairings you think of with the dish. So let's break down this sandwich:
You've got high contents of Salt in this Halloumi Sandwich. From the classic marinated smoked Pork to the grilled Halloumi. So you typically want something bright and fresh against that. Even think about a Burger, which you typically see paired with beer and that's for a reason folks! Choosing something high in effervescent is the route I would go, to really cut through that fat and salt to balance out the meal. Hence I classed it up with some sparkling wine. Plus this plays homage to Greece that offers an incredible array of wines. Which leads me to my next main ingredient.
Think about the region! It's a famous saying for a reason, but what grows together, goes together! There's a reason why Italian wines is often paired and used in traditional dishes. So I thought of the iconic Ouzo, which is important because it has that anise flavour which is naturally bright in nature. And what goes with Ouzo? Well that's coming up next!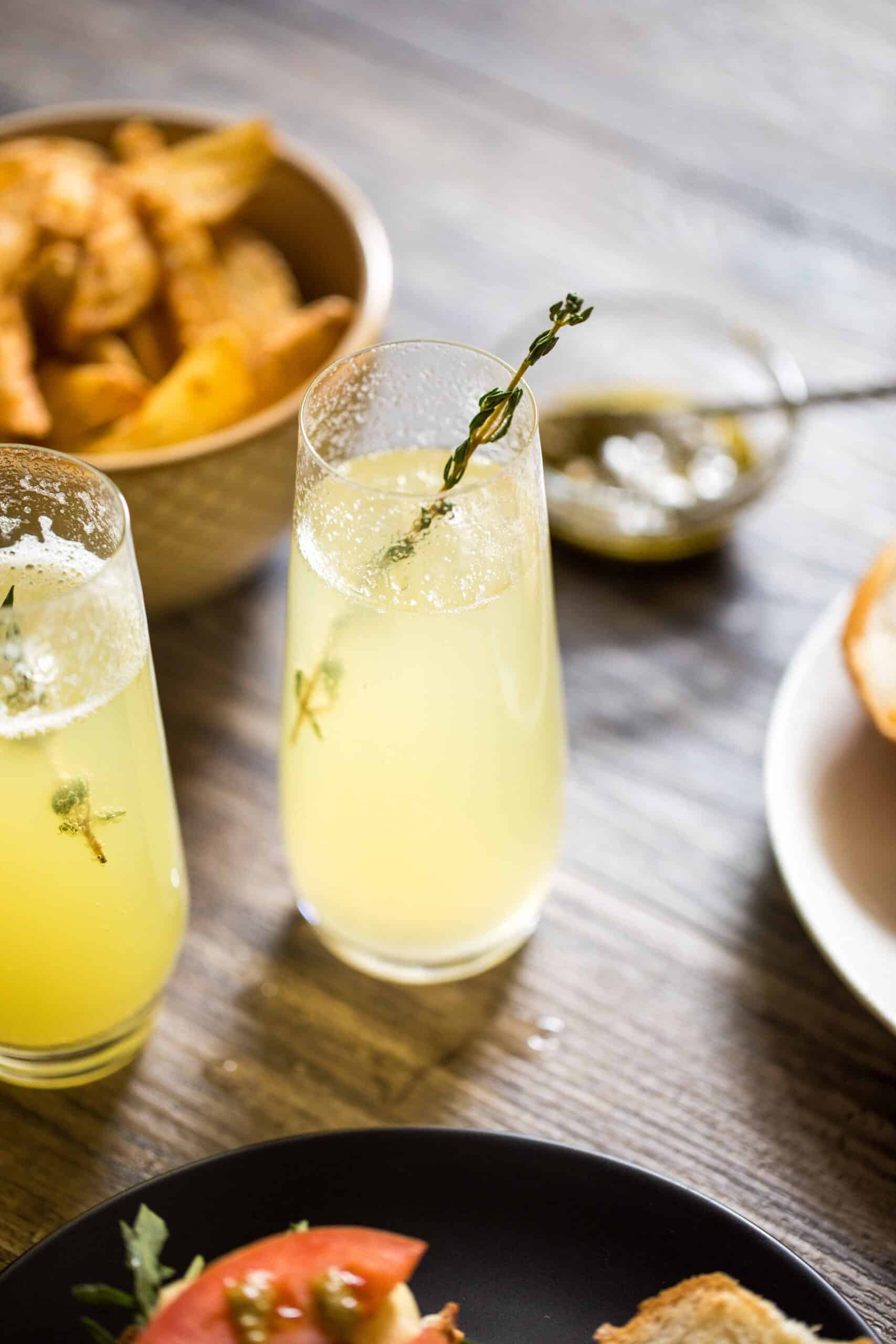 Pairing flavours in this Sparkling Ouzo Cocktail
So Ouzo is the star of this cocktail, paying homage to Greece, and there's a ton of flavours that can pair in this Sparkling Ouzo Cocktail. Think about the flavours of Ouzo, having that dry anise base. So think of Anise! What works with that? Well there's a ton from cinnamon, beets, thyme, and of course lemon! That's why I decided to shake this up with fresh lemon and a honey simple syrup.
One added flavour I incorporated in this cocktail was the Pineapple Juice. This lends a touch of sweetness, so this cocktail isn't completely sharp with just lemon and sparkling wine. Then we have the fresh thyme I added to the glass so it can add an aromatic element, and I knew would pair really well with the lemon.
Now that you've followed my train of thought behind this cocktail, I'm sure you want to start mixing it yourself! Find the recipe for this Sparkling Ouzo Cocktail below!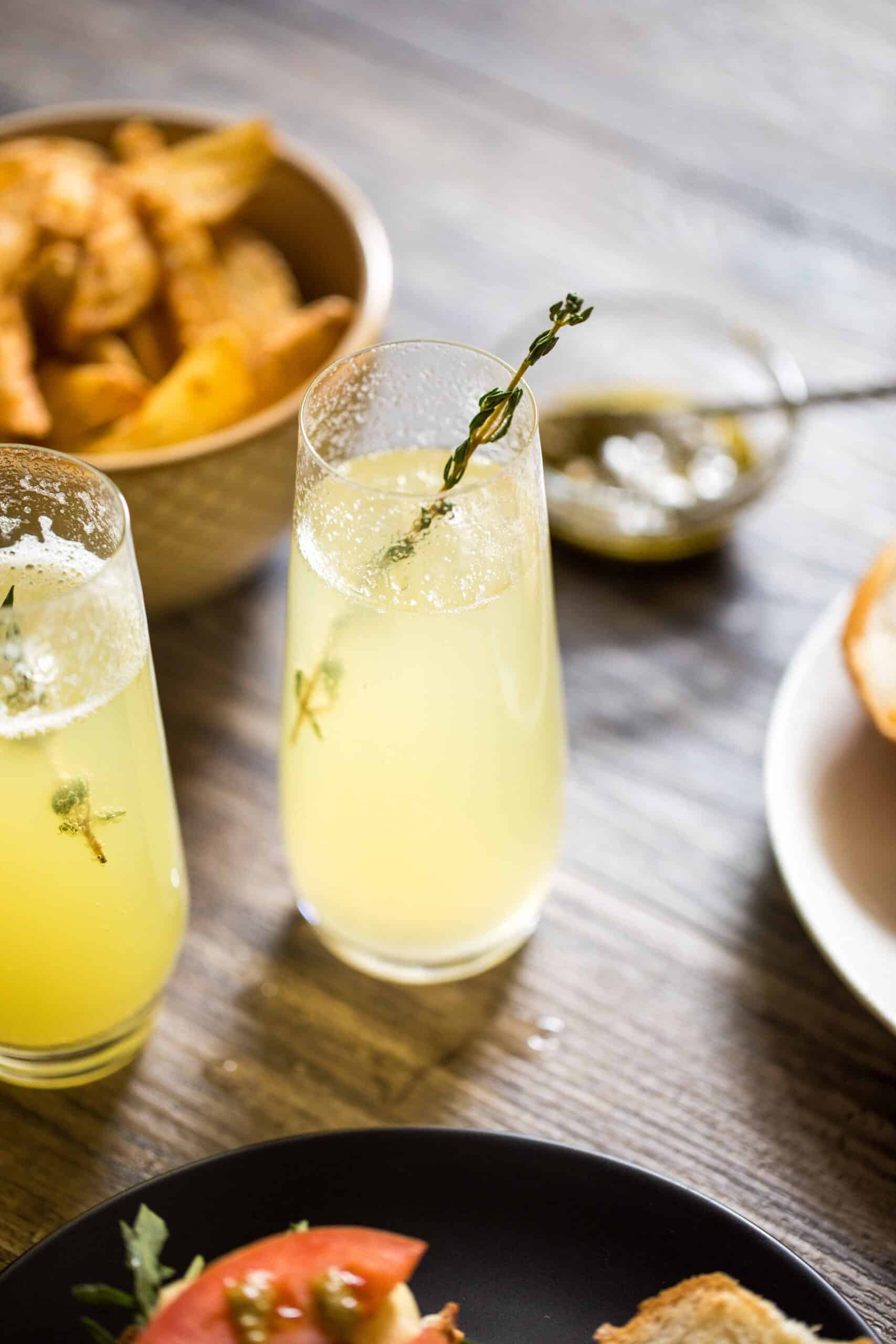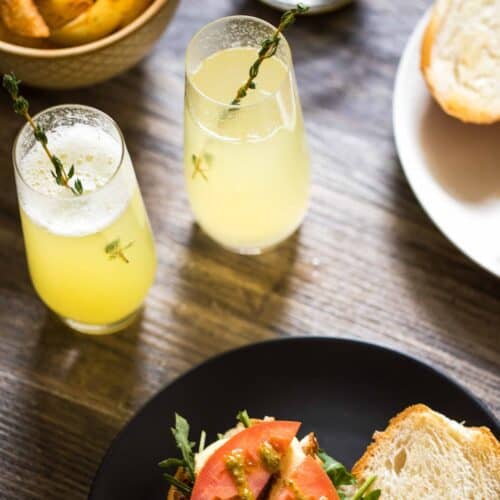 Bee My Ouzo
Featuring a Sparkling Ouzo Cocktail made with Honey, Lemon and Thyme. Paired perfectly with your Cypriot Halloumi Sandwich.
Difficulty: Intermediate
Ingredients
1/2

oz

Ouzo

1/2

oz

Lemon Juice

1/2

oz

Honey Syrup

Recipe below

1/2

oz

Pineapple Juice

3

oz

Sparkling Wine

Preferably Greek Sparkling Wine and Chilled.

1

Thyme Sprig

For garnish.
Instructions
In a shaker, add all your ingredients except sparkling wine and fill with ice. Give this a vigorous shake (Don't have a shaker? Use a mason jar instead!)

Strain (or preferably double strain to get rid of the ice shard) into a stemless flute glass. Top with sparkling wine and garnish with thyme sprig.
Recipe Notes
To make your Honey Syrup, simply combine 1 part honey to 1 part boiled water. Stir this together until the sugar dissolves! Can be left in the fridge for 2 weeks. 
Looking for more Ouzo recipes? Follow the link attached for inspiration!