My inspiration for this week's cocktail all started because I had a craving for a Blueberry Lemon Cake! A while back I made a delicious Blueberry Lemon cake by Natasha's Kitchen (Follow here for details), but I just didn't have the time to throw it together this week. Then it hit me…why don't I create a cocktail instead?!
There are a ton of components that bring this cocktail together. First, I made a blueberry jam-like syrup, using the same technique I used to create my strawberry topping for the Strawberry Gin Cheesecake. I loved it for its consistency, so I decided to use that technique here, hoping that the cornstarch wouldn't have any effect on the cocktail.
I wanted to keep it on the lighter side of things, so I brought out a London Dry Gin and paired it with some Sloe Gin. Never heard of Sloe Gin before? Well, it's a gin-based liqueur that is infused with sloe berries. Combined with the blueberry syrup and it came together so well, but it wasn't enough! I threw in some Port to add a bit of richness and weight to the cocktail, followed by an egg white for texture.
It really is everything you hope and dream for with a cocktail, and I think the best dessert to finish off a meal. And the best part about it, you can use the blueberry syrup for your pancakes or french toast this weekend! Trust me when I say that traditions for desserts are about to change!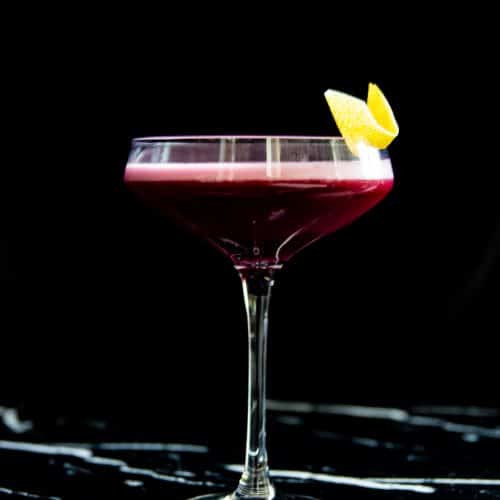 Blueberry Jam and Lemon Sour
A delicious cocktail dessert combining Gin, Sloe Gin, Port, Blueberries and Eggwhites.
Difficulty: Expert
Ingredients
1

oz

London Dry - Styled Gin

1

oz

Sloe Gin

2

oz

Blueberry Jam Syrup

1

oz

Freshly Squeezed Lemon

1/2

oz

Port

Taylor Fladgate 10 yr Recommended

1

Egg white

1

Lemon Peel
Instructions
Dry shake all the ingredients for at least 30 seconds

Add ice to shaker and shake vigorously until cold to the touch

Double strain into large coupe or martini glass
Recipe Notes
For details of the blueberry syrup, follow here!