Inspired by a segment for CTV's The Social, we're taking a trip to Bora Bora through a unique cocktail made with Rhum Agricole, Cognac and Sour Sop juice. Having wanted to highlight the traditional French heritage of the Bora Bora Island, this Soursop cocktail uses some special ingredients. From the iconic Trois Rivieries Rhum Agricole, and we had to go premium with a Cognac so the Hennessy came out and more! You don't need much for you to feel like you've traveled to this French Polynesian Island through this Tiki Soursop Cocktail.
Want to see how Lainey creates this Bora Bora Soursop cocktail at home? Head over to this link here and check out the video now!
Highlighting Bora Bora in this Soursop Cocktail
We're celebrating some of the places you would have travelled too if it weren't for COVID, and that included Bora Bora on this episode. Now seeing as this is a French Polynesian Island, I really wanted to highlight its heritage WITH a tropical influence. I know Rum is sipped often on this Island, but I wanted to highlight a rum you rarely see here in Ontario and one that deserves a lot of love.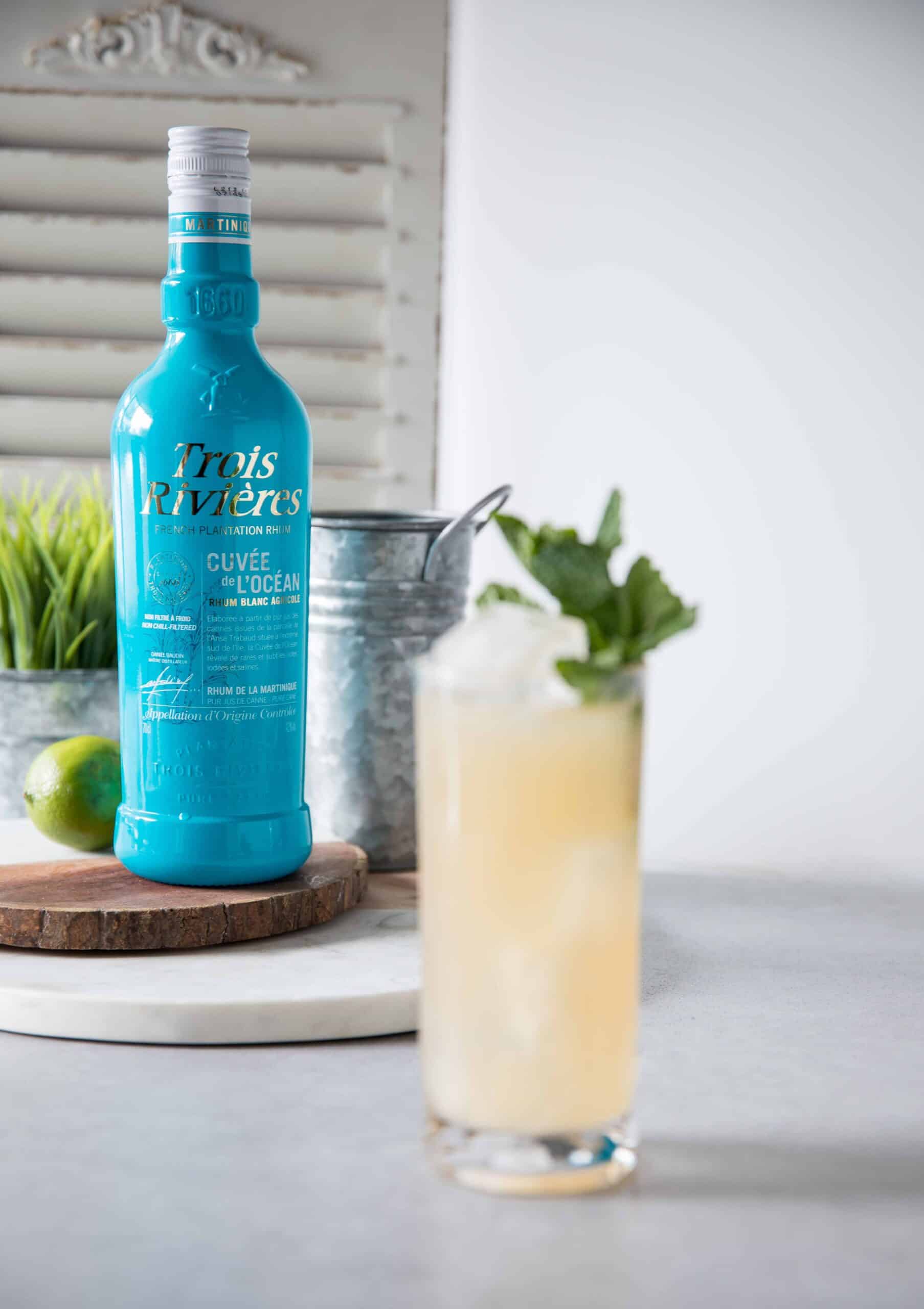 Choosing Rhum Agricole
Rhum Agricole comes to us predominantly from Martinique (another French Island), but I don't want you to think of this as any old Rum. If you feel like you've written off Rum because you're used to tasting Captain Morgan's Spiced, THIS IS FAR FROM IT. Well, if Captain Morgan is your only reference to Rum, there's a lot to learn about this amazing category.
When it comes to Rhum Agricole, I've always loved what the team at Trois Rivieres have been doing. Unfortunately, because so few people know about Rhum Agricole, you can't find too many options here in Ontario. So I would definitely try to seek this out from Quebec or when visiting the states, keep an eye out for this iconic bottle.
Can't find substitutions? It's really hard to replace this taste, but try to use maybe a premium Cachaca or Pisco Quebranta. Last case scenario, grab the vodka, but know that the cocktail will be very, VERY different.
Choosing your Brandy
Did you know that Cognac's are a Brandy? Because of the wide range that can fit into a Brandy, you have a ton of options. The thing is, I went with such an iconic and premium Rhum Agricole, so I had to use some of the best Cognac's around. That's where the Hennesy VSOP came to mind.
I know we only think of Cognac as sipped on its own, but it holds a powerful voice in a cocktail as well. When it comes to tiki cocktail, I love layering different complex spirits to see how they compliment each other. And historically, Brandy has always been something used in cocktails and in the tiki culture.
Why did I choose Hennessy Cognac? Other than the fact that it's a premium product, it offers the perfect palate for this soursop cocktail. I love mixing in spices to a cocktail, and if I can get that naturally from a spirit, I love it more! Hennessy VSOP has an amazing aroma of cinnamon and clove, with a touch of citrus fruit that I love. It was the perfect balance here for this cocktail.
Shopping for Soursop Juice
If you've never had Soursop, you're missing out. It's a special fruit that you typically find in tropical regions, but it's definitely on the sweeter side. It almost tastes like a blend of Banana, Pineapple and Apple all into one. With these notes, the spices from the Hennessy and the body of the Rhum Agricole, you have the perfect soursop cocktail!
The only brand I know of that has Soursop juice here in Ontario is Rubicon. I typically find the juice box in the International section of my grocery store or the Juice aisle. Apparently you can shop via Walmart as well!
With all those sweet components, you need some citrus to help balance it out. That's where the fresh lime comes in and it's shaken into this delicious soursop cocktail. But other than that, the cocktail is ready for you to shake. Curious how it's made? Head down below for all the details.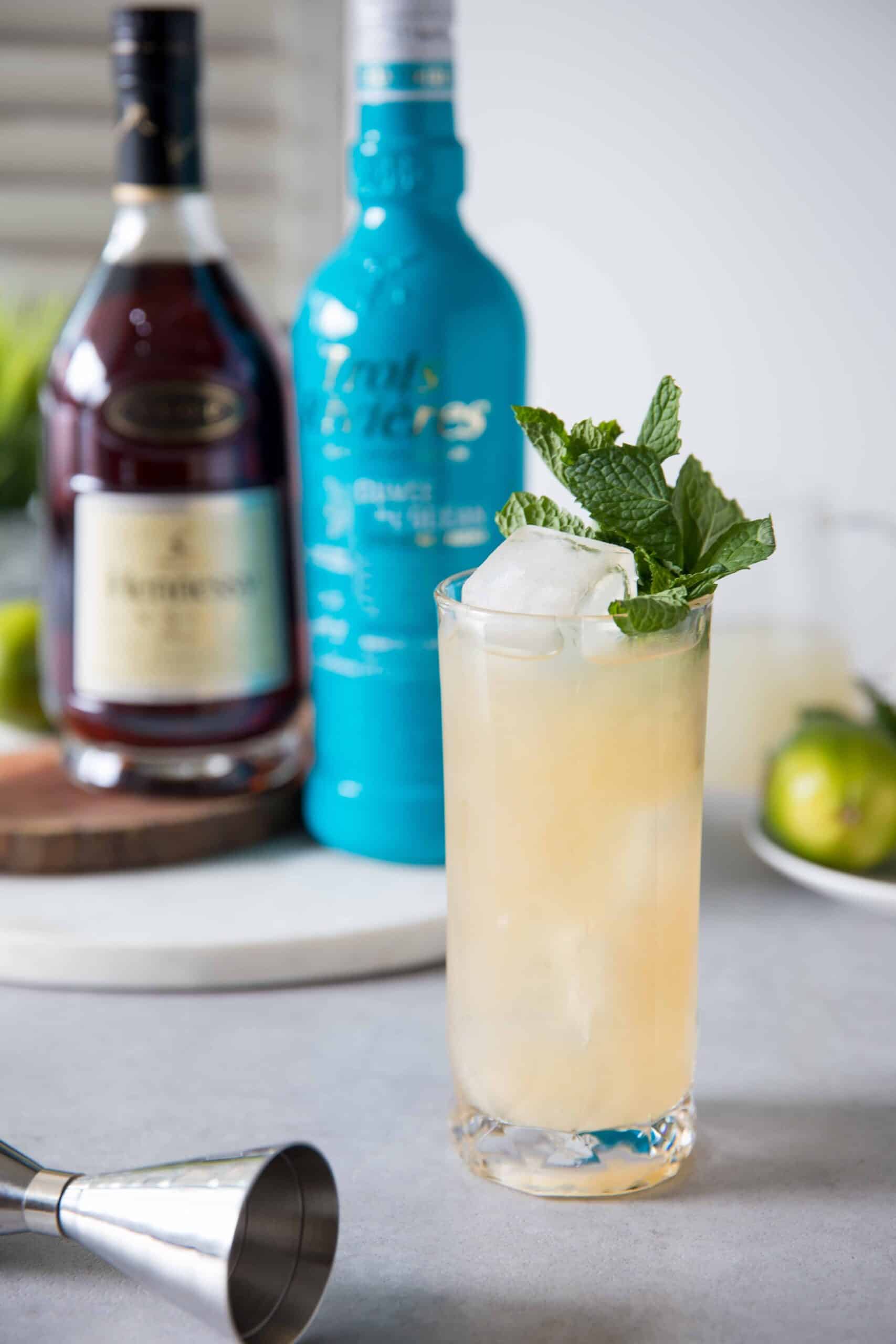 Bora Bora Sop
Get a feel for the French Islands with this Bora Bora cocktail that will sure to delight!
– Difficulty: Easy
Ingredients
1.25

oz

Rhum Agricole

Trois Rivieres used here

0.5

oz

Hennessy Cognac

2

oz

Soursop Juice

1

oz

Lime Juice

3/4

oz

Brown Sugar Simple Syrup

Mint Sprig for Garnish
Instructions
Add all your ingredients into a shaker, and fill with ice. Give this a vigorous shake.

Strain over fresh ice and top with Mint sprig.
Recipe Notes
To make the Brown Sugar Simple Syrup, simply combine 1 part brown sugar with 1 part boiled water. Stir to combine and this can last in the fridge for up to 2 weeks.