On today's episode of CTV's The Social, we explore cities and countries we would have travelled too, so instead we're creating drinks inspired by them. For this part of the segment, we're travelling to Greece with this outstanding Ouzo Olive Oil Sour that you will fall in love with. It combines the iconic Ouzo flavour, Ketel One Vodka, Lemon, Thyme and Olive Oil!
Want to see how Jess creates this fantastic Ouzo Olive Oil Sour? Head over to this link here and check out her shake things up!
Inspired by Greece and Ouzo
When it comes to Greece, Ouzo is such an iconic spirit that it's developed itself as a lifestyle. It's typically something sipped on its own, with a Mezza and Tapa plates during late afternoon, early evening. Now, this flavour can seem polarizing, so I decided to just show it delicately in this delicious vodka sour.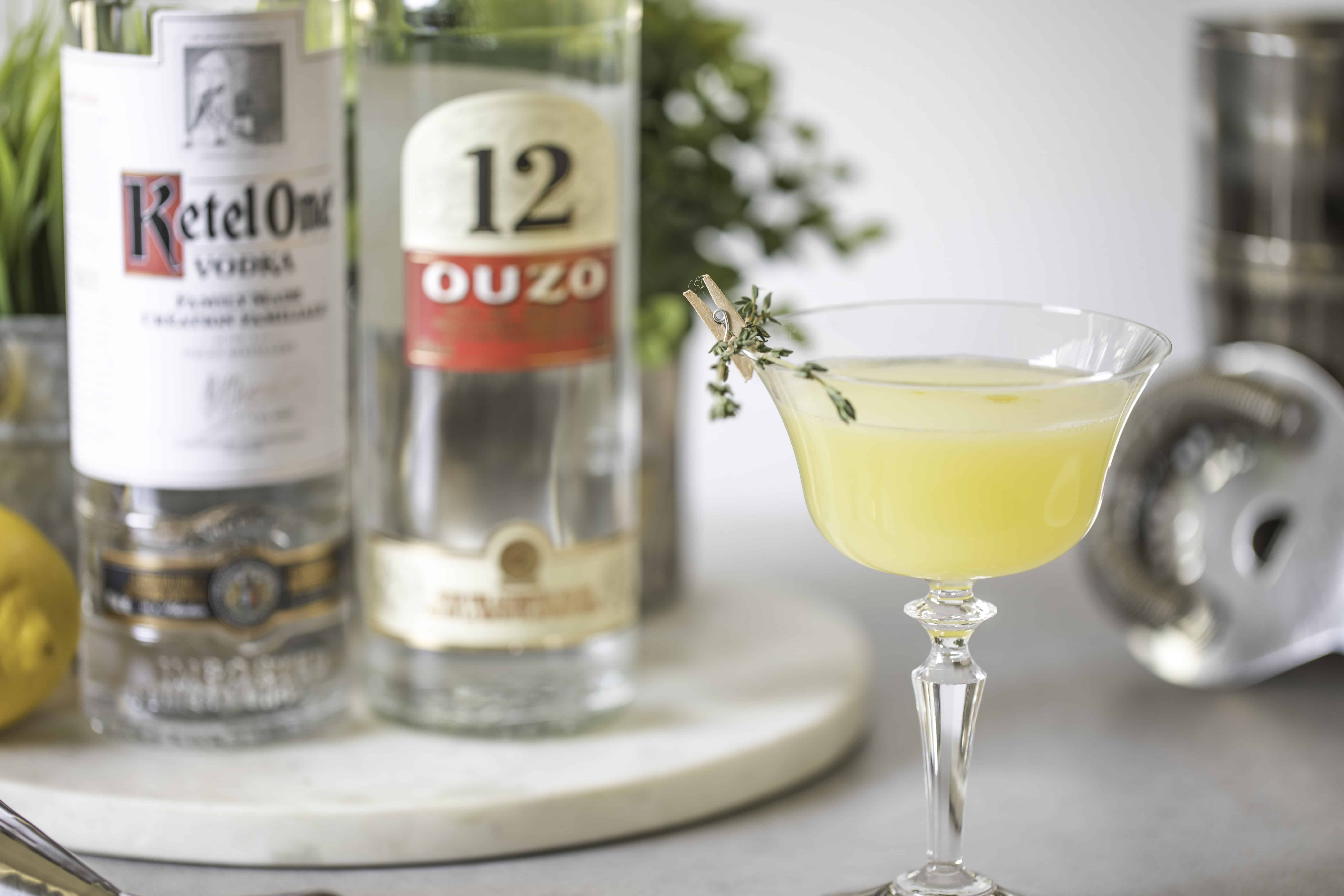 Choosing your Vodka
With Vodka, consumers can sometimes feel flooded with options, that's why I wanted to go with a European blend that would work perfectly in this Olive Oil Sour. I decided to use Ketel One Vodka because it offers these beautiful citrus and honey notes that would come through perfectly in this cocktail. It's an exceptional Vodka that's crisp on the palate, while offering a soft finish. Plus, it's easy for my Ontario folks to find!
Why Olive Oil?
I'm sure when you read Olive Oil, you thought, why on earth would you add Olive Oil to a cocktail? Well, it's not the first time this has been done and definitely won't be the last. Plus, Olive Oil is another staple ingredient to Greek culture. Much like egg whites, there's something about olive oil that adds this umami and texture you won't find elsewhere, especially in a cocktail. So these rare moments, and just a few drops go a long way! I simply dress it on top and you won't believe how much you'll love it.
I would recommend a more premium olive oil, something you would mix in your salads. If you don't want to add it to this sour, that's okay too. What I always encourage though is stepping out of your comfort zones with cocktails. Most of the time you'll be surprised by the results!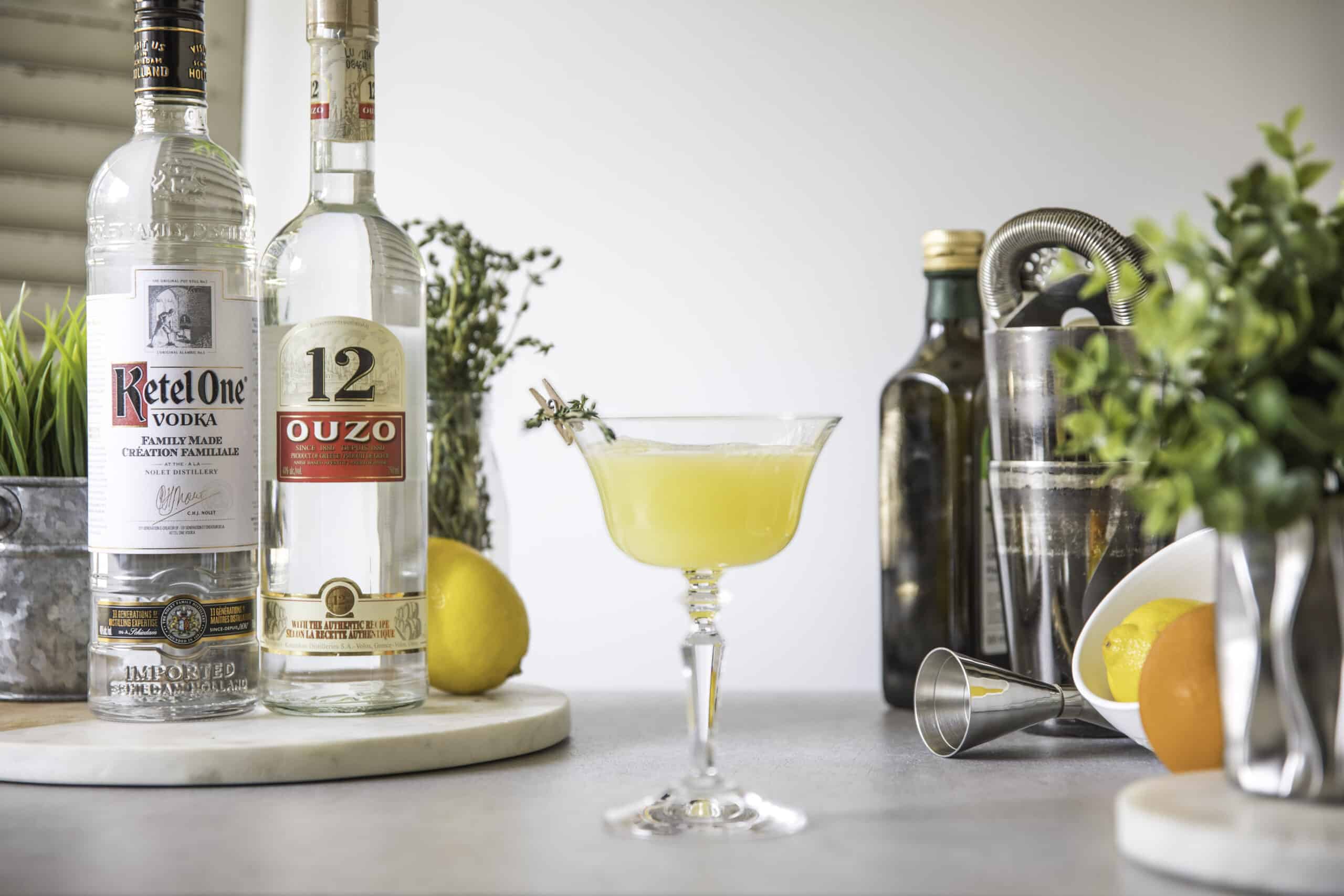 Other than that, you just need some citrus and thyme to combine all the delicious flavours. Want to learn how to make it? Head down below for all the details!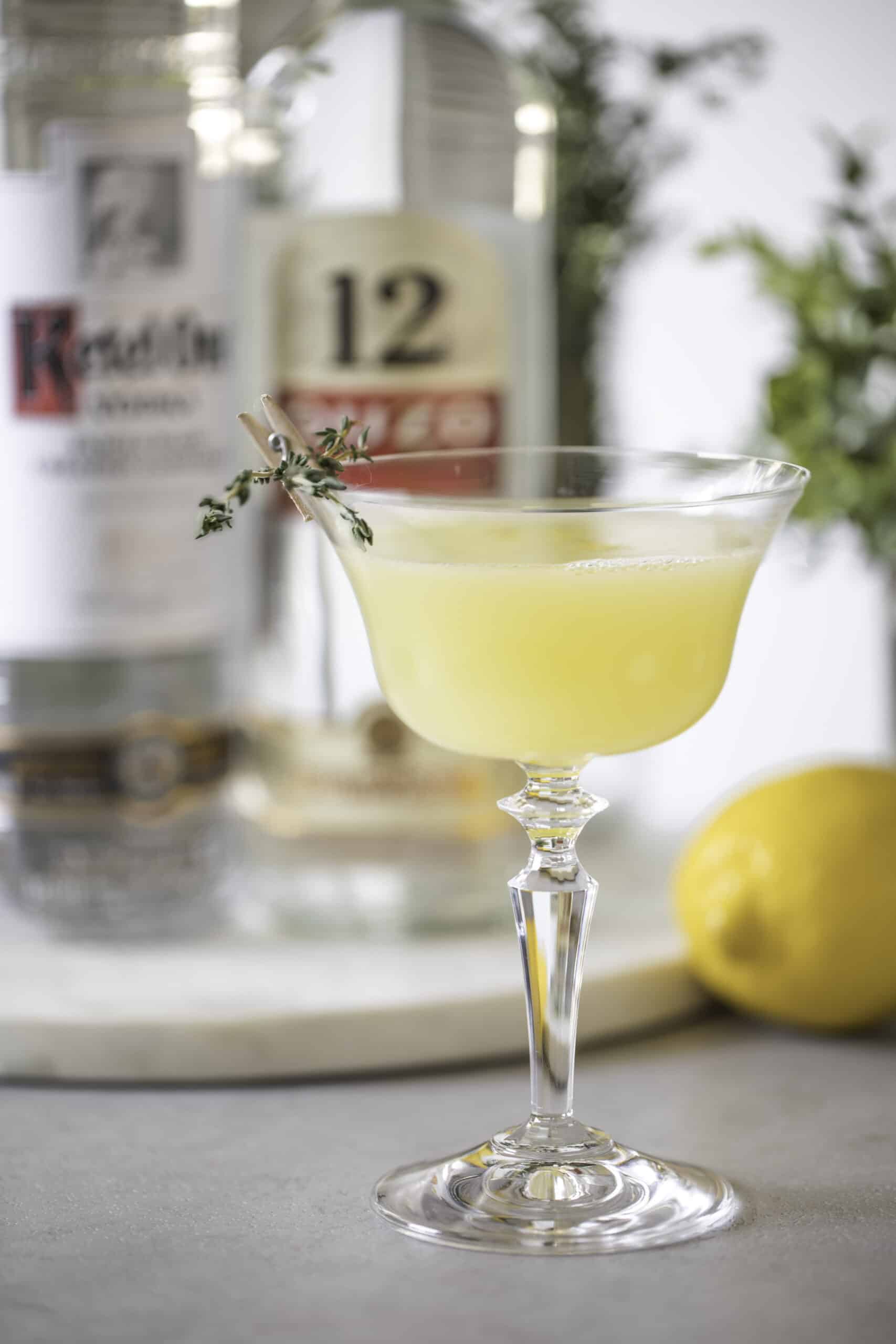 Ouzo Olive Oil Sour
Shake up this delicious Greece inspired cocktail made with Vodka, Ouzo and Olive Oil!
– Difficulty: Intermediate
Ingredients
1.25

oz

Ketel One Vodka

1/3

oz

Ouzo

3/4

oz

Lemon Juice

1/2

oz

Orange Juice

1/2

oz

Simple Syrup

2

sprigs Thyme

3

drops Olive Oil
Instructions
Add all your ingredients (except olive oil and 1 sprig of thyme) into your shaker. Fill with ice and shake well.

Double Strain cocktail and garnish with remaining Thyme Sprig and 3 drops of olive oil.
Recipe Notes
How do you make Simple Syrup at home? Simply combine 1 part granulated sugar with 1 part boiled water and stir to combine.