Today, we're honouring Lainey and the trip she had meant to take to Hong Kong using an iconic beverage of the city. The Yin Yang beverage that famously combines Coffee and Tea is recreated into a cocktail. Best part is, it's something you can enjoy HOT or Cold! It combines a rare Canadian Whisky, uses Chai Tea and Condensed Milk for the perfect pick me up. Curious how to make this Yin Yang Cocktail? Head down below for details!
Want to see how Lainey creates this Yin Yang Cocktail at home? Head over to this link here and check out the video now!
What's Yin Yang?
So this was an entirely new concept for me. I had never worked with this combination of tea and coffee, but I knew it had to be good. I referred to a number of sites to help guide my structure of a Yin Yang, which lead me to this conclusion: Everyone does their own thing!
The general rule that I found consistent was the measure of Tea vs Coffee, which the tea would typically be almost double the amount vs the Coffee. It also has many different names, including Yuanyang, Yuenyang, Kopi Cham and more. The other consistent is the use of Condensed Milk or Evaporated Milk to make the "tea milk". You make this Tea Milk in advance, and everyone has their particular style. To make this unique, I decided to use Chai Tea instead of Oolong and absolutely loved the results! See how to make this easy Chai Milk Tea at home here.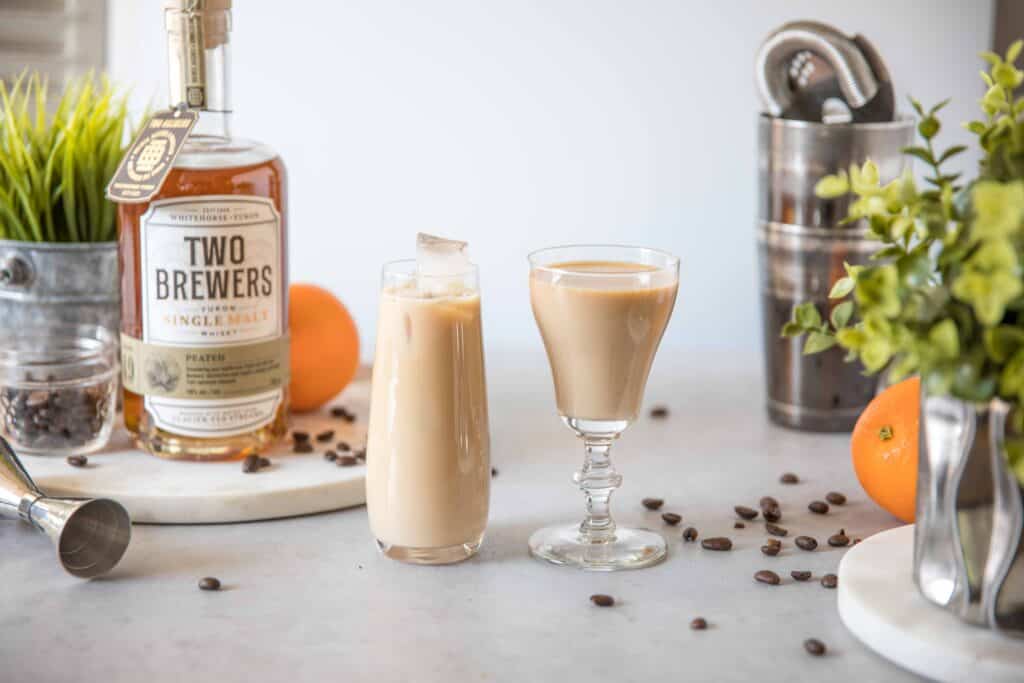 Chai Milk Tea
Learn how to make the Chai Milk Tea component to this adaption of a Yin Yang
– Difficulty: Easy
Ingredients
1

Cup

Water

2

Chai Tea Bags

1/2

Can of Sweetened Condensed Milk
Instructions
To make the Milk Tea, get a small saucpan and add your water, tea bags and condensed milk and bring it to a simmer. Make sure to stir often so it milk doesn't stick to the bottom.

Let this simmer for 5 minutes before straining.

Can last up to 1 week in the fridge.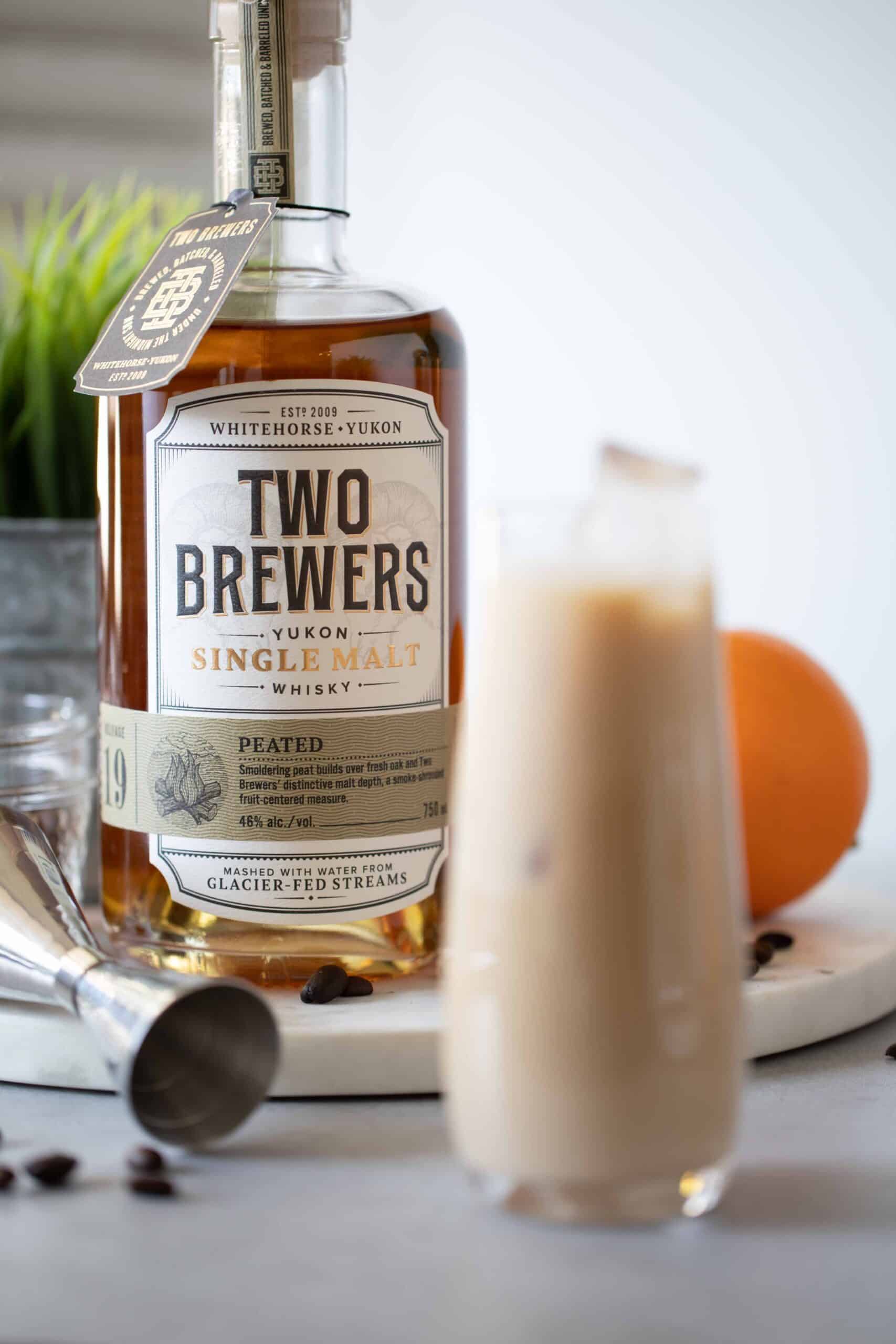 Why Whisky?
So when it came to this cocktail, it made all the sense in the world to create something warm. But having experimented with it chilled as well, it was incredible! The key here is getting the ratios right, so make sure to follow my cocktail recipe closely below.
I decided to work with a Canadian Whisky that I can't get enough of. It's a Whisky that comes to us from the Yukon Territories. They offer a very exclusive selection of Single Malt Whiskies which is very rare to find here in Canada. Plus they are famous for some of the brews they turn out. If you haven't given Two Brewers a try, make sure to keep an eye on it! It's available to purchase online and most of Canada, plus Specialty Spirits can sell individual bottles to those in Ontario.
I decided to go with their Peated Single Malt Whisky for this cocktail because I loved the heat and body it brought. The thing is, you can be flexible here. I'd stick to Single Malts, something with a ton of body and not too sweet. Glenfiddich 12 yr is always a go-to for me, or even Balvenie if you can't find the Two Brewers.
Could you use another spirit? I'd definitely recommend an aged spirit, maybe a cognac, or rye whisky. If whisky isn't your thing, give Vodka a try. I would just avoid Gin in this cocktail (especially one that's full of pine). I don't think it will compliment the combination of Tea and Coffee as well.
Chai Yin Yang
See how to create this delicious Yin Yang cocktail that's easy to serve both Hot and Cold
– Difficulty: Easy
Ingredients
1

oz

Peated Whisky

Two Brewers

2

oz

Chai Milk Tea

½

oz

Coffee

suggest an americano here instead of drip coffee

1

pinch

of Orange Zest
Instructions
Hot: In a mug, add your whisky and heated milk tea and coffee. Add a dollop of cream (optional). Zest a pinch of orange on top.

Cold: Add all your ingredients into a shaker, fill with ice and give this a nice shake. Strain over fresh ice in your glass. Garnish with more orange zest if you'd like more citrus.