This was probably my most difficult Sorbet recipe to develop. Not that it is difficult to make, but it took me a long time to get the right balance. With a bit of trial and error, I found the mix I'm most proud of. With the Lime really coming through, Cachaca, Mint and with the consistency I was looking for! It's almost like a Caipirinha Sorbet! Curious how this Cachaca Mint & Lime Sorbet comes together? Read on my friends, read on!
Jump to Recipe
Building your Cachaca Mint Lime Sorbet
Cachaca wasn't actually my first choice here. I was going to go classic with this mix. Combining Coconut, Rum, Lime and Mint. But I ran out of lightly aged Rums! For this, I wanted to gravitate towards the Latin American Island Rums, like your Flor de Cana or Havana Club 3 yr, but not a drop could be found.
That's okay though, because I have been pushing for more Cachaca use on this platform, and this does just that! Think of this Lime Sorbet as a Caipirinha in an Ice Cream form. A Caipirinha Sorbet is not something I will ever complain about!
Caipirinha Sorbet made simple thanks to…
So I probably went through 3 batches of recipe before I finally got the right ratio of water, cachaca and lime. That was all thanks to the Perfect Scoop book by David Lebovitz. For those getting into the Homemade Ice Cream game, his book is SOOOOO resourceful and I finally recommend.
In general though, once this recipe was ironed out, you realize that it is the easiest thing to make! It calls for no effort on your part, just patience and time. Ready to start mixing? Let's get to that recipe!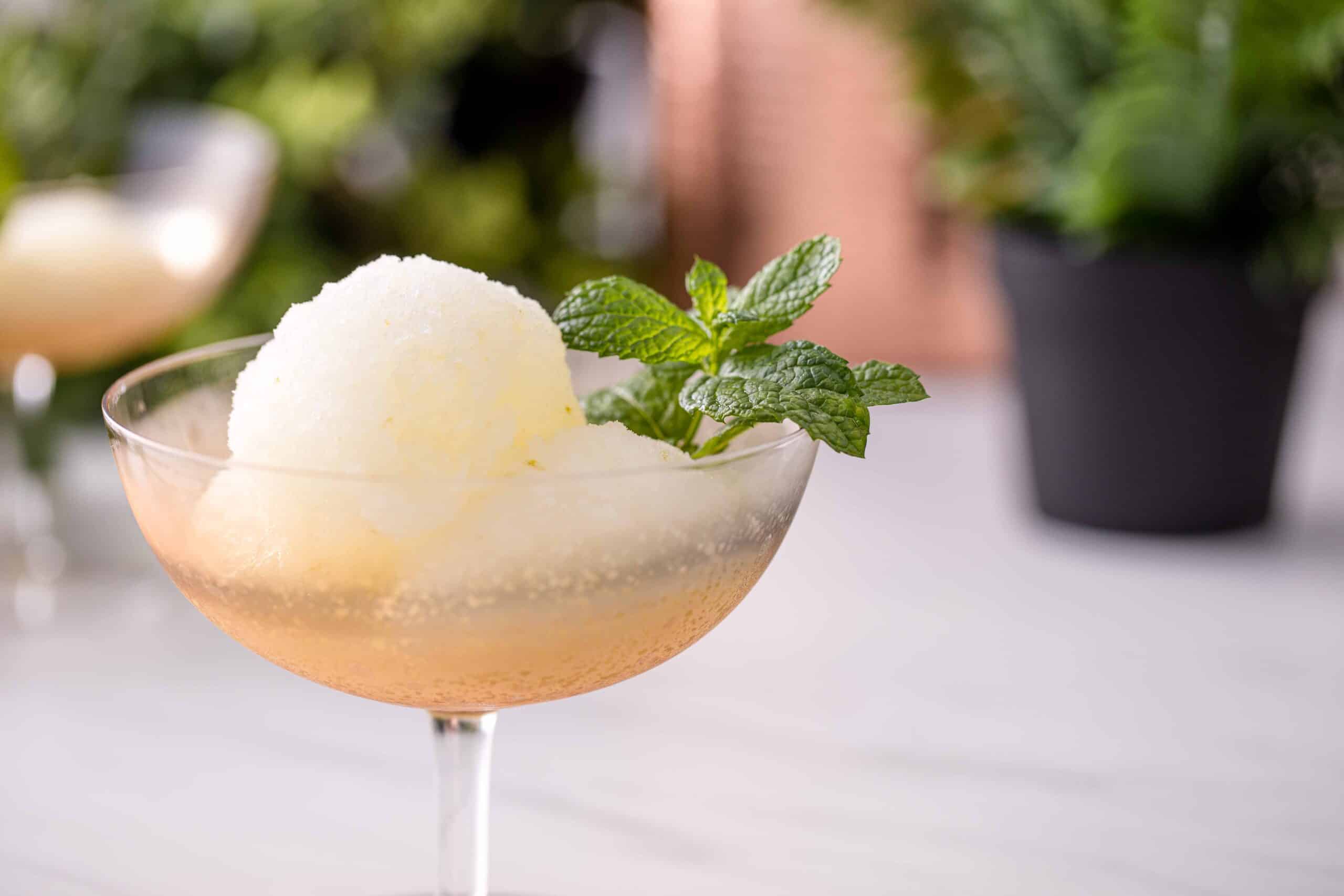 Cachaca Mint Lime Sorbet
After many test trials, this hit the SPOT for the perfect Cachaca Mint Lime Sorbet. Think a Mojito or a Caipirinha in a frozen scoop!
– Difficulty: Easy
Ingredients
6

oz

Freshly Squeezed Lime Juice

1

Zest of a full Lime

2/3

cup

Cachaca

Avua Prata Cachaca used here

2.5

cups

Water

1 3/4

cup

Granulated Sugar

4

Sprigs

Mint

Approximately 1/4 cup of Mint Leaves removed from sprigs.
Instructions
In a saucepan over medium heat, you want to combine 1.5 cups of Water with your sugar. Stir until it dissolves and add in your lime zest. Continue to heat and stir until it completely dissolves and almost comes to a simmer. Remove from heat and add in the rest of your water.

Let this come to room temperature before storing in the fridge. Once it has reached room temperature, add in your Mint leaves and Cachaca and let this cool in the fridge for at least 4 hours.

Once the sorbet is chilled thoroughly, you are ready to follow your Ice Cream Machine instructions. For my Ice Cream Attachment, I let this stir for approximately 30 minutes before storing back into the freezer.
Want to find more #IceCreamSundazeee boozy creations this summer? Check out the list HERE!