Today's #LCFeature has been on my bucket list for some time now. The reason is, it celebrates everything Canadian in this delicious imbibe, and it's one of my favourite Canadian accounts! Today we celebrate @recipesbydebbie and her contribution to the gram.
For those of you new to #LCFeature, every Wednesday (at least I try to make it every Wednesday), I'll feature an account that Liquid Culture has been tagged in or has used the hashtag #LCFeature. That's how easy it is to participate. Simply tag a photo of a cocktail or maybe a bottle you have at home that you have no clue what to do with. I'll feature you and that beverage here and on my socials! This time around, I'm celebrating with the fabulous Debbie who created this outstanding Gin Strawberry Sour for Canada Day and I wanted to share!
Strawberries are EVERYWHERE this season, and I can't get enough of it. For me, I have fond memories of visiting Niagara Wine Country and pulling up to the local fruit markets on the side of the road. That is where you'll get some of the best strawberries (and PEACHES) in our region. So tying in strawberries with Canada Day was a brilliant choice on Debbie's end. I knew I had to whip up this cocktail at some point, and I'm happy to share it with you today. Thank you Debbie for always being a positive and creative input to our Canadian #Drinkstagram community.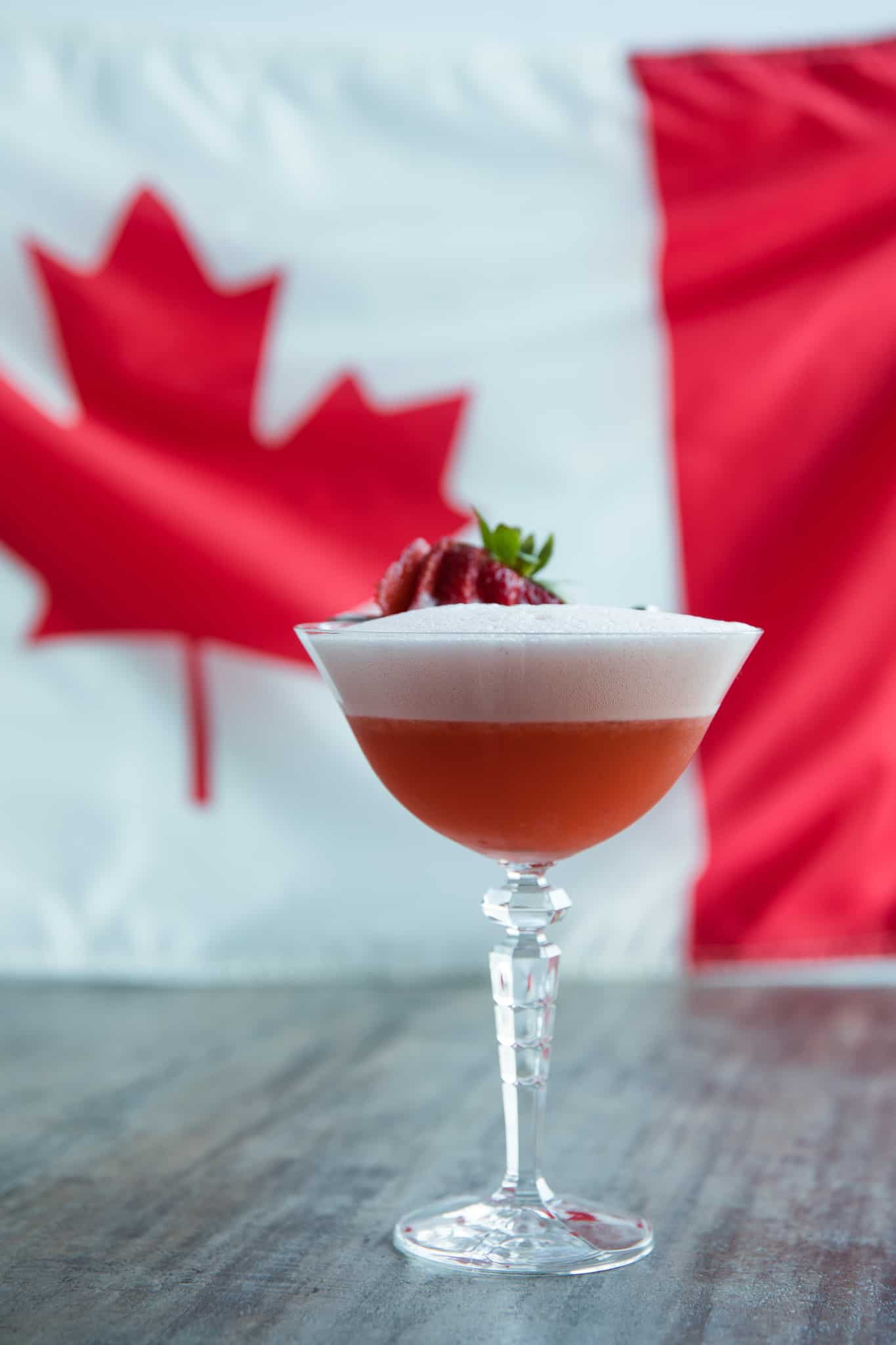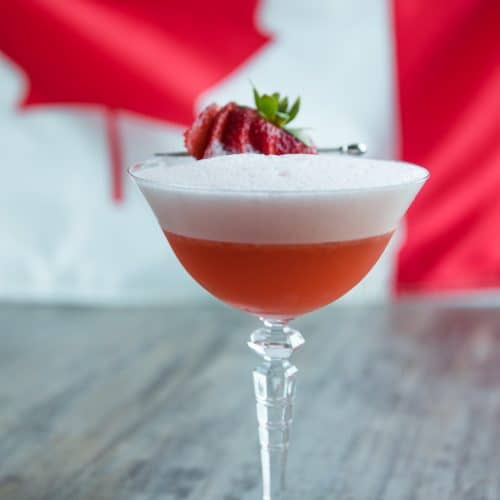 Canadian Strawberry Sour
A Canadian Gin Sour created by the talented Debbie or @recipesbydebbie. See her recipe below!
– Difficulty: Intermediate
Ingredients
2

oz

Strawberry Infused Canadian Romeo's Gin

1

oz

Homemade Strawberry Syrup

1/2

oz

Red Cranberry Juice

1/2

oz

Lime Juice

1

oz

Egg White
Instructions
Dry Shake (without ice) and Shake all ingredients vigorously. Strain into a coupe glass and garnish with a strawberry and Canadian Flag if you have it!
Recipe Notes
Now there are no details about the infusion or syrup, but I would assume to keep the Strawberry Gin Infusion for 3 days before straining. For the Syrup, I would simply use a ratio of 1:1:1. 1 cup Fresh Strawberries (de-stemmed and quartered), with 1 cup water and 1 cup granulated Sugar. Let that come to a boil and simmer for 3 minutes before straining.