We've got another #NoDrinksWasted creation, and it uses something that I actually grew up eating a ton! Canned Peaches were always in the house growing up, so I jumped on the opportunity to make something with this pantry staple. The juice from the can has an interesting taste profile and calls for many options when pairing this flavour. I have to say though, something about Cachaca was calling my name. So I decided to shake up something easy and familiar with this Canned Peach Basil Caipirinha. Curious how it's made? Get all the details below!
What's #NoDrinksWasted?
After a fun year of #DrinkYourGram on my social platforms, I wanted to create cocktails with you in mind. Many of you likely have random bottles or ingredients around the house that you don't want to go to waste, so why not use them in a cocktail? I want to thank Grayce of @moussetaco for the suggestion this week! Not only did it bring me back to my childhood, but this Canned Peach Basil Caipirinha turned out to be simple to execute. Plus this is a great way to get at using your Pantry for Cocktails, because I know cocktails can be consumed with syrups and fresh juice.
Choosing Peach and Basil for this Canned Peach Basil Caipirinha
Now this is a cocktail that you could have easily make with just Peaches, but it's rare that I stick to one flavour. Whenever possible I'll compliment the the flavour with a herb, bitter liqueur, anything that brings a surprising balance or new combo! Peach and Basil is not something new to my platform, but I'm obsessed with using fresh Basil. In addition, Spring is here which means I have a ton of it in my fridge.
If you ever want help finding flavours that compliment each other, I live by The Flavor Bible book. It's one of my favourite books to carry, especially for my chefs and hospitality folks always needing inspiration.
Don't have Decent Cachaca?
When choosing your Cachaca, making sure you have a decent one goes a long way. Do your research, or take note of the suggestions I make here, but a good Cachaca is second to none. In case you don't have this Brazilian style Rum, I would actually lean towards a Rhum Agricole, Vodka for a "Caipiroska" variation or a Blanco Tequila! I would avoid Gin with this cocktail in case you have to make substitutions.
Remember, if you ever have questions, don't hesitate to reach Liquid Culture for help! Curious how to make this Canned Peach Basil Caipirinha? We're finally have the recipe for you here.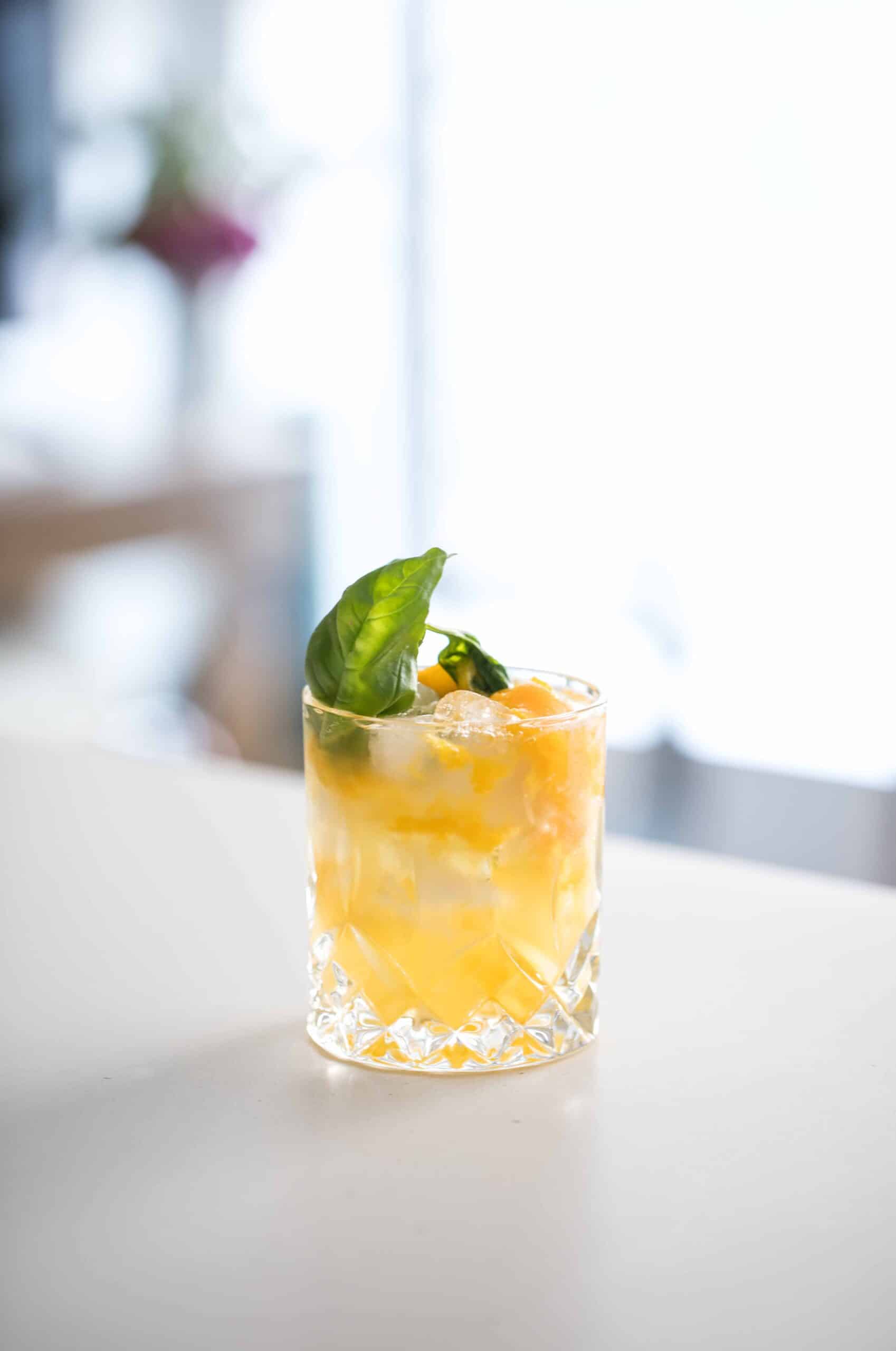 Canned Peach Basil Caipirinha
Using Canned Peaches, we make an easy Peach Basil Caipirinha for this week's #NoDrinksWasted
– Difficulty: Intermediate
Ingredients
1.5

oz

Cachaca

Avua Plata used hered

1

small spoon Peach Can Juice

1

oz

Lime Juice

1

oz

Agave Syrup

4

Basil Leaves

2 for garnish

1

Halved Canned Peach
Instructions
Grab a shaker and muddle the canned Peach with 2 basil leaves.

Add the rest of the ingredients, fill with a handful of ice and give this a good shake.

Dump contents into a Double Rocks Glass and garnish with remaining 2 Basil Leaves. Fill with more ice if it's not filled to the rim.
Want to find more Cachaca based cocktails? Check out the link here for inspiration or have fun exploring the Liquid Culture website for more!