We've got another #NoDrinksWasted imbibe coming your way and this time around we're talking Tequila and using Jam in your cocktails! This is not the first time I've used Jam in cocktails, but they're a real convenient way at using up what you have in the fridge. Plus, it's a great way at balancing your cocktail with sugar without making any syrups! I liked this one a ton, and it calls for many ways to make it your own. Ready to start shaking?
What's #NoDrinksWasted?
After a fun year of #DrinkYourGram on my social platforms, I wanted to create cocktails with you in mind. Many of you likely have random bottles or ingredients around the house that you don't want to go to waste, so why not use them in a cocktail? This week a TON of you asked for something with Tequila, and another ingredient that really stood out was this Cactus Pear Jelly that a community had. So I got creative at home and I'm excited to share how to make this.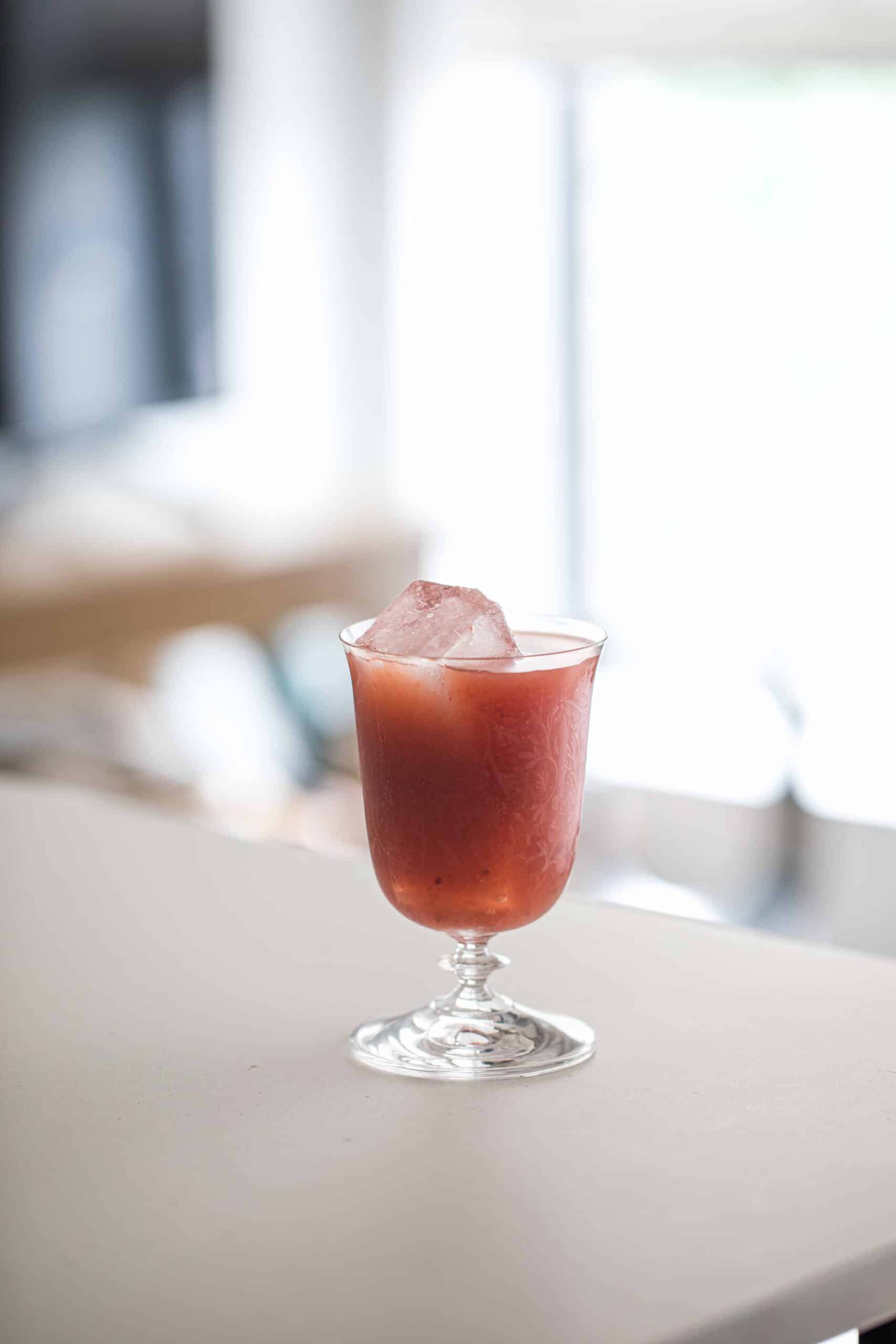 Working with Jam in Cocktails
Jams is not something new to my cocktail game. It's one of the easiest, most convenient ways at balancing your cocktail with sugar plus adding an extra special flavour. When Anne was struggling with what to create with her very Sweet and Floral Cactus Jelly, she reached out wondering if this could be used in a cocktail. My BIGGEST concern was the fact that I had no Cactus Jelly around, and with COVID, I don't want to be roaming around for random ingredients. But I kept this cocktail with "floral" in mind.
Pairing Floral notes can be tricky. I knew I needed something that would be fairly loud in flavour, PLUS compliment the floral notes which isn't as easy as it sounds. Something too bitter like Campari can be unforgiving, and not knowing the exact sweetness of this Jam is another issue to deal with. That's when I brought out the Pimms. I knew it would go well with citrus and with a touch of floral, this may actually work!
Must knows when it comes to Jam in Cocktails
The thing with using Jam in cocktails is to have some flexibility. All jams are different. Some sweeter, more tart, more vicious than others, so here's what you have to make sure of:
Shake up this cocktail VIGOROUSLY. You want to make sure you can break down any consistency of the jam so that it's evenly distributed within the cocktail.
Less is more. Don't go overboard with the Jam. Remember you can always add more to the cocktail, but removing it will cause a lot more problems!
Don't be afraid to add sugar! Yes that's right. Even a simple dash of simple syrup or say Grand Marnier can go a long way. This is all dependent on your jam.
Double Strain – You really don't want any pieces floating in your cocktail. Try to refine it by double straining for the ultimate sip
Since I didn't have the Prickly Pear Jam, I used what I had, which was Raspberry Jam. It was delicious, and this cocktail is fairly forgiving that you can mix with a number of different flavours. Say a Strawberry and Rhubarb flavour, or blueberry! Let me know what you experiment with at home.
Tequila, Tequila, Tequila
Even though it's Gin and Tonic Day, so many of you reached out wanting a Tequila. For this cocktail, I kept with the classic Blanco. I tend to save my Reposado's and Anejo's for fancy stirred, spirit forward cocktails.
And folks, that's pretty much it! Again, this is a cocktail that I ENCOURAGE YOU to experiment with because they won't all be the same. Would love to hear what everyone creates here!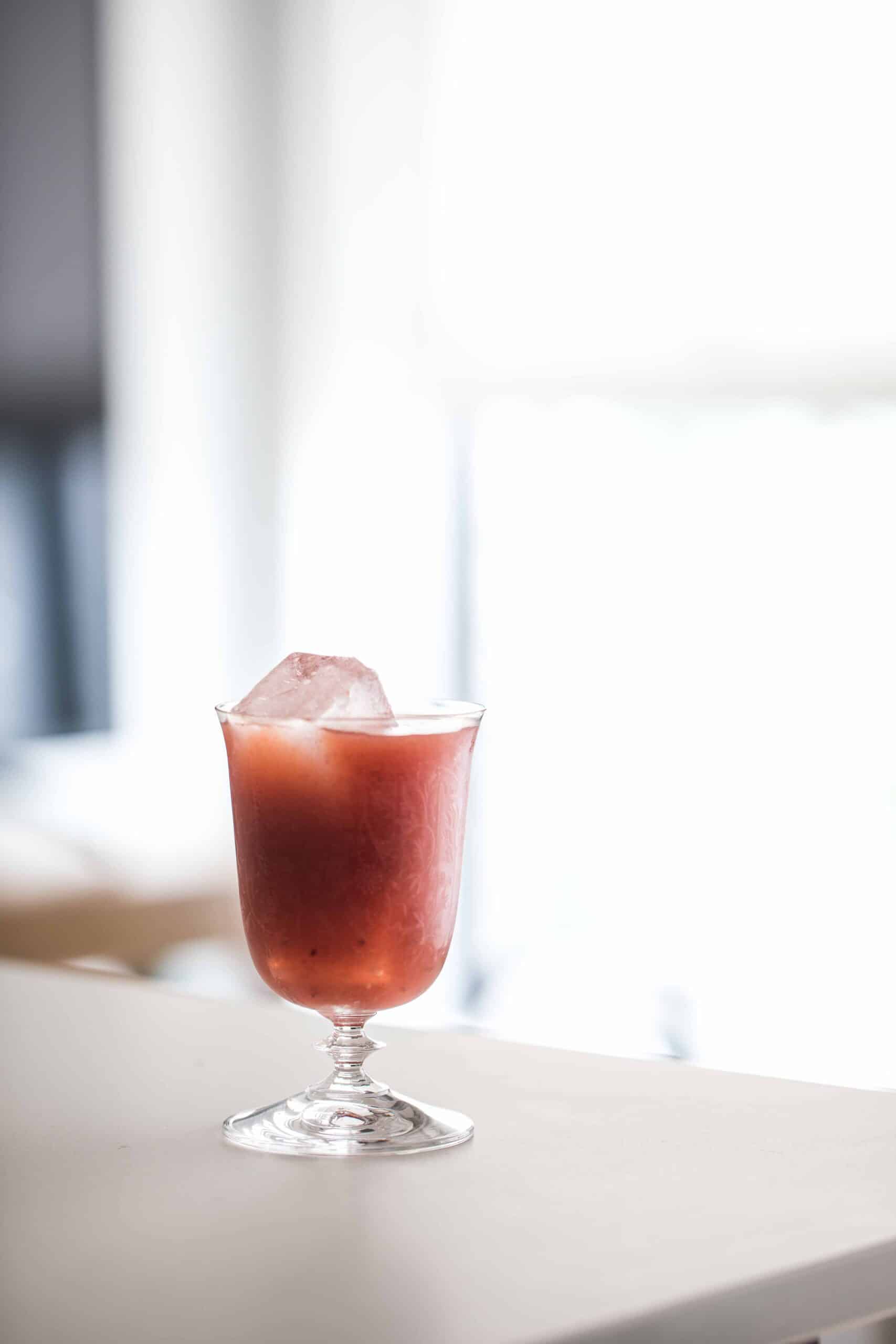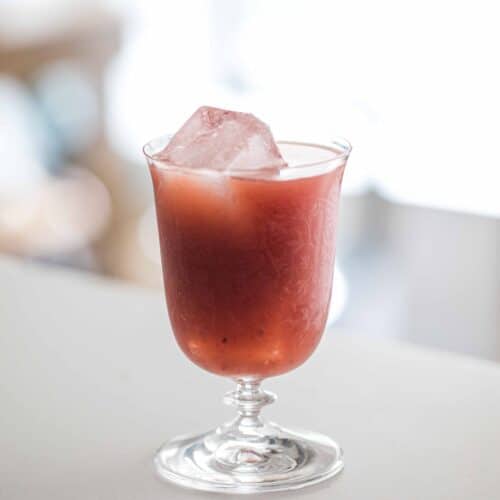 Tequila Jam Session
We're bringing together a Blanco Tequila, Pimms and Jam together in this delicious shaken creation.
– Difficulty: Intermediate
Ingredients
1.5

oz

Blanco Tequila

El Tequileno Used Here

0.5

oz

Pimms

1

large spoon

Jam

Raspberry Jam used here

1

oz

Lemon Juice

1

dash

Grand Marnier

*Optional
Instructions
Add all your ingredients to a shaker and give this a VIGOROUS shake so the jam will completely break down.

Double Strain over a few cubes and enjoy!
Recipe Notes
Remember, this is a cocktail that I encourage you to play around with the ratios as all Jams are different! Let me know what you end up creating!
Curious for more Jam inspired recipes? Click here for more options!