Have you heard of the classic Clover Club cocktail? It's not something you typically on cocktail menus, but this classic is absolutely delicious with a mix of Raspberry, Vermouths and Gin! Today, I'm shaking things up a little differently, using Montreal's Royalmount Gin and Pimms instead of Vermouth. It's your perfect Spring, bright cocktail, with that layer of foam that you love in a sour cocktail. Curious how the Royal Club is made? Head down below for details!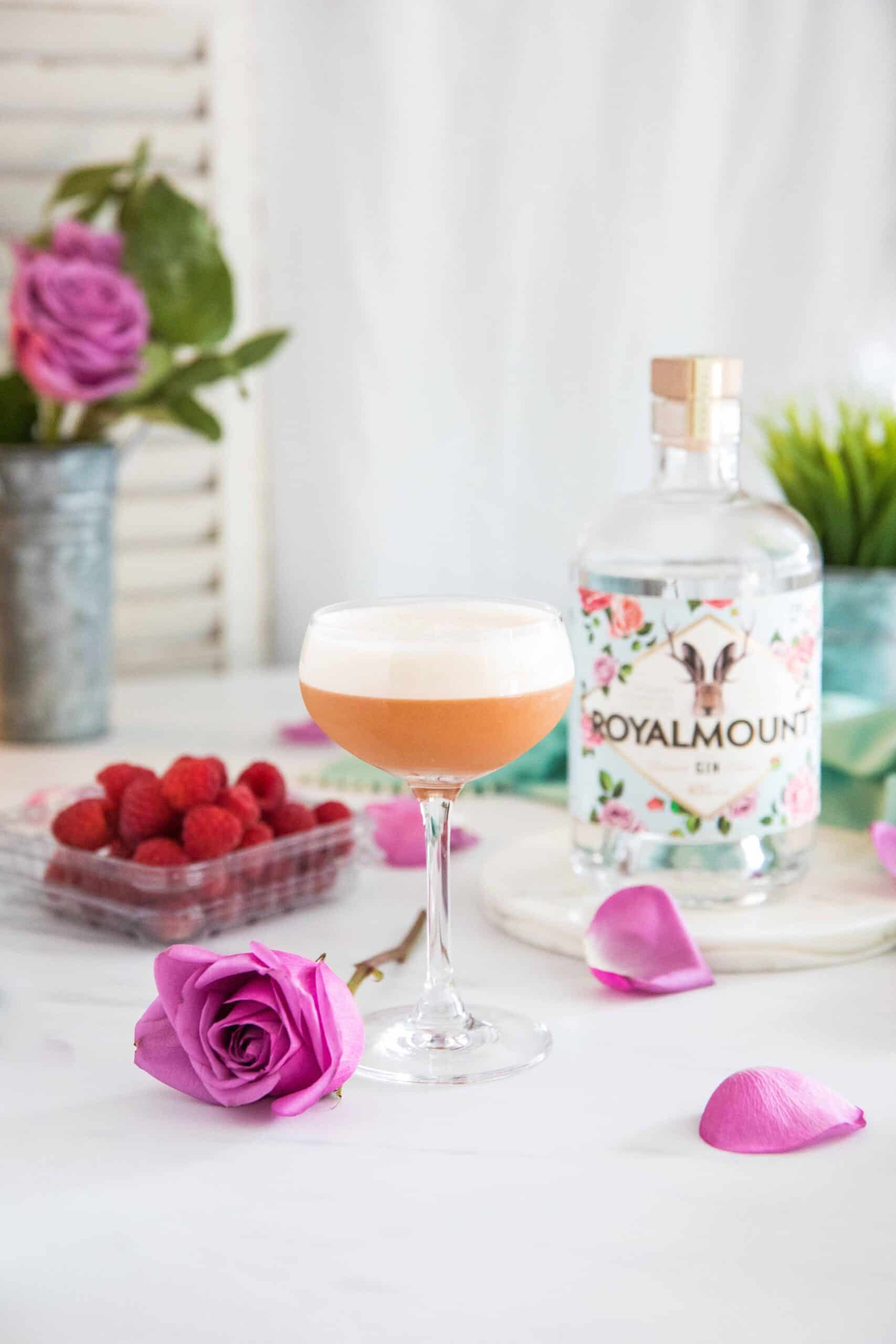 Recreating the classic Clover Club Cocktail
I'll be honest, there are HUNDREDS of variations to the Clover Club cocktail. It's to a point where I actually can't figure out what is the true original cocktail. But that's okay! Most of the structures are the same with Gin being the star of the show, mixed with citrus, vermouths and raspberries. This has the classic ratios of a delicious sour, and SOURS is definitely something I'm comfortable mixing with.
Choosing your Gin – Royalmount Gin
The world of Gin is plentiful, to a point where it's impossible for me to recommend just one option. That's why when working with Gin brands, I really do try to work with local Canadian brands where possible. Seeing as the Royalmount Gin has a much more delicate palate, this determined many components of this cocktail. With its Cucumber and Rose infusion, I knew I wanted to change up the vermouth ratio. I didn't want Royalmount Gin to be hidden in this cocktail. Which leads me to my next point…
Choosing Pimms for this cocktail turned out to be a brilliant accident. I ran out of Cocchi Rosa *heartbreak*, and I knew I was filming soon and needed something that was relative to substitute. So I made the cocktail on video with Pimms hoping for the best. It ended up being BETTER! The other reason I knew Pimms would work is the fact that it pairs beautifully with gin. It has a slight sweetness component that I wanted, plus the added herbs and bitters I love. AND, it's delicate enough not to overwhelm the Royalmount Gin in the Royal Club Cocktail. It was a WIN WIN WIN!
Don't have Pimms?
If you don't have Pimms, that is okay! I would recommend going back to a mix of Blanco and Rosso Vermouth, preferably french style (it's more delicate). I would also say, go heavier on the pour with Blanco vs a Sweet Vermouth so that the Sweet Vermouth doesn't overwhelm the Royalmount Gin.
Egg Whites in Cocktails and How to Substitute
Last, but not least, lets chat egg whites. Now I understand with dietary restrictions, egg whites may not be your favourite solution, but you do have options! Aquafaba (leftover Chickpea water) is a great way at creating that foam on top that's Vegan, plus let's talk about the little waste! Also, what I love about Aquafaba is that you really can't tell much of a difference in taste, aka your drink won't taste like Chickpeas! There's also Foamers out there selling in these small bottles (it almost looks like bitters). I'll admit, they are not my favourite, but if you love it or want to try, experiment til your hearts content!
Excited to make this Clover Club Cocktail Riff? I hope so, because the recipe is dropping right below!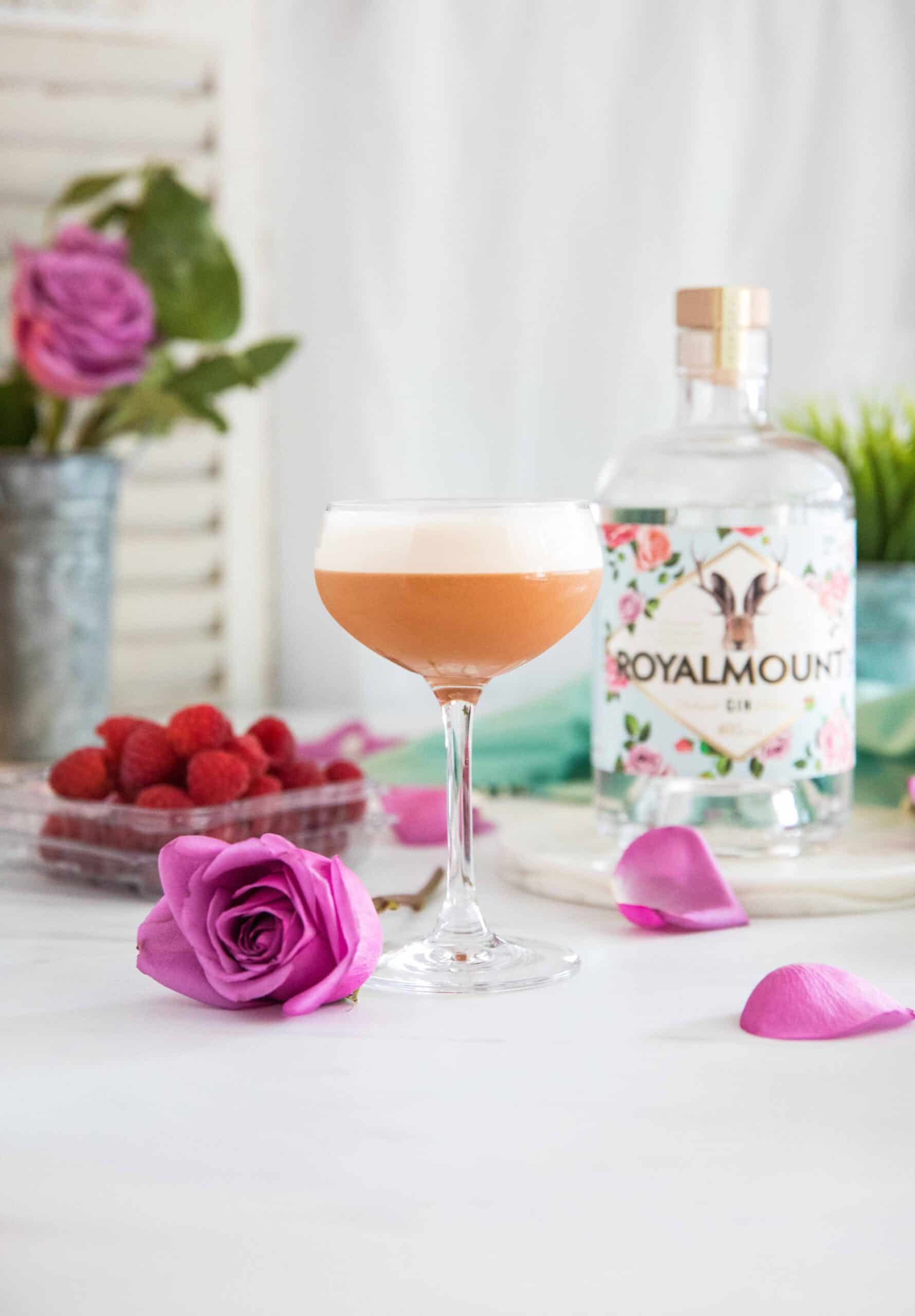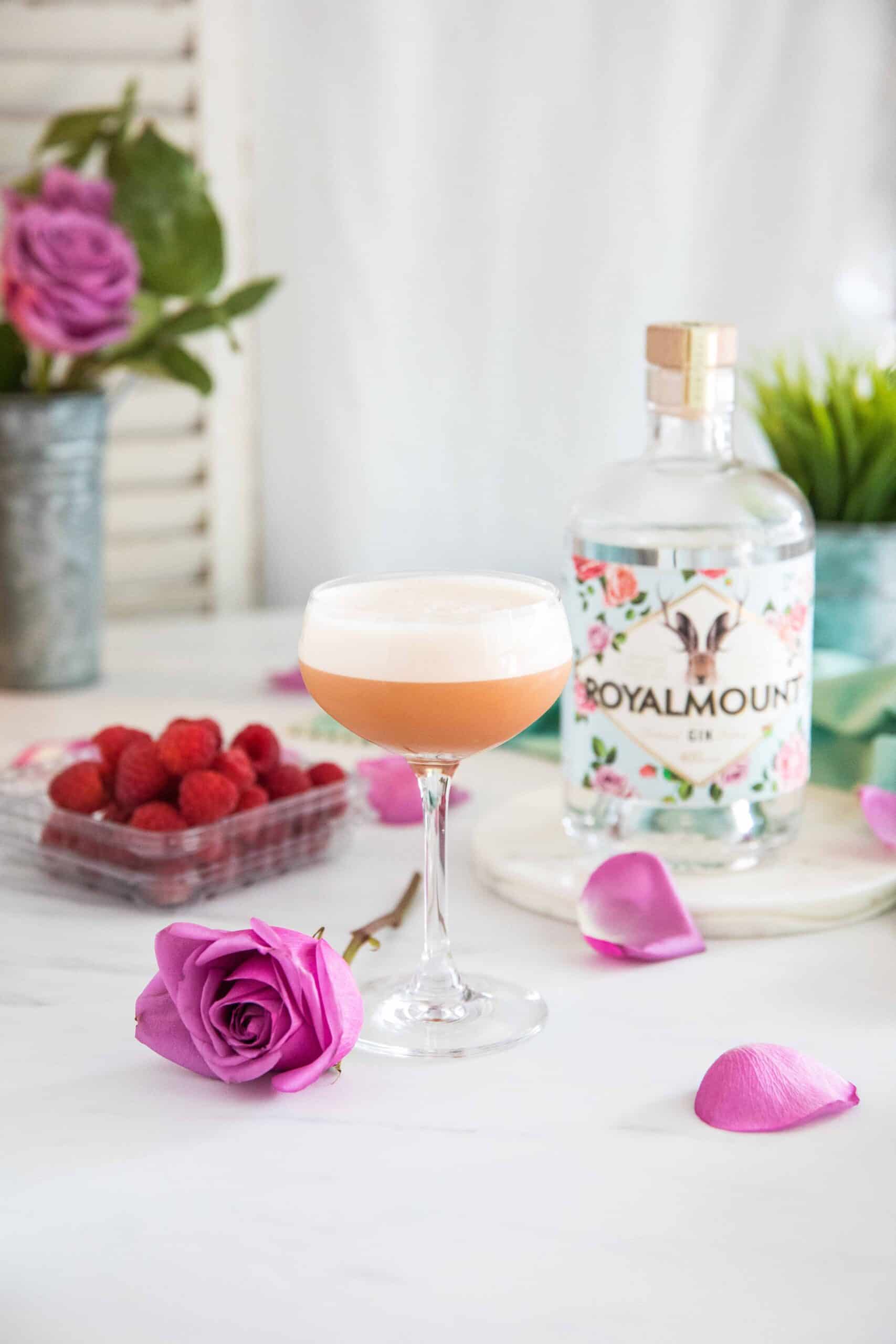 The Royal Club
We're creating a riff on the classic Clover Club cocktail made with Montreal's Royalmount Gin, Pimms and citrus!
– Difficulty: Intermediate
Ingredients
1

oz

Royalmount Gin

1

oz

Pimms

1

oz

Freshly Squeezed Lemon Juice

3/4

oz

Simple Syrup

1:1

1

Egg White

3

Raspberries

1

pinch

Dried Flower Petals

*Optional for garnish
Instructions
Add all ingredients (except optional flower petals) into shaker without ice and shake vigorously (aka Dry Shaking).

Once you have shaken, add ice to your shaker and shake once more.

Strain into your coupe glass and enjoy. Sprinkle optional crushed dried rose petals on top for elegant garnish.
Recipe Notes
The 1:1 reference for the Simple Syrup means it's a simple combination of 1 part sugar to 1 part water.
Want to find more Royalmount Gin Recipes? Make sure to follow this link here for more inspiration with this incredible Canadian Gin.