My love for Canadian Club runs deep. So when I was offered an opportunity to create a Canadian Club Cocktail for their Mystery Box challenge, I quickly jumped on it! The Canadian Club 12 year is the star of this drink that I like to call the Eye of the Rye. This cocktail is shaken up with Amontillado Sherry, a special Buckwheat Honey, Ginger and Cinnamon syrup and a few other treats. It's simple to make, and quickly became a favourite in the house. Want to learn how it's made? Head down below for this Canadian Club Cocktail.
Pairing with Canadian Club 12 yr
It's always important to note the tasting profile of your base spirit. You don't want to mask it with overwhelming flavours, but compliment it. With the 12 year, you're getting a ton of tropical fruits, vanilla and a touch of spice. It's actually a very easy base to work with in building this Canadian Club Cocktail. Ginger is one of those flavours when measured appropriately will go a long way. Plus, I knew it would go with all the flavours of the 12 year. So let's chat about the ingredients I used from the Mystery Box.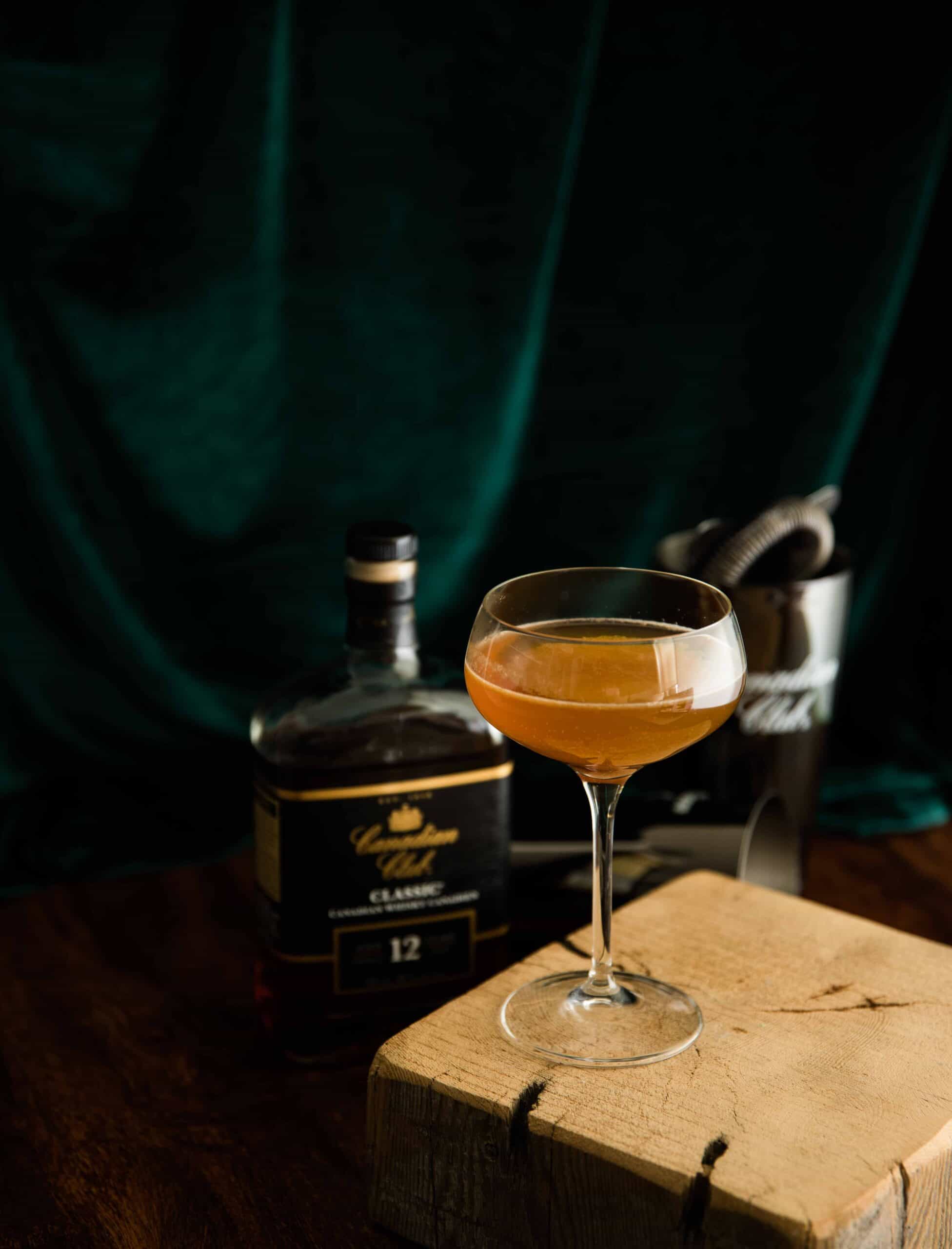 Mystery Box Challenge
I had no idea what was going to be included in my box (hence the word Mystery). Thankfully, they were items I could easily see myself working with. Inside was this amazing Apple Butter, Buckwheat Honey, Ginger, Spices (we're talking cardamom, cinnamon, nutmeg, and more!) and Coconut Water. Probably the one thing that threw me off was the Coconut Water. I really admired the challenge though, which is why you'll see a Canadian Club cocktail featured later next week with Apple Butter and Coconut Water! But for the structure of this cocktail, I decided to make an easy syrup.
I'm telling you this syrup won't take much time at all. It's a simple combination of water, buckwheat honey, freshly grated ginger and cinnamon. To make the syrup, follow this recipe below:
Buckwheat Honey, Ginger and Cinnamon Syrup
Great for cocktails or even for your alcohol free beverages. Plus you could also use this syrup around your kitchen, sauces and more.
– Difficulty: Easy
Produces approximately 1/2 cup
Ingredients
1/2

cup

Buckwheat Honey

1/2

cup

Water

1/4

cup

Ginger (loose)

Skin removed and grated

1

Cinnamon Stick
Instructions
In a small saucepan over medium-high heat, add your honey and water. Stir until the honey completely dissolves in the water.

Grate your fresh ginger into the saucepan and place your cinnamon stick. Let this mixture come to a simmer.

Reduce temperature to low and let this simmer for 2 minutes. Remove from stove and let this come to room temperature before straining.
Mixing with Amontillado Sherry
The last main component to this cocktail is the Amontillado Sherry. This was something I debated with for some time. I thought about using a Vermouth (but I didn't want it too sweet), even thought of a bitter aperitif, but thought that might overwhelm the balance. In the end, I decided to compliment this Canadian Club Cocktail with Sherry, because I love what Amontillado Sherry can bring. It brings the best of both Fino and Oloroso sherries. You got a touch of sweetness which you'll find in most Oloroso's, but still that dry funk that I love in a Fino.
I even tested out this recipe for my husband, who I didn't think he would like the taste of Sherry, but the cocktail was just right! And that's it folks! With a bit of citrus, and the combination of everything else, you've got one tasty cocktail. Now let's get to how it's made!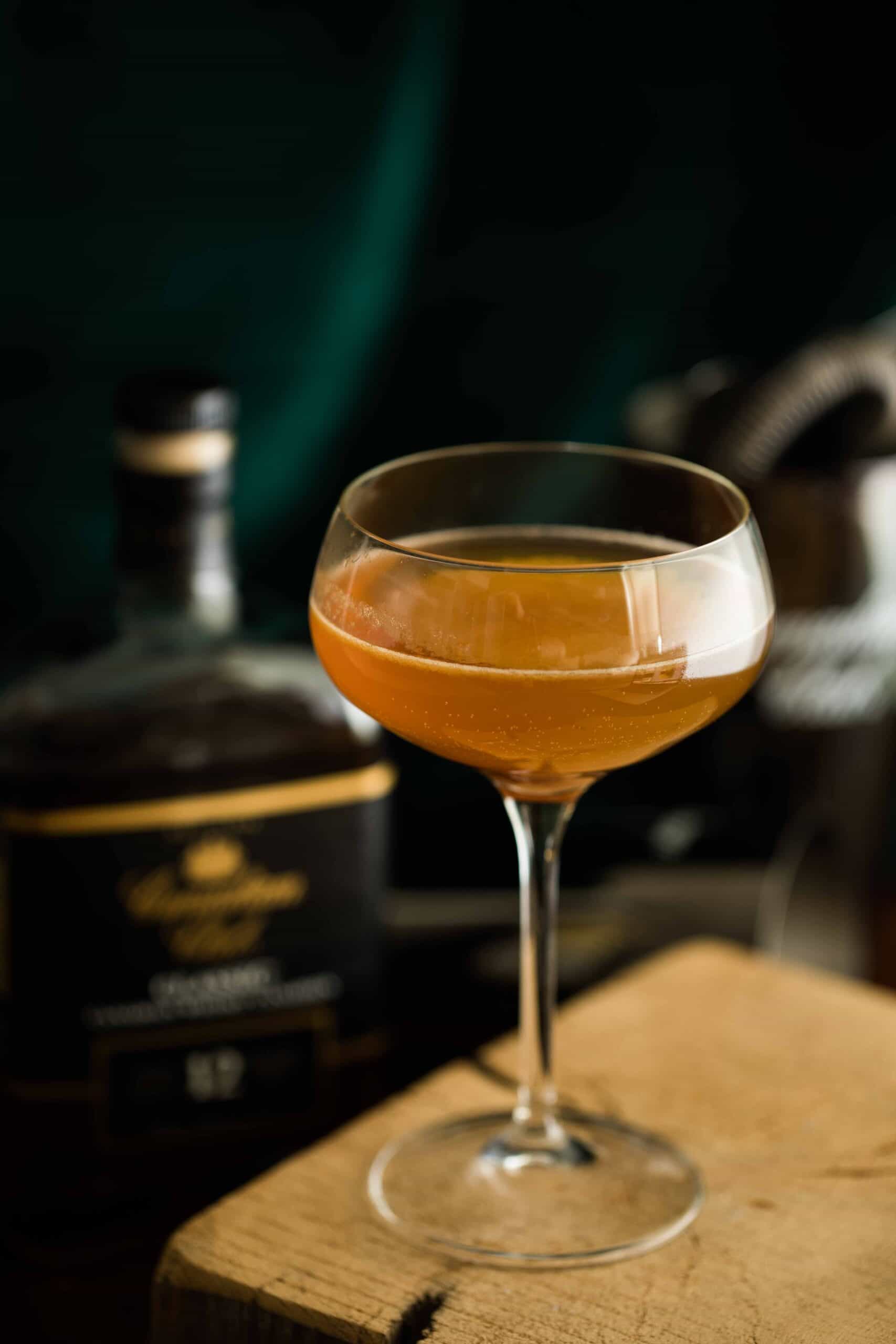 Eye of the Rye
Featuring a Canadian Club cocktail that combines Canadian Club 12 yr, Amontillado Sherry, Citrus and a unique Buckwheat Honey, Ginger and Cinnamon Syrup.
– Difficulty: Intermediate
Ingredients
1.25

oz

Canadian Club 12 year whisky

0.75

oz

Amontillado Sherry

Lustau used here

1

oz

Freshly Squeezed Lemon Juice

1

oz

Buckwheat Honey, Ginger and Cinnamon Syrup

1

dash

Angostura Bitters
Instructions
In a shaker, fill with ice and all your ingredients. Shake Well.

Double Strain into your favourite coupe glass. Orange Twist optional for this cocktail garnish.
Recipe Notes
Buckwheat Honey, Ginger and Cinnamon Syrup recipe is available in today's write up. Scroll up for details.
For more Rye Whisky inspired Cocktails, make sure to check out this link here for all your inspiration!