With Spring officially here in Toronto, you can expect to see a ton of Gin cocktail recipes shared on the Liquid Culture platforms. Of that, I'm featuring this new Montreal Gin that just hit the Ontario markets called Royalmount Gin. I'm honoured to be working with them on a few recipes, with the very first served in a classic Gin and Tonic style. With Royalmount Gin infused with Rose and Cucumber, I highlight this in the Royal Spring Flush Cocktail. Curious how it's made? Check down below for cocktail recipe details!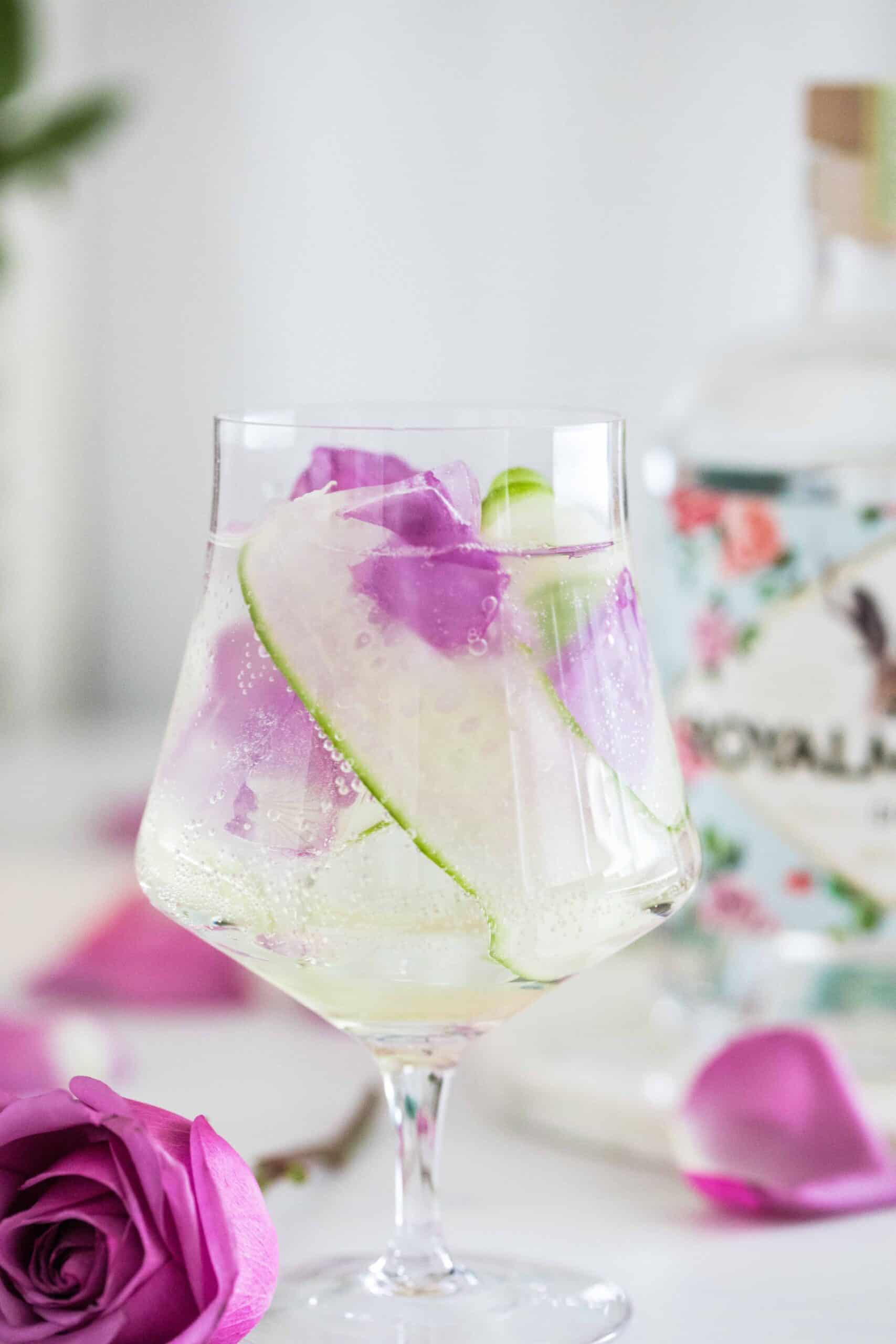 What makes Royalmount Gin different?
Those who know me well know that I love pairing up with Canadian brands. I always try to support the industry here first because we have a ton of delicious spirits to offer. For those of you unfamiliar with Royalmount Gin, you have a fairly delicate floral and cucumber infused Gin that comes to us from Montreal. Now it's important to note, that this gin doesn't go with everything. With it's delicate palate, I try to be mindful of the flavours I mix with so it predominately comes through. But for Spring and Summer time, is this a great gin to have on your bar? YES. A million times YES.
With this new release, we decided to keep things simple with this first cocktail. Having the essence of a Gin and Tonic, I dress it up with additional Rose Water, Rose pedal Ice Cubes (optional) plus White Cranberry Juice! Why did I use White Cranberry Juice? First off, it's a great way at lengthening a cocktail with a fairly neutral palate. It complements the cucumber and floral notes perfectly without overpowering the cocktail. White Cranberry Juice is almost a secret ingredient I tend to always have in my fridge, it goes with a ton!
This is a VERY easy cocktail to throw together, and expect many more Royalmount Gin cocktail creations soon! Who's ready for the Gin and Spring season?
Royal Spring Flush
Using Royalmount Gin, we create a simple Gin and Tonic Serve using White Cranberry, Rose Water and Cucumber
– Difficulty: Easy
Ingredients
1.5

oz

Royalmount Gin

3/4

oz

White Cranberry Juice

2

oz

Fever Tree Premium Tonic

2

drops Rose Water

3

Cucumber Ribbons
Instructions
Line your glass with Cucumber Ribbons, 2 drops of Rose Water and ice.

Layer the rest of the cocktail by adding the Gin, White Cranberry Juice and top with Tonic Water.

Stir to combine. Cheers!
Want to find more Spring inspired cocktails? Check out the link here for inspiration this season!