Coconut. YES. Coffee. YES YES. With Licor 43? Well we've got ourselves a dream boozy Iced Coffee don't we? For today's #NoDrinksWasted, one of my community members John mentioned that he had a bottle of Licor 43 that had only been used once for a recipe. He had no idea what else to do with it. Well it's a good thing I LOVE Licor 43 and I use it everywhere! To make sure I was bringing something different from what I've already featured, I put together this Coconut Mint Boozy Iced Coffee. Believe me when I say, it's incredible and you're going to want more than one…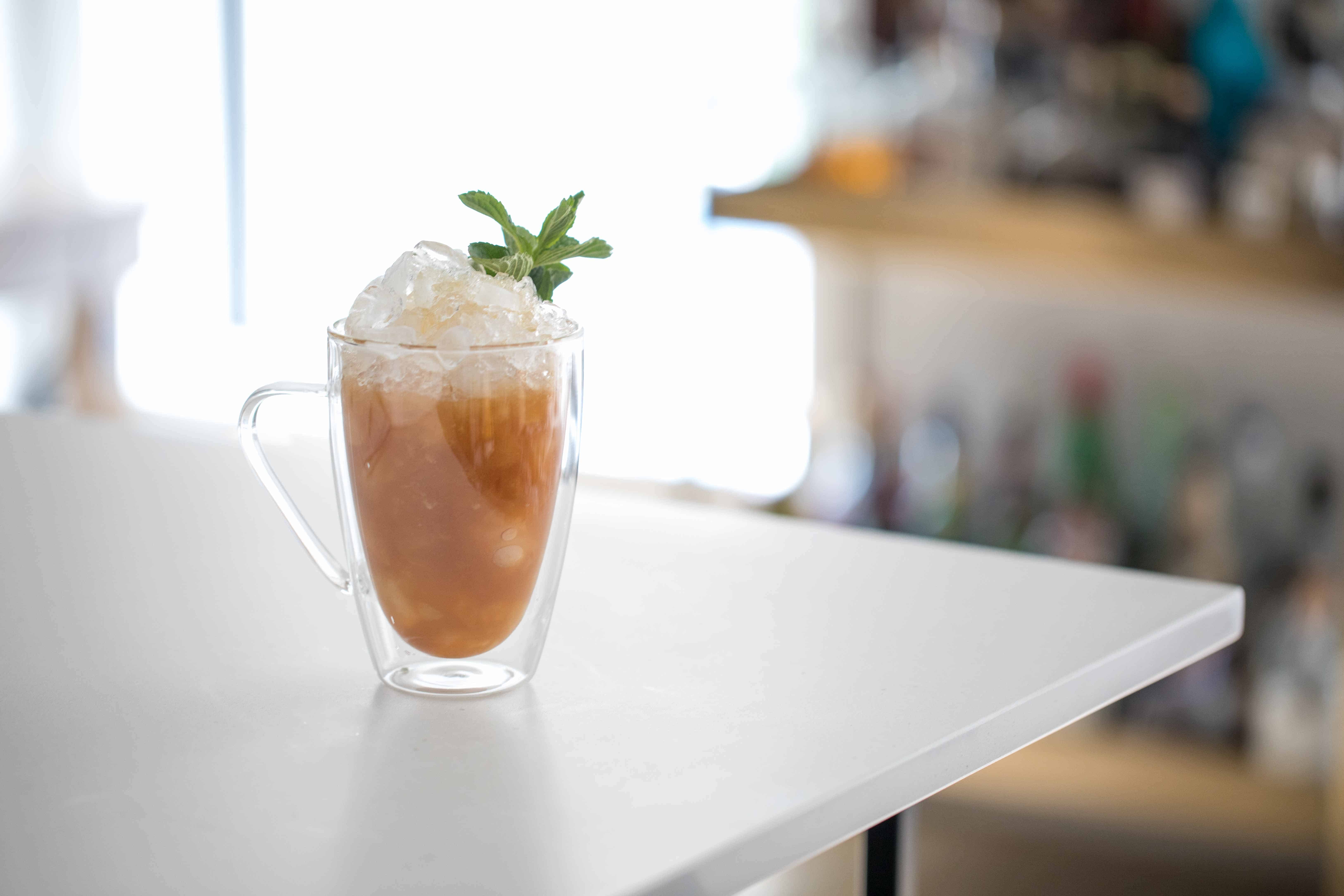 What's #NoDrinksWasted?
After a fun year of #DrinkYourGram on my social platforms, I wanted to create cocktails with you in mind. Many of you likely have random bottles or ingredients around the house that you don't want to go to waste, so why not use them in a cocktail? I know Licor 43 can be one of those bottles that never moves, but I swear to you, it's one of the one liqueurs that I need to replenish! If I'm out of Vanilla Extract for my baking, I'll add a dash of Licor 43. Making some tropical cocktails that need that little bit of warming spice to complete it? Add a dash of Licor 43. For today, I tried to create something that didn't use just a "dash" of Licor 43, so I made this Coconut Mint Iced Boozy Cocktail that is hard not to love.
Why Coconut and Mint?
With the direction of an Iced Coffee in mind that's sweetened with Licor 43, I knew I wanted some sort of Cream / Dairy component. Since I still had my bottle of Real's Cream of Coconut around, I thought it would compliment the flavours going on in this Coconut Mint Boozy Iced Coffee.
Now this cocktail needed some sort of brightness, but I'm hesitant to mix citrus and coffee together. I'm alway afraid of the texture being effected when a cream, coffee and acid mix. I even debated just zesting some of the skin of an Orange into the coffee. This can work, but instead I thought of the next best thing; MINT! Mint offers sweet and brightness to its cocktails, so I gently rubbed one sprig of mint into the shaker, plus an additional on top.
Choosing your Base Spirit for this Coconut Mint Boozy Iced Coffee
I played around with this component for a bit. I debated a Baijiu I had, Hart and Son's Blackpool Spiced Rum (pst it doesn't work), and an Irish Whiskey. In the end, I went with a Brandy (specifically cognac) because I needed a spirit with weight to it, but wouldn't impact on the spice too much.
You can go a ton of different routes on this one. I would just avoid a Gin, or anything too delicate. Since this cocktail has such strong flavours going on, you don't want a spirit that will hide in this Coconut Mint Boozy Iced Coffee.
Curious how it's made? Well I'm sure that's why you're here. Check out the recipe below!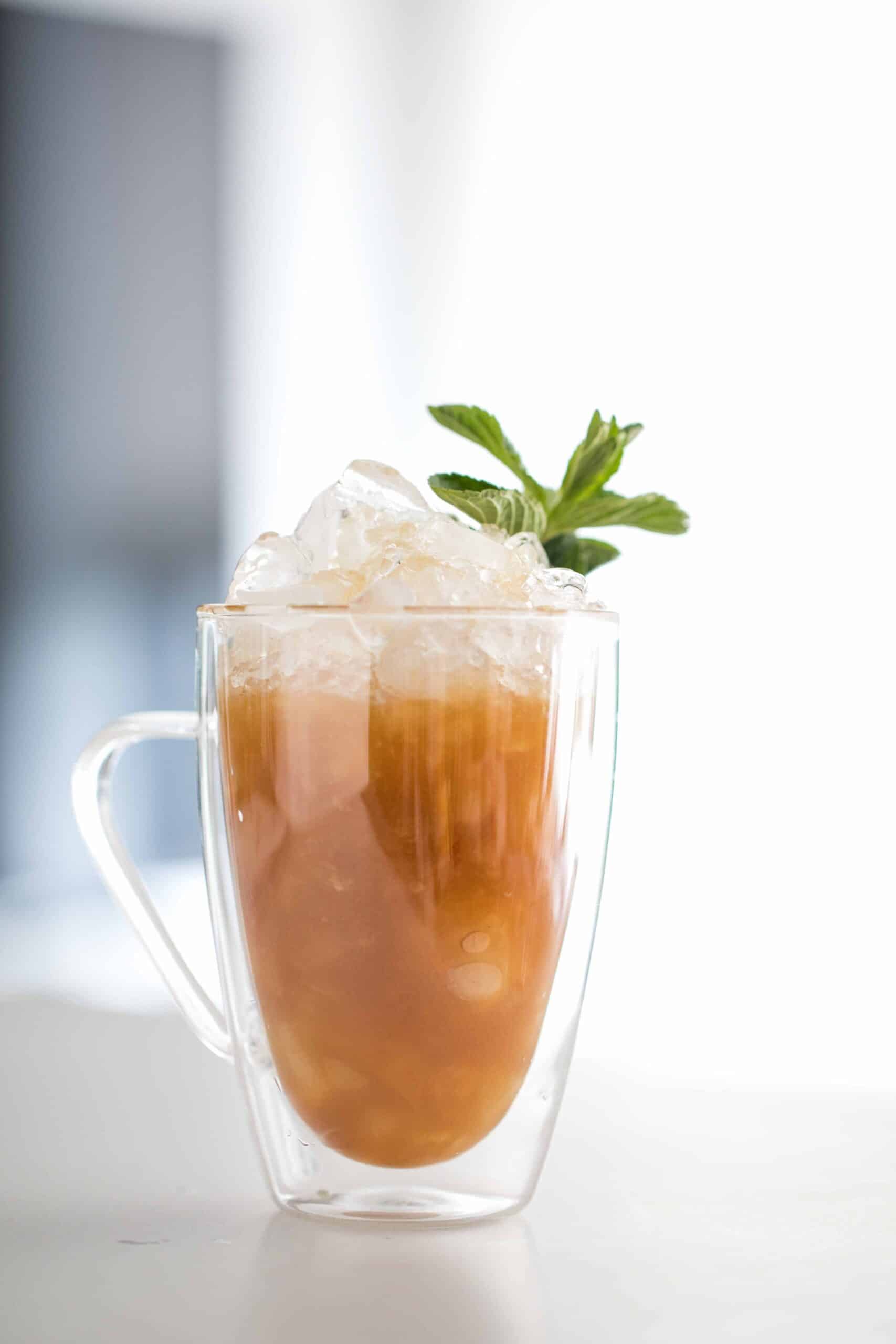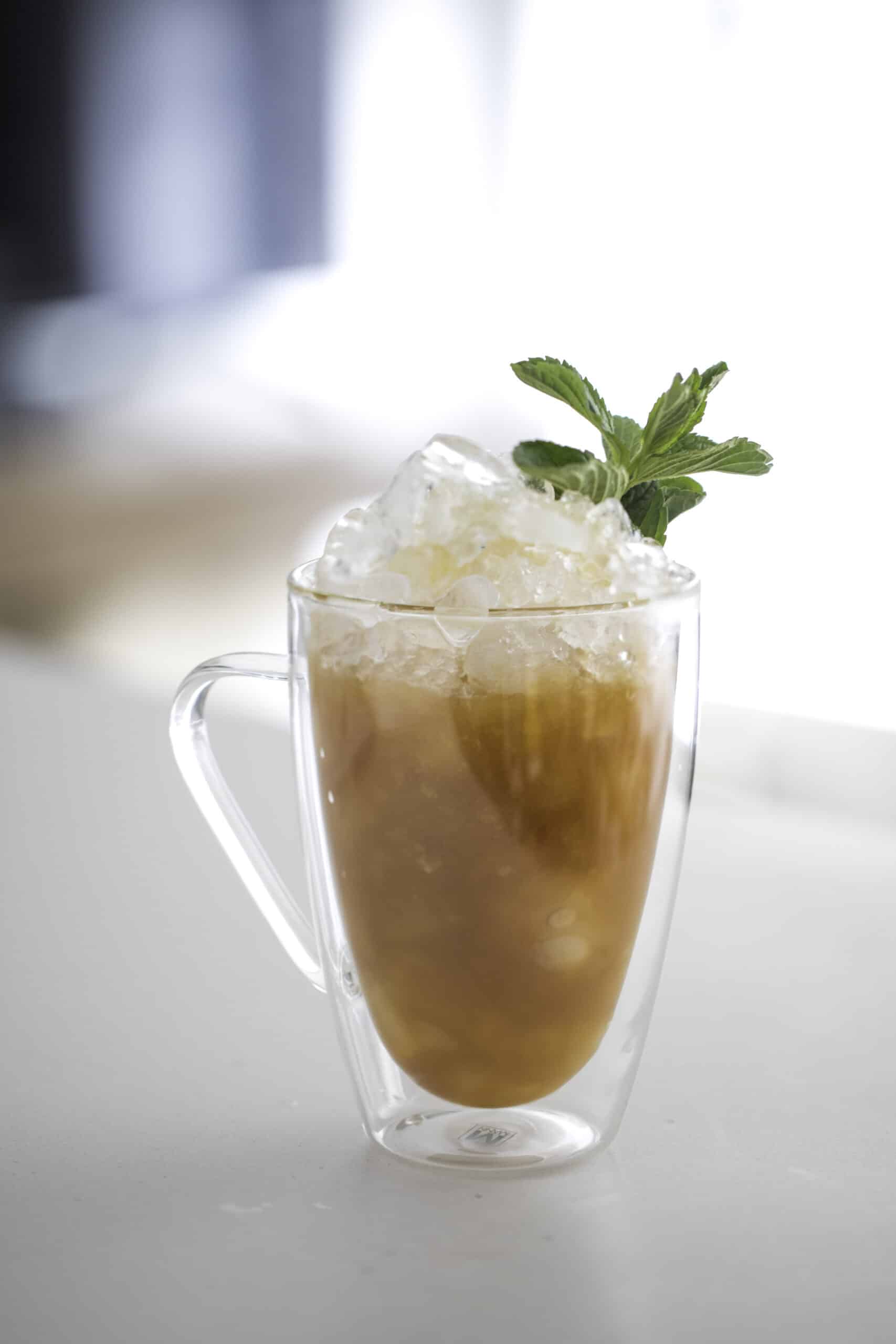 Coconut Mint Boozy Iced Coffee
We've got a delicious Iced Coffee recipe that combines Brandy, Licor 43, Coconut and Mint in perfect harmony!
– Difficulty: Intermediate
Ingredients
1

oz

Brandy

Hennessy VS Cognac used here

1/2

oz

Licor 43

3/4

oz

Cream of Coconut

Real's Cream of Coconut Syrup used here

3

oz

Espresso

2

sprigs

Mint
Instructions
Fill your glassware with crushed ice first.

Create your cocktail be grabbing a shaker, gently pressing the mint to extract the oils but don't muddle. Add the rest of the ingredients with a handful of ice and give this a quick shake.

Strain over crushed ice and top with remaining Mint Sprig.
Want to find more Licor 43 inspired recipes? Click on the link here for more!