This. THISSSSSSS. If you aren't sipping a Spritz on the regular this Spring or Summer, you don't know what you are missing. And today's recipe needs to be a part of your cocktail recipe library. I mix with the phenomenal taste of Fentimans Valencian Orange Tonic Water to combine Sparkling Wine and Light Aperitivo. I can't stress this enough, this Valencian Orange Spritz is a dream, and if you love the herbaceous notes of Tonic water, you will LOVE THIS COCKTAIL. Curious how this Orange Spritz is made? Head down below for recipe details!
Working with Fentimans Valencian Orange Tonic Water in this Orange Spritz
I'm always so grateful to work with brands during these unprecedented times, but it doesn't mean I don't give the brands I vigorous test to make sure it meets the LC standards! So when Fentimans reached out to create some cocktails with the mixers, I wanted to make sure I loved them. They really do have an incredible lineup of mixers. As part of the lineup was the Valencian Orange Tonic Water, WHICH IS A DREAM. I actually can't say ENOUGH about this tonic. If you love a G+T and you're looking for something new, you need to add this to your tonic offerings.
There's so many directions I could have gone with creating a cocktail using this Tonic Water. But with Spring, all I care about are Spritz, so making a herbaceous, bright Orange Spritz was calling my name! Plus, this is incredibly easy to put together with ingredients in your home.
Choosing your Light Aperitivo
I am all about Aperitivos and offering lower in alcohol cocktail solutions. If you know me well, you KNOW my love for Cocchi Americano, which was the bottle I went with here. Now I know it's not a product that's readily available (at least here in Ontario), SO with that said, I wanted to offer options.
A dry vermouth would go a long way to substitute the Cocchi Americano, or I would aim for a Lillet Blanc or Lillet Rose. Something Wine based is where you want to go with this cocktail, even a decent Fino Sherry could work wonders.
Choosing your Sparkling Wine for this Orange Spritz
My rule of thumb with Sparkling Wine is choosing something with MINIMAL sweetness so that you can manipulate the cocktail to your preference. There's nothing worse than a decent cocktail that has way too much sugar that you can't have any control over. Prosecco goes a long way here, or using a Cava, pretty much any sparkling wine, so it depends on your budget. Just be mindful of the sweetness!
Choosing your Garnish
I decided to pair Orange and Thyme with this Valencian Orange Spritz Cocktail. Now orange seems like a must with the tonic water infused, BUT you do have options for the herbs. Thyme is used here, but Rosemary would go a long way, even Basil would be nice. Just think what pairs well with Orange to compliment the flavours.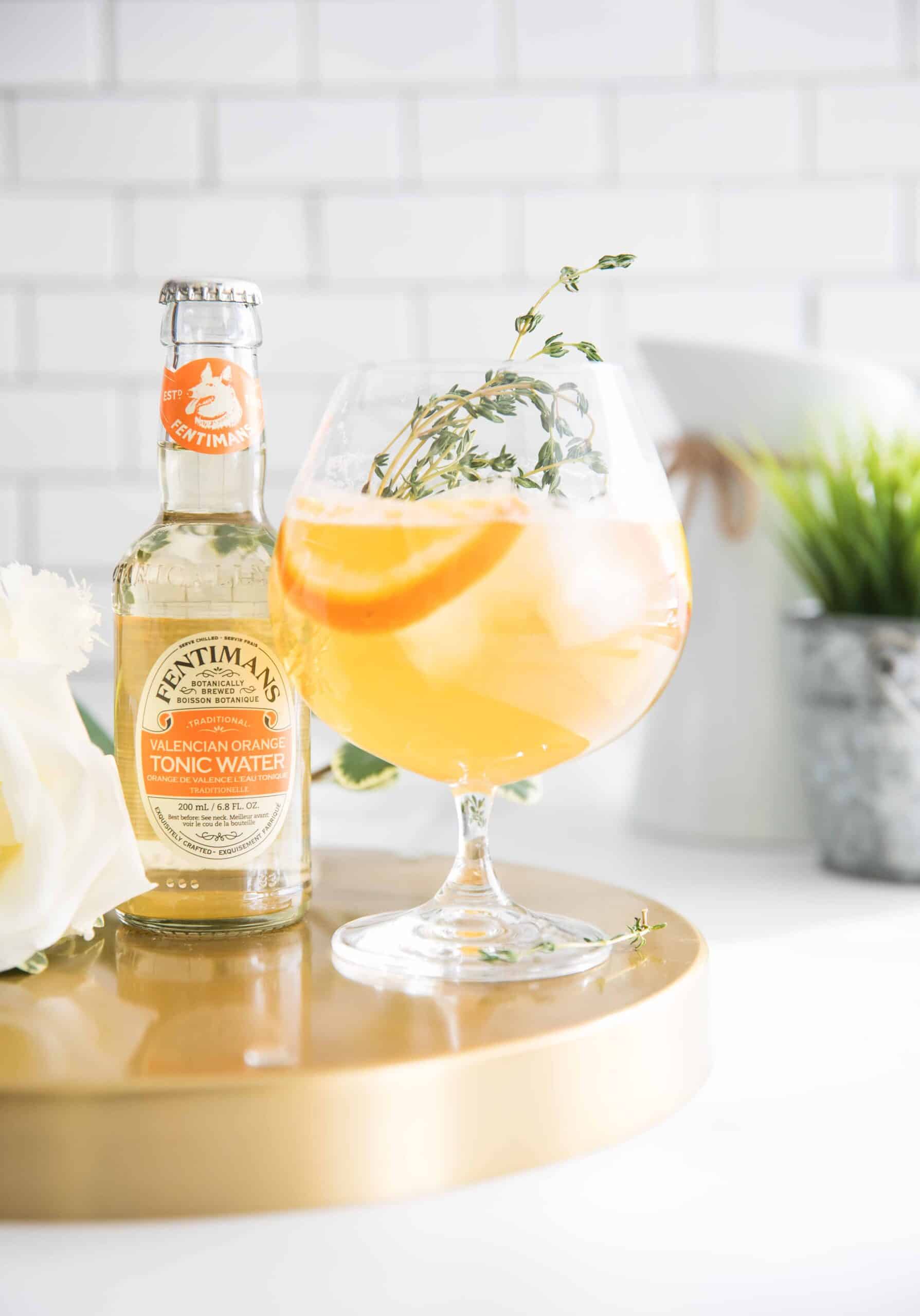 Valencian Orange Spritz
We have an outstanding new spritz for Spring and Summer that combines Fentimans Valencian Orange Tonic Water plus Sparkling Wine and a Light Aperitivo!
– Difficulty: Easy
Ingredients
1

oz

Cocchi Americano

or Dry Vermouth

3

oz

Sparkling Wine

1

oz

Valencian Orange Tonic Water

3

Sprigs of Thyme and Orange Wheel
Instructions
In a wine glass or goblet, add your large ice cubes with orange wheel and thyme.

Add in your Americano (or Dry Vermouth), Sparkling Wine and Fentiman's Valencian Orange Tonic Water.

Stir well and Enjoy!
Curious to find more Spritz recipes? Head over to the link here for the perfect drink of Spring and Summer!