We're taking a break from #DryJanuary and featuring some unique Ice Wine Cocktails in honour of the Niagara Ice Wine festival. With COVID still in charge, this year's festival was cancelled, but why not celebrate this iconic festival at home? We're shaking up some unique cocktails using Ice Wine from an iconic Winery in Niagara called Henry of Pelham. We will be shaking up some that represents my Brazilian and Canadian roots, plus serving up an easy Ice Wine Spritz.
Canadian Ice Wine
Ice Wine is pretty iconic here in Canada, and no they aren't all made from Vidal grapes. You'll find Niagara wineries mixing with Cabernet Franc, Gamay and so much more. Now many people don't understand the cost of an Ice Wine, when it's typically served in 375ml bottles. The thing is, to produce ice wine calls for A LOT more work and the yields can be less than 10% of the optimal grapes.
I highly recommend serving Ice Wine with a nice cheese plate, or berries could go a long way. But we're not going to talk about food pairings today, instead I'm going to show you how to shake it up in cocktails!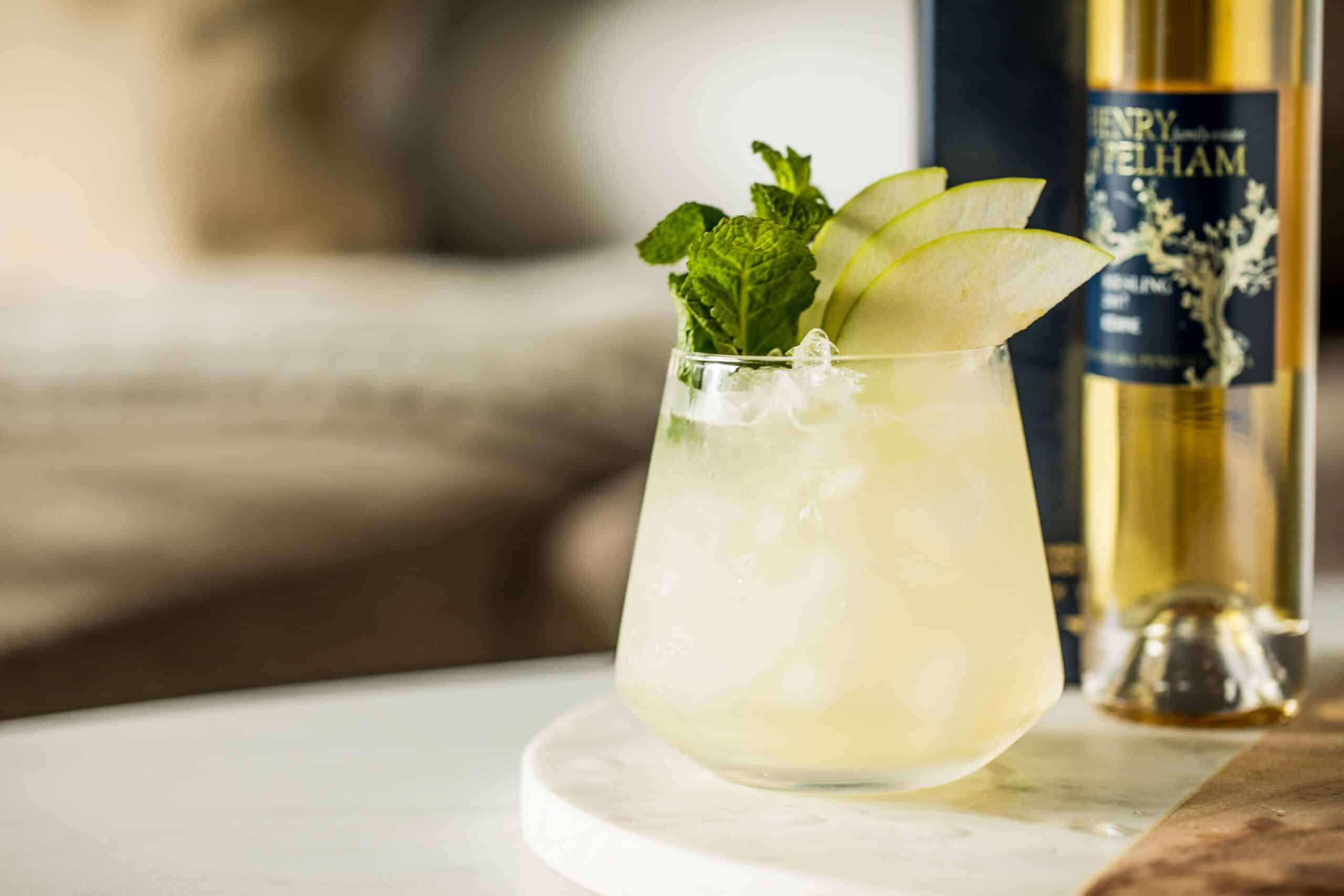 Rio de Ice
If I had to choose a cocktail between the two featured here, this got me the most excited. If you didn't know, I was born in Canada but I have Brazilian and Cuban roots. I decided to celebrate my Brazilian and Canadian heritage by combining my love of Cachaca with a Riesling Ice Wine provided by Henry of Pelham.
This bright summery creation combines a plata Cachaca, Ice Wine, Granny Smith Apple, Lime and honey for the most delicious imbibe. I really wanted to highlight the tropical notes and green apple flavours I was getting from the Henry of Pelham Riesling Ice Wine, hence this creation here.
Don't want to use Cachaca? Aim for a Baijiu, or Rhum Agricole. If that's too adventurous, a classic Vodka would work too!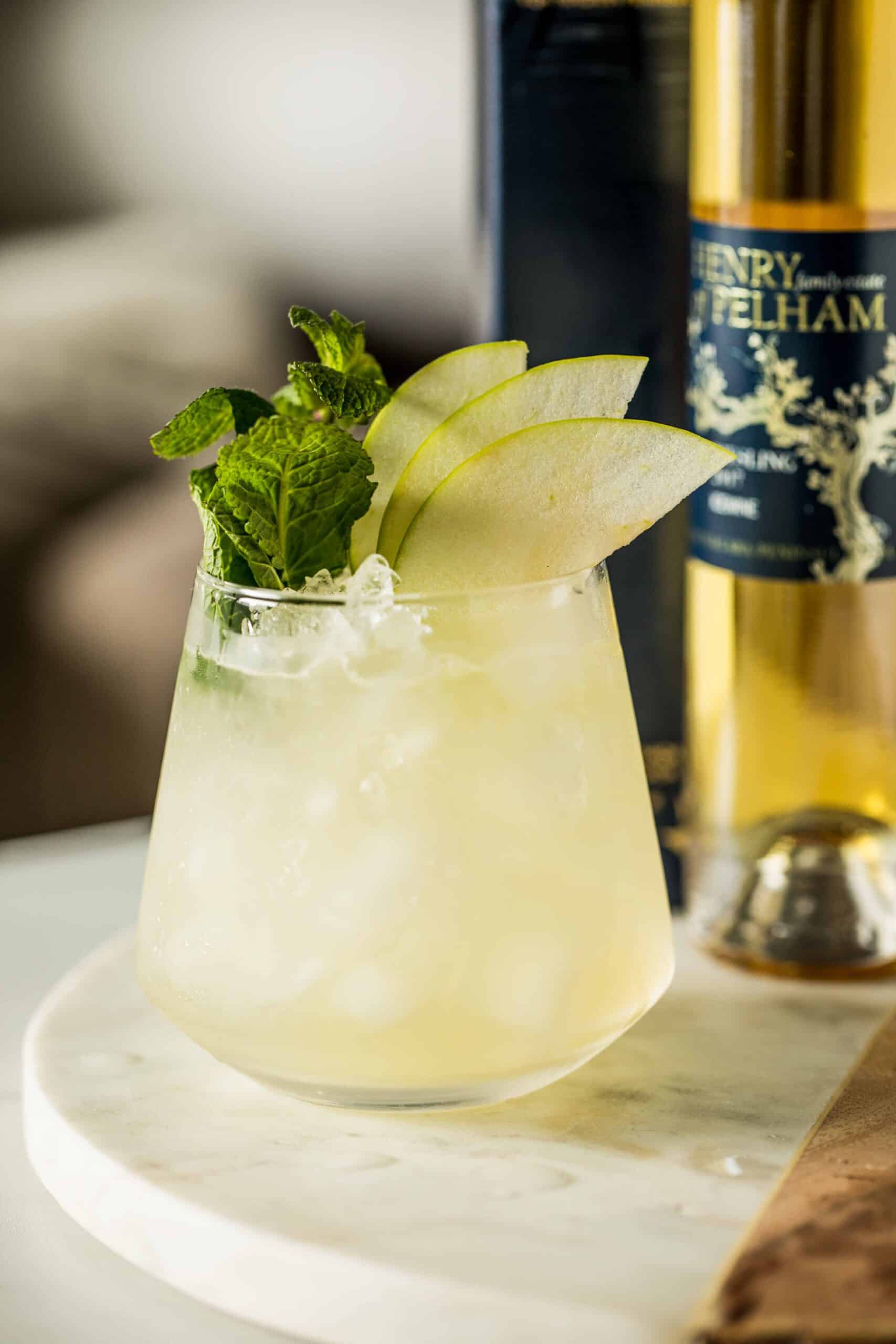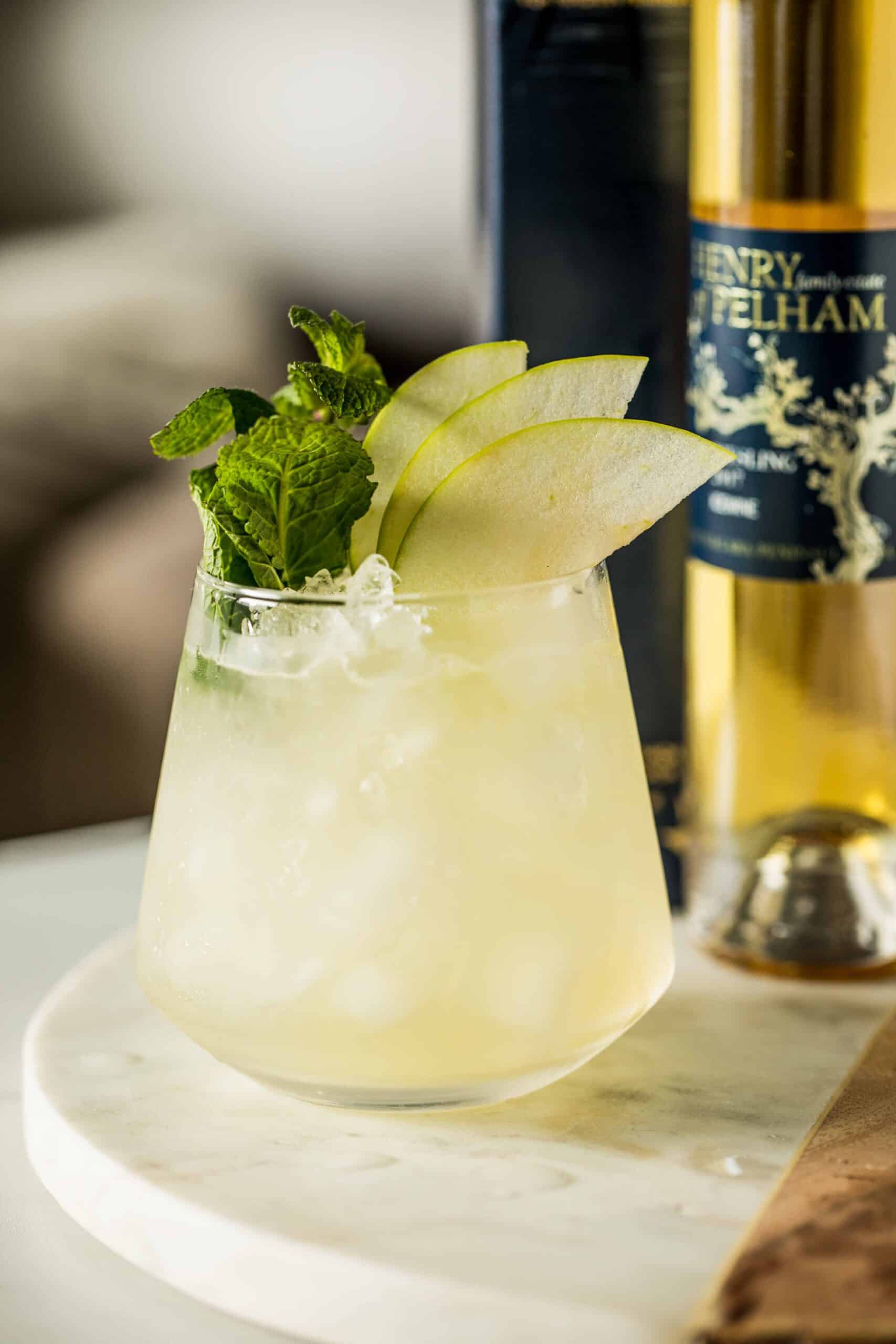 Rio de Ice
We're shaking up a Cachaca and Ice Wine cocktail that combines Granny Smith Apple, Lime and Honey.
– Difficulty: Intermediate
Ingredients
1.25

oz

Cachaca

Avua Plata Cachaca used here

¾

oz

Henry of Pelham Riesling Ice Wine

¾

oz

Lime Juice

½

oz

Honey Syrup

1:1*

6

Granny Smith Apple Slices

1

Mint Sprig for Garnish
Instructions
Grab a shaker and muddle 3 of your Apple Slices.

Add the rest of the ingredients (except apple slices), add a handful of ice and shake.

Strain over crushed ice. Top with remaining 3 apple slices and Mint Sprig
Pomegranate Ice Wine Spritz
Now if you love a Spritz or bubbly cocktail, this is definitely for you! Plus it's very easy to put together. It combines the simple flavours of Pomegranate Juice, Henry of Pelham's Vidal Ice Wine with Sparkling Wine and Tonic Water. Before we dive into the recipe, I want to explain a bit of my rational behind this cocktail.
Choosing Pomegranate
Working with Pomegranate was someone of an accident, but a very pleasant one! It was the only juice I had left in the fridge, but I knew it would lend well with the lychee flavours coming out of the Vidal Ice Wine. I also went this route for the spritz because this Vidal was much more fluid! I knew it would lengthen a cocktail well and a Spritz is perfect for that.
Choosing your Sparkling
Whether you're choosing Sparkling Wine or Champagne, just ensure it's dry. You don't want a sweet Sparkling wine when you already have the sweet component covered by the addition of Ice Wine. It's better to ADD sugar to a cocktail to balance, than trying to force yourself to drink something you don't like. Always keep that in mind when shopping for your cocktails. The more control you have over the sugar, the better!
Why Tonic Water?
I don't know about you, but I love a good Tonic Water. I love the herbaceous and bitters notes it can lend to a cocktail, which is why I added it here. You don't HAVE to stick to this. You could go the traditional route of Soda Water, but if you want more pizzazz, try some tonic water.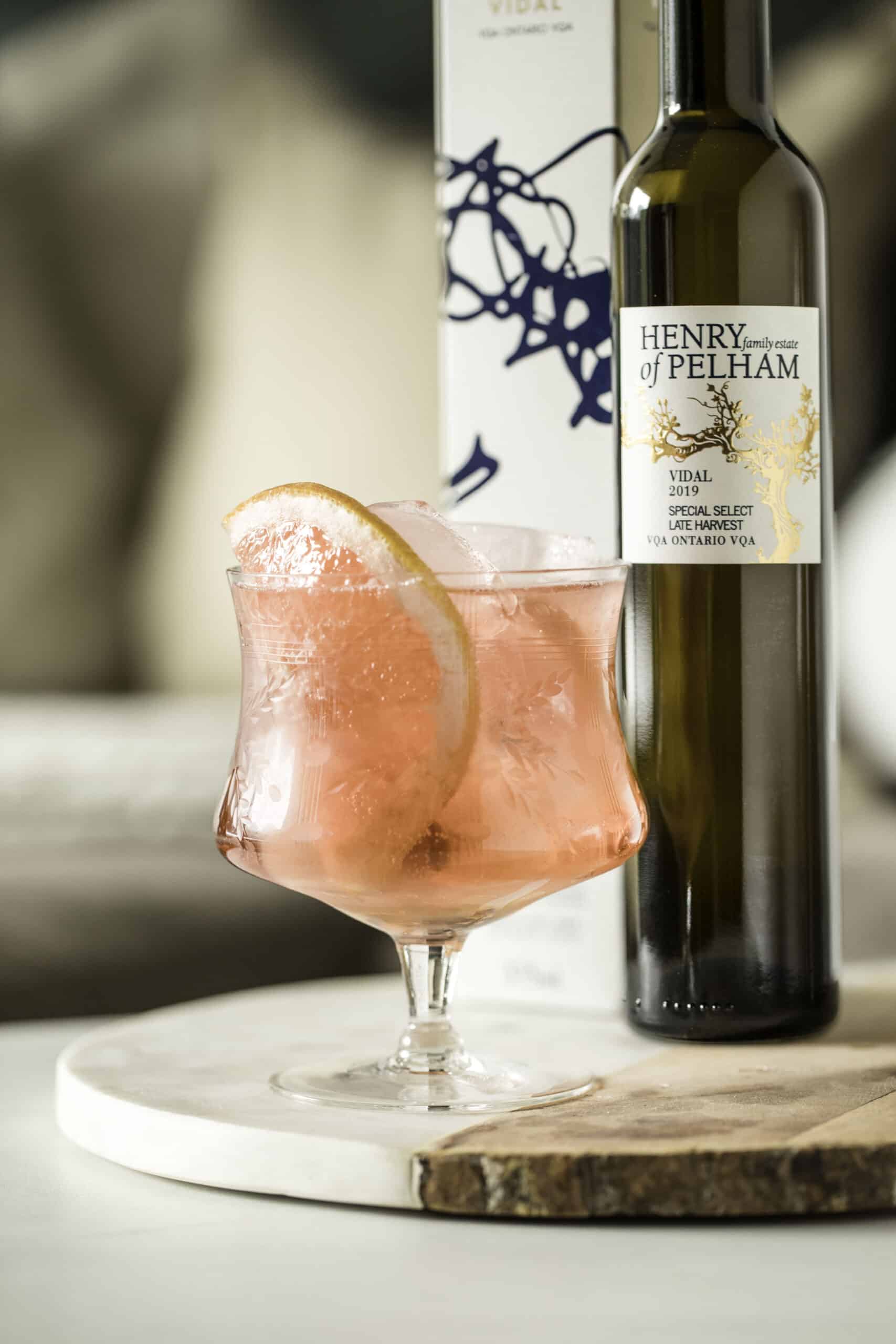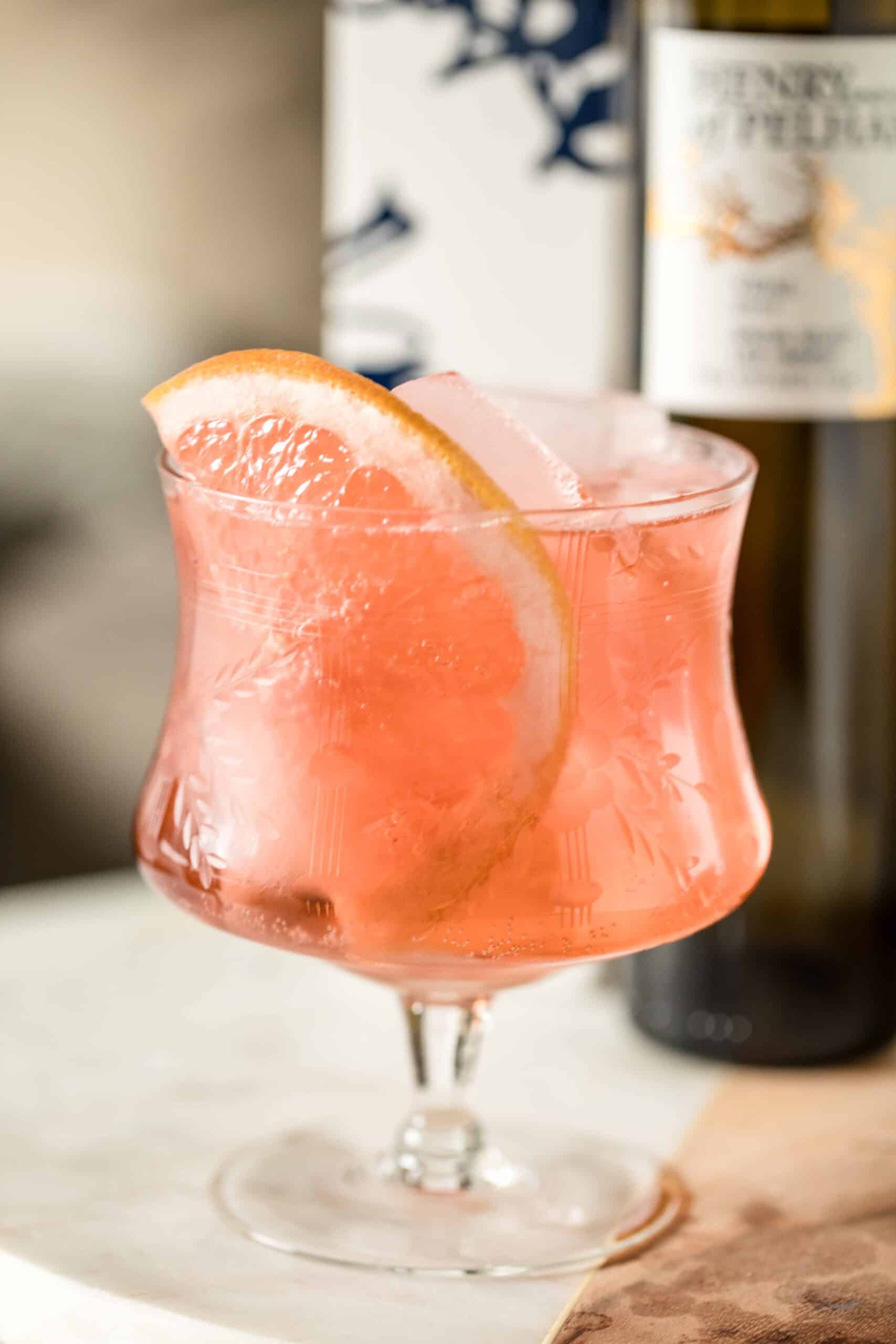 Pomegranate Ice Wine Spritz
Sip on this bright Ice Wine Spritz that combines Pomegranate Juice, Ice Wine and Tonic Water!
– Difficulty: Easy
Ingredients
1.5

oz

HoP Vidal Ice Wine

1

oz

Pomegranate Juice

3

oz

Sparkling Wine

1

oz

Tonic Water

Grapefruit slice for garnish
Instructions
Fill your glass with ice and grapefruit slice.

Add the rest of the ingredients and stir until combined.
Recipe Notes
Garnish with optional Grapefruit or Pomegranate Seeds. 
Want to find more cocktail recipe inspiration? Check out some of the other Wine inspired creations here!